Guided sea kayaking in Alaska's Southeast opens up the magical world of water-based touring. Glide through a marine environment with gorgeous views in every direction, and many opportunities to spot wildlife – from eagles and salmon to bears, whales and sea lions. Options include day tours for busy schedules and multi-day immersions, all under the expert guidance of naturalists who help you understand the complex workings of a unique and amazing environment.
Jump to: Day Tours from Haines and Skagway | Multi-Day Kayak Trips in Glacier Bay National Park
Day Tours
Spend the day exploring either Lynn Canal – the longest, deepest fjord in North America – or the sheltered waters of beautiful Chilkoot Lake. Both tours start out from Haines. If you're in Skagway, a high-speed catamaran whisks you to Haines on a scenic 45-minute ride.

Inside Passage Sea Kayaking Tour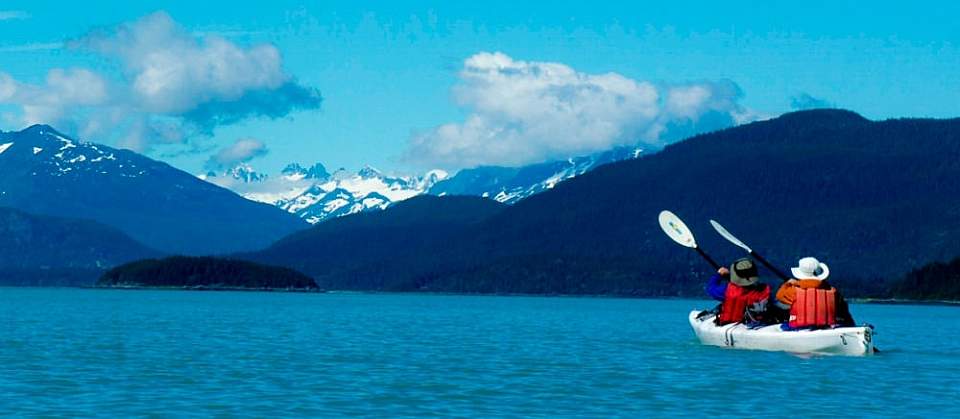 Your sea kayaking exploration begins just outside of Haines, along the shores of the Chilkat Peninsula and Chilkat State Park. Ply the waters of Lynn Canal in a tandem kayak, watching for wildlife such as eagles, sea lions, seals, Dall's porpoise and humpback whales. Your small group (no more than 12 kayakers) will be on the water around 1.5-2 hours. Learn how the fjord was formed and why this area is so attractive to marine mammals. Venture off to a remote beach to stretch your legs and enjoy a picnic lunch. This tour can be extended to a full-day excursion. Itineraries are dependent on weather and your interests.

Wilderness Kayak Adventure
Chilkoot Lake is perfect for those who want to kayak in calmer waters, and it's an ideal family adventure. From Haines, it's a scenic 30-minute ride past the Chilkoot River to the lake. Keep a lookout for bear near the river; they're attracted to the salmon here between late July and early September. You'll likely see eagles too. At Chilkoot Lake, you'll paddle in a stable 3-person kayak, spending about 1.5 hours on the water. Guides will show you salmon spawning beds and alpine waterfalls that spill into the turquoise lake. Enjoy a picnic lunch either before or after your tour (depending on the time of day).
Multi-Day Trips: Immerse Yourself in Glacier Bay
Explore untouched areas of Alaska's Glacier Bay National Park and Preserve over five days of pure adventure. Kayak by day, camp on remote beaches at night. Glacier Bay is one of the largest protected areas on the planet, defined by massive glaciers, icebergs, and an abundance of wildlife. You'll have time to take it all in on either of these tours as your small group (usually around 8) paddles between 10-15 miles daily, lingering for wildlife viewing opportunities or to marvel at a magnificent glacier. No matter what catches the eye, your guide will get you close enough to be amazed, but far enough to stay safe!


Glacier Bay Escape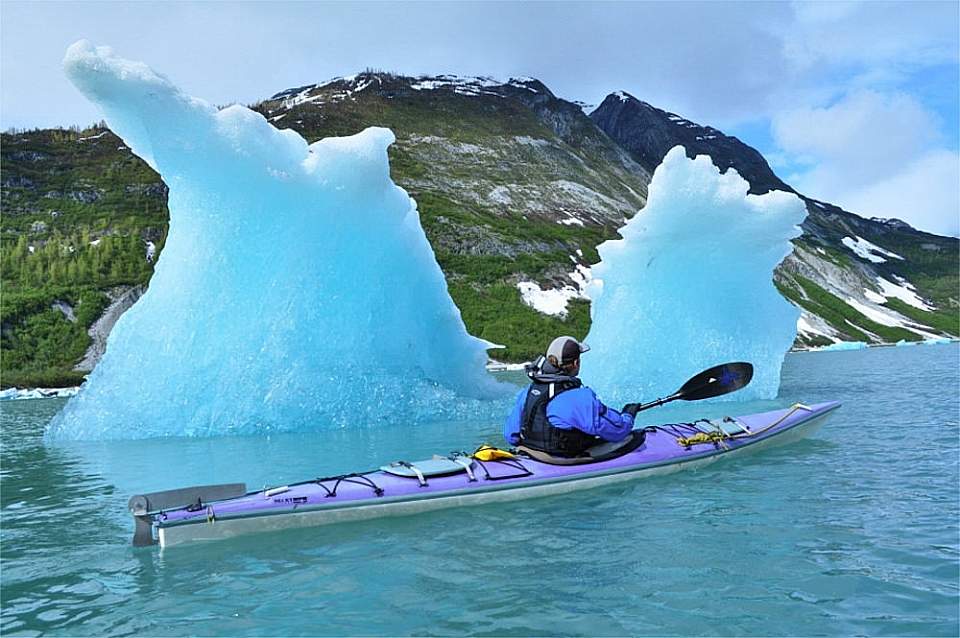 Retrace the path of famed naturalist John Muir, who described Glacier Bay as "unspeakably pure and sublime." Glacier Bay's West Arm is a premiere kayaking destination, where you'll paddle between icebergs and under towering peaks. The West Arm is known for a high concentration of brown bears and herds of mountain goats, as well as Tufted Puffins, Black Leg Kittiwakes, and endangered Kitzlitz and Marbled Murrellets, so keep watch on land and in the air.
Day 0: Arrive in Gustavus for orientation; dinner and lodging on your own.
Day 1: A Glacier Bay boat shuttle takes you to the Queen Inlet drop-off, where paddling beings.
Day 2-4: Explore the West Arm with a flexible itinerary that will include visits to several glaciers, each with unique characteristics. Listen to them pop, crackle and thunder. You may visit Reid, Lamplugh, and John Hopkins Glaciers.
Day 5: Back to Gustavus, where your trip concludes. Stay in Gustavus or fly out to Juneau)
Glacier Bay Exploration
For a truly remote experience, the East Arm of Glacier Bay offers a secluded and serene environment. Since motorized boat access is limited here, it's a rarely visited area of the park. Its forested nature offers opportunities to see land mammals, such as brown and black bear, moose, and mountain goats. At the south end of the East Arm, humpback whales, Steller sea lions, harbor seals and otters are frequently seen, as are several bird species. Your flexible itinerary includes plenty of paddling, some hiking, and visits to several glaciers, including active glaciers that crackle and pop as they calve into the bay.
Day 0: Arrive in Gustavus for orientation; dinner and lodging on your own.
Day 1: Board the Glacier Bay Day Boat for a spectacular ride to the mouth of the East Arm of Glacier Bay National Park. Begin your paddle!
Day 2-4: Explore the upper fjords of Glacier Bay, defined by 9,000-foot high mountain peaks, icebergs, and abundant wildlife. Glacier visits to McBride, Riggs and perhaps the Muir Glaciers.
Day 5: Morning paddle, re-board the boat back to Gustavus, where your trip ends. Stay in Gustavus or fly out to Juneau.

About Alaska Mountain Guides
Alaska Mountain Guides is owned and operated by local Southeast Alaskans who are passionate about showing off their backyard to visitors. Every single guest is like having a friend come visit, so excursions are designed around favorite recreational activities in locations that are both accessible and inspiring.

AMG Guides are friendly, accommodating, and incredibly knowledgeable, mostly because they work in remote environments around the world. Outside Alaska, AMG offers day-trips, courses, and multi-day experiences in regions of South America, Africa and Asia. Your guide might have just come from climbing Kilimanjaro, the Andes or other famous spots, so be sure to get some advice for your own next big adventure.