Haines Historic Parks & Sites
Discover the rich history of Haines and enjoy all of its fantastic sites!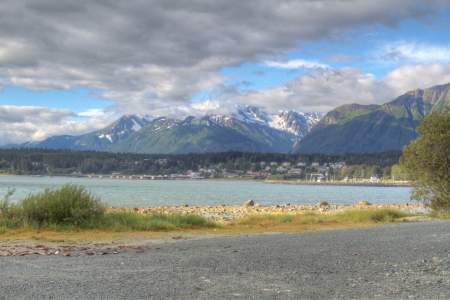 Just a 10-minute walk from down­town along the water­front, this fort was built by the U.S. Army start­ing in 1902, then pur­chased by Army vet­er­ans in 1947. The for­mer hos­pi­tal build­ing has been trans­formed into Alas­ka Indi­an Arts, where totem poles, masks, and jew­el­ry are cre­at­ed in the Tlin­git style. Char­lie Anway, one of the town's ear­ly pio­neers who home­stead­ed the prop­er­ty, built the cab­in in 1903. Anway had a knack for gar­den­ing and even­tu­al­ly devel­oped the famous Anway straw­ber­ry — a berry so large and juicy that Haines became known as the Straw­ber­ry Cap­i­tal of Alas­ka. In 2003, the prop­er­ty was donat­ed to the Chilkat Val­ley His­tor­i­cal Soci­ety; plans are in the works to restore the cab­in and open it to visitors.