Photo Credit: Kenai Peninsula Suites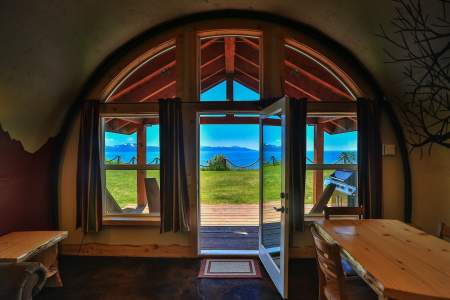 Season: Year Round $260+ Summer | $135+ Winter
Seren­i­ty and pri­va­cy are para­mount at this inti­mate col­lec­tion of five roman­ti­cal­ly rus­tic vaca­tion rentals. Under­ground cab­ins and a yurt are just some of the unique rooms that make up this Homer prop­er­ty, all perched on a bluff with spec­tac­u­lar views of Kachemak Bay and the moun­tains beyond.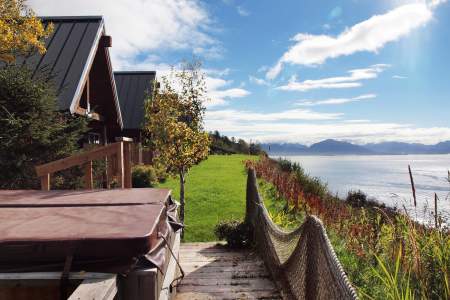 Season: Year Round $289 Summer | $115+ Winter, Spring & Fall
The view will like­ly be the first thing you notice at Alaskan Suites. Set about 20 feet from the edge of a bluff, the prop­er­ty fea­tures incred­i­ble views of Kachemak Bay, Cook Inlet, and the moun­tains beyond. It's a view you can take in from the five roman­ti­cal­ly rus­tic cab­ins, the com­mon-area hot tub, or the camp­fire pit. Do as most guests do: max­i­mize your time here by stay­ing at least two nights.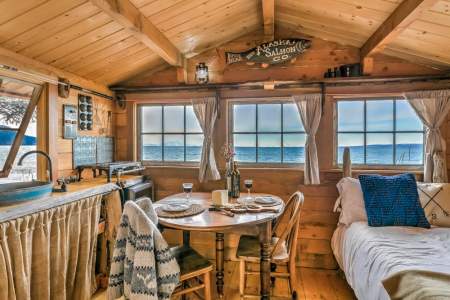 Season: Year Round $250+ per night
If you can't decide whether you'd rather have sun­set or sun­rise views on vaca­tion, Between Beach­es Alas­ka per­fect. Perched on a spit near Sel­dovia that offers both East and West water views, this idyl­lic spot also offers the chance to watch whales, otters, seals, shore­birds and eagles while enjoy­ing the tran­quil­i­ty of a unique set­ting. Choose from 6 cabins.