A quiet neighborhood, a private beach and a million-dollar view from every room. The 38-room Ocean Shores Hotel—just outside downtown Homer—is set along a four-acre hillside overlooking a beach. This is a great hotel for anyone who wants the charm of Homer as well as a hands-on natural Alaskan experience.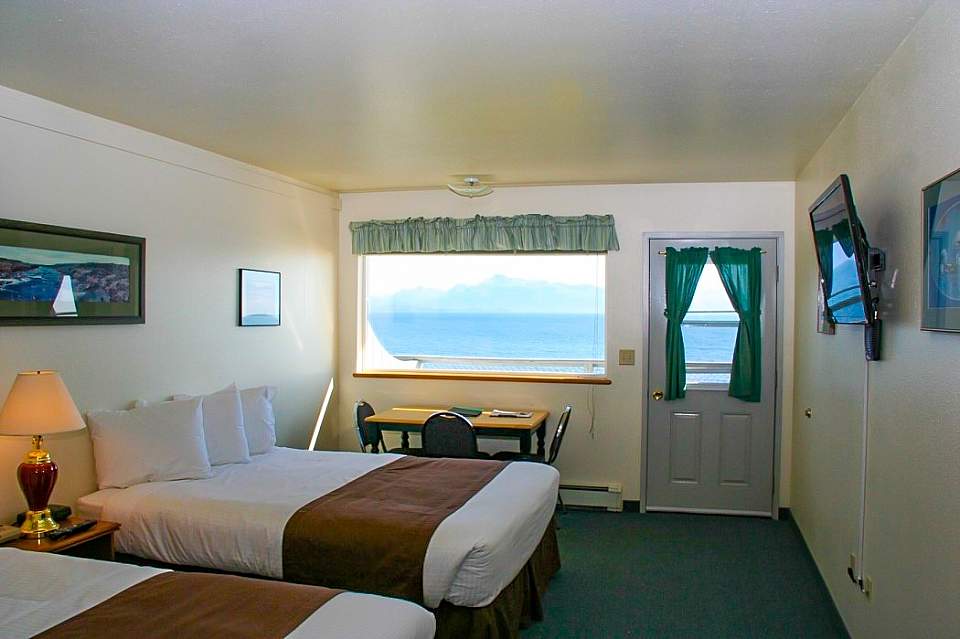 Family-Run and Friendly
The Warburton family opened Ocean Shores in 1994. They're long-time Alaskans, with one family line going back 6 generations to the gold rush in Nome. They pride themselves on customer service, helping to set guests up with activities such as bear viewing, hiking, fishing or water taxis across the bay. They've even got free night masks (sealed and unused), for folks who need a little nighttime help with the Midnight Sun. And, they won the Trip Advisor Traveler's Choice Award - so they're in the top 10% of hotels worldwide.
Top-Drawer Tidepooling
The beach access here is a huge asset: this in the only hotel in the area where you can build your own driftwood fire on the sand. From your room, you can take a short walk for beach-combing or tidepooling on the private beach, as well as enjoy one of the best views in Alaska: Kachemak Bay, mountains, glaciers and even St. Augustine Volcano. In fact, the tidepooling is so good that this is where local schools bring kids during the school year to study beach life.
Homey Room, Four-Star Views
That said, you don't even have to go down to the beach to have a great view: by design, every room has a front row seat for the natural panorama—a big reason why Ocean Shores has been recommended by the New York Times, Frommer's, National Geographic and more. Most rooms have a private balcony and all come with a microwave, fridge, dining table with chairs, TV and wireless internet.
Besides the beach, you also have easy access to Homer's downtown restaurants, shops, art galleries and Pratt Museum. Even though downtown is just two blocks away, the fact that the hotel is in a homey residential area gives it a quiet, tucked-away feel—all the better for making the most of that majestic natural setting.
Kannery Grill
The newest addition to the property is Kannery Grill, featuring steaks, seafood and spirits which opened in the summer of 2017.