Photo Credit: Denali Highway Jeep Excursions
If you're eager to cover a lot of ground in the backcountry while having an absolute blast, ATV & Jeep tours offer a thrilling way to traverse the rugged terrain of Denali National Park. Adventures with ATVs take you to splash through streams and roll over dirt trails. Though they don't operate inside the park, they'll immerse you in the same breathtaking beauty that Denali is known for. Jeep tours provide a slightly tamer experience, allowing you to savor the ride or take the wheel yourself. As you drive in caravan formation, knowledgeable guides will lead the way, making unforgettable photo stops along the route. And if you're an experienced rider or driver, you even have the option to rent a vehicle and explore on your own. These rental companies will happily provide insider tips on the best places to venture.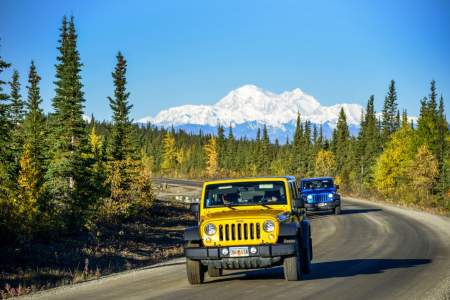 Season: May 15 - Sept 15 $179 Jeep Tour 4-8 hrs
This is your chance to expe­ri­ence the spec­tac­u­lar scenery along the Denali High­way, a road recent­ly ranked #2 world­wide as a ​'Dri­ve of a Life­time' by Nation­al Geo­graph­ic Trav­el­er Mag­a­zine. You'll be giv­en the oppor­tu­ni­ty to take the wheel, or if you pre­fer, just sit back and enjoy stun­ning views of the peaks and glac­i­ers of the cen­tral Alas­ka Range. There is a guide in the Jeep up front, but you can stop wher­ev­er, when­ev­er, and as often as you ...more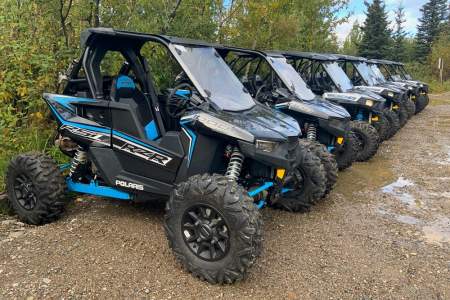 Season: May 15 - Sept 15 $200+ 1+ hrs
ATV rentals for 2, 4, 8, or even a full 24 hours to explore many of the fun trails just out­side of Denali Nation­al Park on your own. Unguid­ed doesn't mean unaid­ed: Denali Toy Rentals will out­fit you with a hel­met, gog­gles, and trail map, as well as lots of insid­er tips and sug­ges­tions on where to go, cus­tomized to your interests.