Drive your own 4-wheel all-terrain vehicle (ATV) on a truly exciting off-road journey through the backcountry adjacent to Denali National Park. Black Diamond puts you in control: stop whenever you want, take pictures of the spectacular scenery, and laugh as you experience Alaska as it was meant to be: rough and wild.
Black Diamond Resort Co. was launched in 1995, when Marilyn Usibelli and her sister—two born-and-bred Alaskans from the Denali/Healy area, and whose husbands worked in the Usibelli coal mine—decided to start their own business. It began with a small golf driving range and golf course, and expanded into tours. Their first year, they had 2 employees, and today have around 90 (including college students from around the world) during a busy summer.
New Gear, Great Food
They pride themselves on offering a something-for everyone Alaskan experience: active, but very family-friendly tours on well-maintained trails, using gear that gets updated or replaced regularly to keep everything fresh. You can also add a backcountry meal option—breakfast, lunch or dinner — when you book your trip.
Friendly Drivers Ed
The adventure begins with a safety training and information briefing. All functions of the machine are thoroughly explained, and you have a chance to drive the machine and make sure you're completely comfortable. If you prefer to be a passenger, ride along with a guide for an equally exciting adventure. After getting outfitted with all the proper gear, you're on your way. For couples, the side-by-side driving option in a popular choice.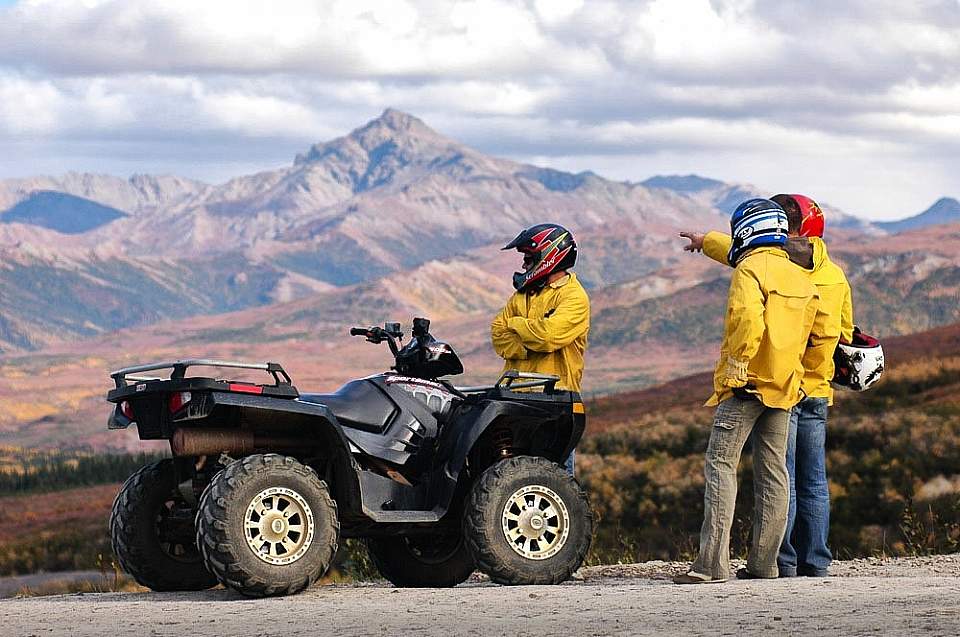 From Artifacts to Sweeping Views
Once you're moving, you'll explore old coal mining trails and the Dry Creek River Bed, where Athabascan Indian artifacts have been found in archaeological digs. Across the river, you can check out an authentic abandoned cabin. You can also go high up on Black Diamond Peak, where you can view the entire Healy Valley and breathtaking mountain scenery. Don't go too fast, though, since photo opportunities abound: you'll have a great chance of viewing wildlife in their natural habitat.