To get a real sense of old - time Alaska, climb into Black Diamond's family-friendly Covered Wagon Adventure for a trip through time.
Experience this historic mode of transportation, pulled by two draft horses through the Alaskan tundra with the mountains of nearby Denali National Park hovering overhead.
As you travel, guides fill you in on the area's fascinating history and natural treasures.
A Meal, and Then a Back-in-Time Tour
Your tour begins at a beautiful mountain lake with panoramic views. Enjoy a relaxing meal freshly prepared with only the finest ingredients and served by Black Diamond's colorful local staff. Depending on the time of day, this could be breakfast, lunch or dinner. Next, join your horse guide and entertainer on a scenic adventure along the north boundary of Denali National Park. Learn about the history of this coal mining area as you pass through the wilderness. Your guide will share local folklore, facts, and more. You'll pause at the Dry Creek riverbed to stretch your legs and feed the horses carrots if you like. You'll also stop at a rustic cabin and have a chance to see how some Alaskans still live.
This is a great way to get outside and have a gentle adventure experience. People rave about the good food, but also the warm, friendly guides. You can even think of it as a fresh-air alternate to a dinner theatre show: the outdoors is the show.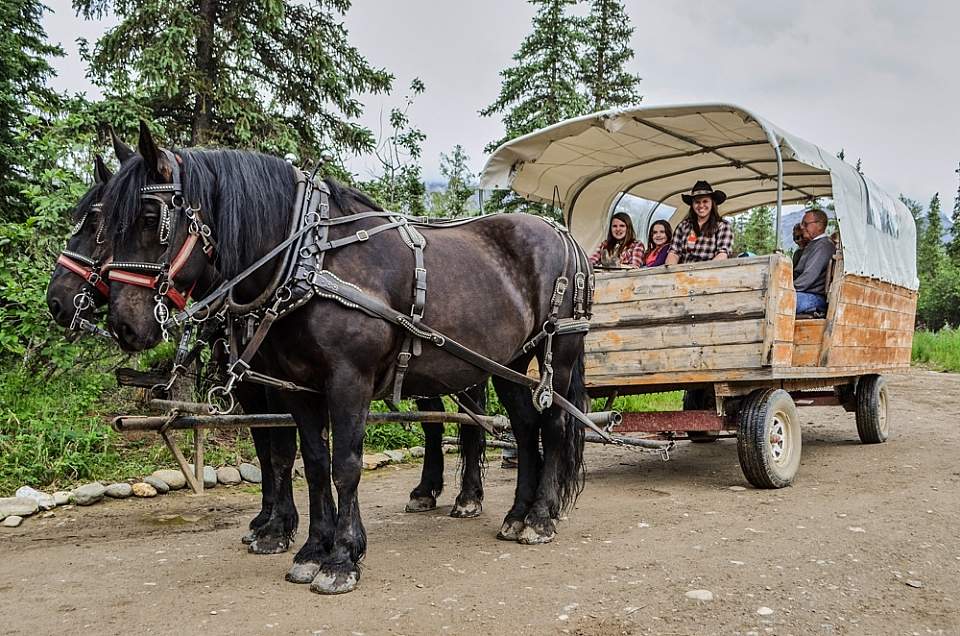 Family-Friendly Adventures
The folks at Black Diamond pride themselves on offering a something-for everyone Alaskan experience: outdoorsy, but very family-friendly. Even though there were already three horseback riding companies in Denali, there was nothing like this, so they started this tour with just two horses, a wagon and some great food. Today, they have 15 draft horses and 7 wagons.
Black Diamond Resort Co. was launched in 1995, when Marilyn Usibelli and her sister—two born-and-bred Alaskans from the Denali/Healy area, and whose husbands worked in the Usibelli coal mine—decided to start their own business. It began with a small golf driving range and golf course, and expanded into tours and a lakeside restaurant. Their first year, they had 2 employees, and today have around 90 (including college students from around the world) during a busy summer.