Photo Credit: Denali Black Diamond Covered Wagon
Ditch the sound of motors in the big cities and let the sound of hooves guide your way instead with a unique horseback adventure. Many areas traveled on these guided tours are not accessible any other way, therefore they are a great way to explore the Alaskan backcountry. Choose from afternoon to multiday excursions.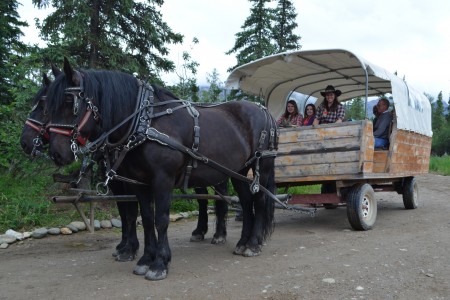 Season: May 10 to Sep 19 $89.95 3.5 hrs
To get a real sense of old-time Alas­ka, climb into Black Dia­mond's fam­i­ly-friend­ly Cov­ered Wag­on Adven­ture for a trip through time. While guides fill you in on the area's his­to­ry and nat­ur­al trea­sures, you'll be pulled by two draft hors­es through the Alaskan tun­dra, with the moun­tains of near­by Denali Nation­al Park hov­er­ing over­head. Hear the his­to­ry of this coal-min­ing area as you pass through the wilderness.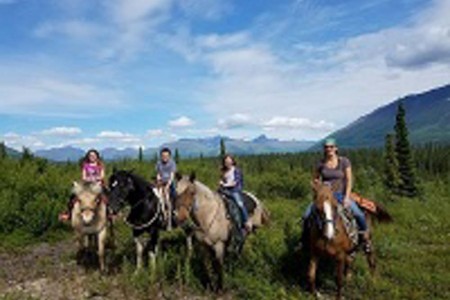 Season: Summer $695 per person 4 hrs
Rid­ing a horse through the Alaskan tun­dra while gaz­ing out at stun­ning moun­tain views: This mag­i­cal expe­ri­ence is almost like trav­el­ing back through time, to a sim­pler era. And it's super-easy when you go with Alas­ka By Air.