The Black Diamond ATV Treasure Hunt backcountry adventure, just outside Denali, offers both a skilled guide and a splash of think-for-yourself adventure. You'll take a fast and exciting ride—or slow and leisurely, depending on your preference—through mining country, chock full of quartz, granite and coal. This four-hour geocaching trip transcends a basic tour, though, in two ways: You're on "assignment" to find highlights along the way, and you're rewarded at trail's end with a camp-style feast.
Company Started as a Sister Act
Black Diamond Resort Co. was launched in 1995, when Marilyn Usibelli and her sister—two born-and-bred Alaskans from the Denali/Healy area, and whose husbands worked in the Usibelli coal mine—decided to start their own business. It began with a small golf driving range and golf course, and expanded into tours. Their first year, they had 2 employees, and today have around 90 (including college students from around the world) during a busy summer.
Customize Your Tour: Family-Friendly or Adventurous
Black Diamond is the first company to offer ATV tours in Denali, and they pride themselves on offering a friendly, something-for-everyone Alaskan experience: active, but very family-friendly tours on well-maintained trails, using gear that gets updated or replaced regularly to keep everything fresh.
The tours are geared toward beginner riders, though they can customize the tours for more advanced or adventurous drivers—and you can always drive or be a passenger on any of their ATV tours.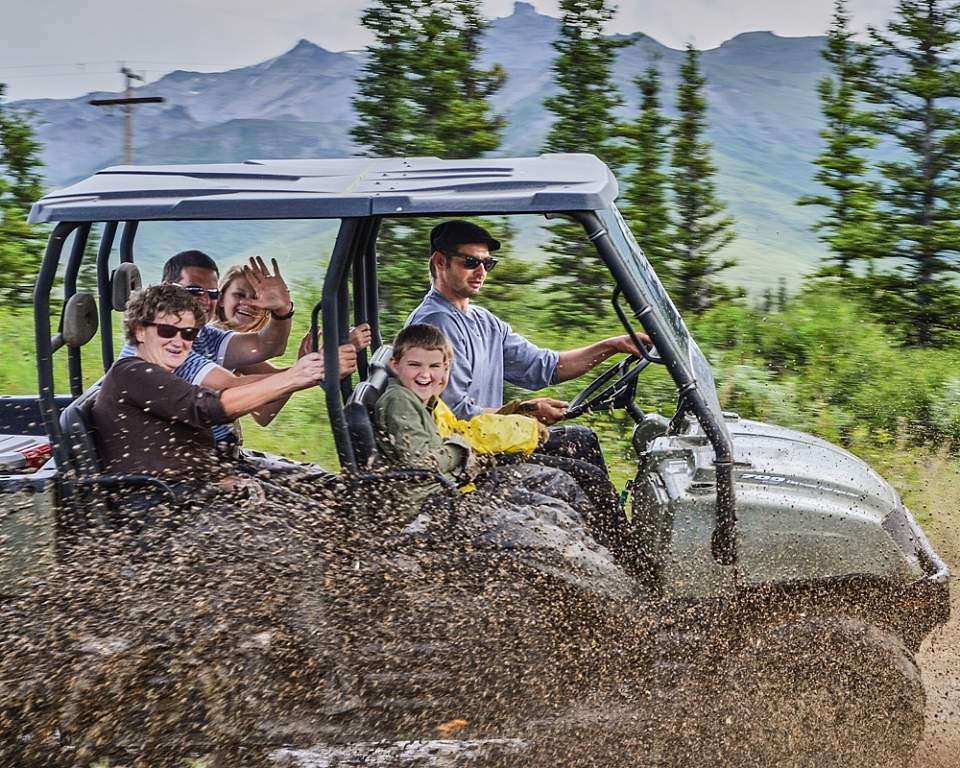 Suit Up for Fun
On this Treasure Hunt, you start your tour near Otto Lake and Healy, where you get suited up with gear: helmet, safety goggles, gloves and, if you want it, rain gear. Unlike some other ATV trips, you don't have to do the driving: A pro is at the wheel of the Polaris All-terrain Vehicle—similar to the popular Ranger, but offering room enough for six and a hood to protect you from any rain showers.
Hunt for Minerals and Artifacts
Once aboard, you're armed with a GPS and given a list of treasure-hunt style objectives to find along the way, whether it's a treasure chest of mineral samples, a guest book to sign, or a particular view to scout out. You'll be exploring the old coal mining trails and the Dry Creek River Bed, where Athabascan Indian artifacts have been found, and where old sourdoughs' abandoned cabins still stand.
A Big (and Delicious) Finish
As you make your way up Black Diamond Peak, keep an eye out for a variety of wildlife—from foxes and rabbits to the occasional wolf, bear or caribou—and dramatic views of the entire Healy Valley. The driver's happy to stop for photo-ops, too. You'll know you've succeeded in your tour when you reach a rustic pavilion, where you're served a full-service camp-style meal of chicken, ribs, salmon, potato salad and beer or wine—a hearty finish to a vigorously fun tour.