There are lots of places in Alaska that we like to say are more about the journey than the destination. When there's a picture postcard on both sides of the road along every mile, it's really true. There are plenty of reasons to get off the main roads – more wilderness, more chances to see wildlife, fewer people. But you have to be prepared with the right kind of vehicle. Locally-owned Alaska 4x4 Rentals is the only Anchorage rental company (with additional offices in Fairbanks and Deadhorse) that offers 4-wheel drive vehicles with no restrictions on where you go – and that opens up a lot more of Alaska for travelers with a penchant for adventure.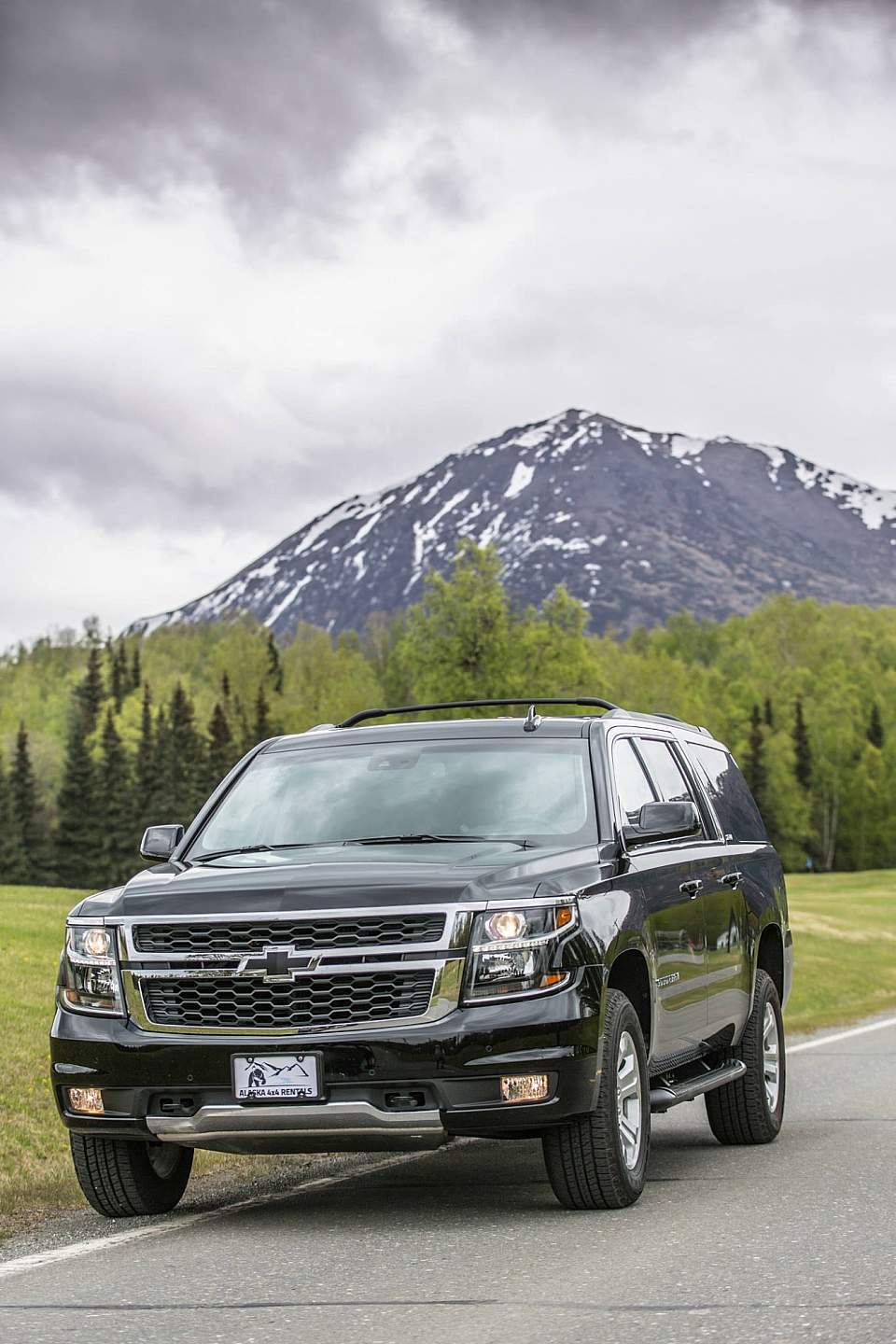 Get on the road fast. There's nothing like that moment when you finally get behind the wheel and taste the freedom of the open road. In Anchorage, Alaska 4x4 Rentals is located right in the North Terminal of the Anchorage International airport, so you can pick up your vehicle quickly and start exploring right away. They also have an office at the Fairbanks, and Deadhorse airports.
Room for you, your buddies, and all your gear. Choosing an Alaska-sized rig makes a big difference when it comes time to hauling your stuff. Whether you're on a fishing, hunting or photography expedition, go on and pack your all your favorite gear.
Local expertise. When you make a reservation or pick up your vehicle, you'll be dealing with Alaskans who live, work and play in the last frontier: from folks who've fished the Kenai for decades, to those who have travelled the Dalton highway dozens of times on their way to the North Slope. They know the regions and the roads and are more than happy to give you advice for navigating your own Alaskan experience.
Accessorize! Depending on where you're headed and what kind of activities you have planned, you'll want to consider some add-on items. Alaska 4x4 Rentals offers accessories for rent and some items for purchase. Going off grid? Rent a sat phone for emergencies. Planning on fishing? Buy some fish boxes for your catch and rent coolers for your food and drinks. Other items include bear spray, GPS, child-safety seat, and a trailer receiver hitch for hauling.
The Fleet
Every vehicle in the fleet is a newer model rugged enough to handle the Alaska outdoors with ease. When choosing, just factor in the size of your group and what kind of driving experience you want to have:
Trucks: Every truck rental comes with two spare tires so you're ready for anything. Easily accommodates between 2-4 people. Choose from a ½-ton, ¾-ton, ¾-ton with canopy to cover all your cargo, or a truck camper complete with kitchenette and queen bed.
Jeep: Comfort, convenience and a sporty look. Great for 2-4 passengers.
SUVs: Standard and Premium options offer a spacious and comfortable ride for 4-7 passengers and their gear.
Van: A great option for larger groups, the Mercedes Sprinter Van seats up to 12 with room for cargo.
Ultimate Alaska Road-Trips
Off-the-pavement journeys give you a chance to slow down and relish Alaska's amazing landscape, while meeting the challenges of the road less traveled. The Denali Highway and the road to McCarthy are two favorites that are very accessible from Anchorage.
Denali Highway – Views of three mountain ranges, lots of hiking trails, glacially-fed creeks and rivers, and immersion into a peaceful wilderness are attractions of this 135-mile stretch of road between Cantwell and Paxson. There are lots of pull-offs and a few lodges along the way, so you can take your time exploring this road, which was pioneered by gold miners more than 100 years ago. Throw a line in for some Arctic grayling, take in excellent views of Denali (North America's highest peak), or canoe the Delta Wild and Scenic River and Tangle Lakes area. Tip: You can start in Anchorage and circle around to see more towns and landscape. Drive 212 miles north to Cantwell, take the Denali Highway 135 miles east to Paxson, and then it's 252 miles back to Anchorage on the Richardson and Glenn highways.
McCarthy – The gateway to the Wrangall-St. Elias National Park & Preserve, McCarthy is an old gold-rush town with a year-round population of a few dozen that booms to a few hundred in the summer months. Visitors enjoy the small-town feel and access to the historical Kennecott Mine and recreation opportunities in the park. The journey from Anchorage is 300 miles, with the last 60 miles on an old railroad bed that's been converted to a gravel road. Recommended maximum speed is about 30 miles an hour, so enjoy the lakes, glacier river overlooks, a 90-foot high railroad trestle and dense forests along the way. If you want to stretch your legs, there's a 2.5-mile loop trail the offers a nice view of the Chitina River Valley. You'll park at the end of the road and walk across a footbridge to McCarthy, which has options for food, drink, lodging and tales aplenty of a wilderness lifestyle.
Dalton Highway - For a longer, epic road trip, you could drive north 856 miles north from Anchorage to the famed oil fields of Prudhoe Bay, just 8 miles from the Arctic Ocean. The "Haul Road," officially the Dalton Highway, is the 414-mile stretch of road beginning north of Fairbanks. It's about 25% paved, and 75% gravel, dirt and mud, with road conditions changing daily due to weather. This route takes you well into the Arctic Circle, with 24-hours a day of summer light.
About Alaska 4x4 Rentals
Alaska 4x4 Rentals is proud of its customer-first commitment, with a mission to help independent travelers enjoy Alaska in a comfortable, dependable 4-wheel drive vehicle. Alaska 4x4 Rentals is owned by Delta Leasing, which is a main supplier of commercial vehicle fleets to Alaskan companies that need heavy-duty equipment for construction, oil field exploration and more. Maintaining large fleets of vehicles that can handle Alaska's extreme conditions gives the crew at Alaska 4x4 Rentals natural insight into what travelers can expect on the road, and what they need to safely explore the last frontier.