Most Alaskan car rentals begin in Anchorage, the state's transportation hub. You can either launch a long driving vacation from Anchorage, or use the city as a base camp and do day trips with your rental car. Either way, here's what you need to know when renting a car in Anchorage:
It's easy. You'll find all the top car-rental companies in Anchorage: Hertz, Avis, Thrifty, Dollar, Budget, Enterprise, Alamo, and National, as well as locally owned companies like Alaska Auto Rental and Alaska 4x4 Rentals.
It's safe. Rental cars are new and well maintained (it's the same fleet as the Lower 48) and road conditions are good (free of snow by mid-May).
It's expensive. Plan to spend $100–$150 or more per day. See our money-saving tips.
It's navigable. Two-lane highways connect Anchorage, Fairbanks, Denali, towns in between, and points further east and north.
It's freeing. Driving lets you travel at your own pace. Spend more or less time where you want. Stop for photos or to look for wildlife. Visit small towns and out-of-the-way places.
It's cheaper and faster than the train. With 2 or more in your party, it can be cheaper than the train. It's also faster. You'll average 55-65 mph in a car versus 30-40 mph on the train.
Read more: Rental Car vs Train, Alaska Road & Highway Maps
Money-Saving Tips
Come in May or September. When you rent a car in Anchorage, rates can be in the $30–$50 per day range for a midsize car.
Reserve in advance. Rates usually go up as you get closer to your travel dates, especially during peak season. If you see a rate you like in advance, reserve it. You can always cancel it and rebook it later if rates drop, but not the other way around.
If you have a corporate discount, use it during the peak season. But in the off-season, don't use it; regular rates can be $25 per day or lower.
Check back often if you're renting last minute. Rates change several times per day. You can call back later that day or the next day, and the rate may change. If call and want a rate quote, you have 15 minutes to book it; after that, you have to get a new quote.
Ignore "percentage-off" specials and focus on the lowest base rate. In Anchorage, that's usually Thrifty Car Rental. We've seen shoulder-season days (in May or September) when Thrifty was offering $60/day. Other major rental companies were at $100/day with a 30% discount. Thrifty was still $10 cheaper.
Avoid airport fees by renting in the city. Anchorage airport built a beautiful rental-car facility a few years back. To pay for it, you're charged 11% of the base rate plus $6.50 per day for a rental you pick up at the airport. For a typical 7-day rental, that works out to a $150 surcharge. But if you're renting from Thrifty, for example, you can take a $15 (7-minute) cab ride to their Spenard location or go straight to your hotel, drop your bags, and have Thrifty's courtesy shuttle pick you up to get your car.
How To Save 20–25% with Thrifty

Renting off-airport saves roughly 12–15%. You can save another 8–10% by using the following discount/promo codes:
Book Online: Book on the Thrifty.com site and use 101063 receive an 8% discount off base rate at both Anchorage Airport and Spenard Road locations, on all vehicle classes. Just click the logo to use the discount!
By Phone: Call Thrifty's direct number at 907-261-0217 and request the "Alaska Channel discount" for 10% off.
One-Way Rentals
It's possible to do a one-way rental between Anchorage and Fairbanks with Avis, Budget, Alaska 4x4 Rentals, Alaskan Car Rental and Alaska Auto Rental. If you're traveling from Anchorage to Fairbanks, you usually won't have to pay any extra fees. But most people pick up in Fairbanks and drive to Anchorage. So if you're driving south, expect to pay $300 for a one-day, one-way rental; $250 per day for a 2-day; and less for more days.
Gravel Roads
Most Alaska car rental companies don't allow their vehicles on non-paved roads. If you do, you're responsible for any damage, and any car insurance is voided because you broke the contract. You can avoid the risk altogether and rent a car from a company that specializes in renting SUV's and Trucks to explore Alaska's gravel roads, like Alaska 4x4 Rentals, Alaskan Car Rental or Alaska Auto Rental.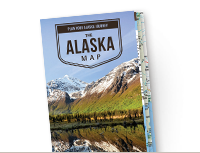 This state map includes top destinations and attractions, driving guides, & more!