Driving Alaska is a fantastic way to experience this gorgeous state—you'll travel some of the world's most scenic roads, and at your own pace. But here's the thing: Cars aren't always allowed on the more rugged roads. And the size of RVs may prevent exploration some of the more remote areas. What's the answer? An Overlander. Rugged and nimble—and complete with rooftop tents, camp stove, and refrigerator—they're the perfect vehicles for exploring the grandeur of Alaska.
As Convenient in Town As off the Grid
Drive anywhere in these spacious, comfortable, rugged amenity-filled vehicles. Unlike with rental cars, there are no restrictions on where you can go, which means you can take the Overlander on the Denali Highway, McCarthy Road, and Dalton Highway. Towns, too, are easy to explore—visit Homer, Talkeetna, and Fairbanks, and you'll find that the vehicles are as easy to park as a normal car.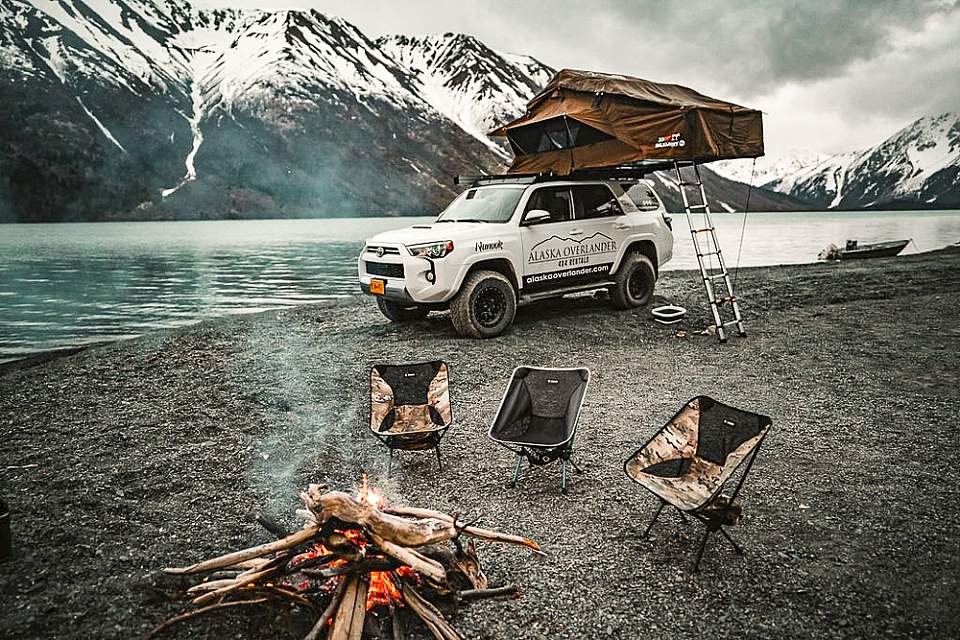 And when it's time to wind down, you can opt to set up in a campground or pick a beautiful spot all your own. The flexibility of these vehicles allows you to spend more time in nature and really experience the Alaskan outdoors—sitting around a fire pit close to a river and taking in the beauty around you.

Set up Camp
It takes 3 minutes to set up the rooftop tents; bedding and sleeping bags are included. Just think: If it rains, there's no soggy ground to deal with, and you get more of a bird's view from a rooftop. In inclement weather, sit underneath the generous awnings and out of the elements. And cooking? Yes! There's a drawer system in back, where you'll find a 12-volt cooler, dual-burner camp stove, table, chairs, and all the kitchen stuff you'll need. Just bring clothes and food and prepare for the adventure of a lifetime.
And these unique vehicles couldn't be easier to rent. Alaska Overlander will meet you at the airport or a hotel and give you a full rundown of the vehicle's operation. They can pick up food in advance, too, and stock the fridge for a small handling fee. They're also happy to help with suggestions about where to go and awesome spots to stop.
The Vehicles
Base Camp Series
The rugged, reliable and comfortable Toyota 4Runner is the platform for the Base Camp series of rigs. These rigs are perfect for 2-3 people.
Outfitted with a roof rack, rooftop tent and a large awning, there's plenty of space to sleep, cook and eat while enjoying your surroundings! Each rig has a lifted suspension, rugged all terrain tires and a full-size spare tire to make travelling those gravel roads a breeze!In the back you'll find 12-volt refrigerator, camp stove, table, chairs as well as cooking and eating utensils. A dual battery system provides continuous power to the refrigerator to make sure your food and drinks stay nice and cool and can also be used to power devices such as CPAP machines.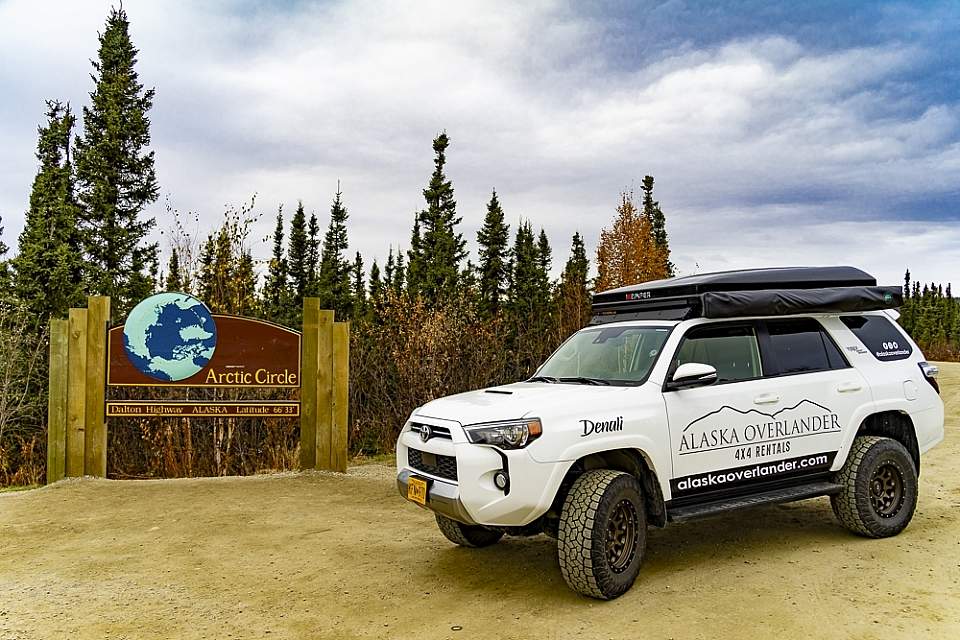 Adventure Series
For a little more space for gear or additional travel companions, these rigs fit the bill! The Toyota Tacomas in the Adventure Series are comfortable for 3-4 adults (or 2 adults and up to 3 younger children). These rigs include the same amenities as the Base Camp series and have been upgraded with an onboard water system and have more cargo capacity in the bed of the truck for luggage and gear. A lockable canopy keeps everything safe and dry.
For families, two couples, or other travelers looking for a little more privacy and sleeping space, check out the 4 sleeper rig which is outfitted with 2 separate tents and will sleep up to 5 people!
Expedition Series
Already have your own rig? Add an expedition trailer for an additional bedroom, a kitchen and extra cargo space all in the convenience of a small, easy to haul trailer. At less than 1200lbs, it can be towed by just about any vehicle with a tow hitch. The dual battery system provides power for the large 12-volt refrigerator and a 7-gallon water tank and hot water heater provides water for drinking, handwashing and dishes. The rooftop tent sleeps 3-4 people and even has rails on top when closed to carry bikes, kayaks or other toys!
Or if you want to streamline things, you can rent just the roof top tent. The iKamper tent is quick to set up and take down and is a great way to check out this style of camping before purchasing your own tent. A rack or heavy duty cross bars are required, but installation is included in the rental.
About Alaska Overlander
Founders Craig and Brook have worked in tourism for many years around Denali National Park. Brook is a lifelong Alaskan from Cordova; Craig moved here from New Zealand in 2001. Together with their 3 children, they wanted to explore everything Alaska has to offer, and see parts of the state that aren't on mainstream itineraries. When inspiration hit in 2020, they launched the company.