Photo Credit: Get Lost Travel Vans
RV Rentals
Average 22 - 32ft in length • Largest RV's have 8 seat belts and 4 sleeping areas • Many have bathroom & shower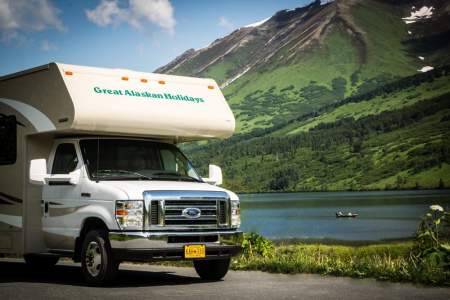 Season: Year Round Contact for rates based on floor plan 3+ days
When you want to explore Alas­ka on your own timetable, with a guar­an­teed bed and meals any time of day, con­sid­er a trip in a state-of-the-art motorhome rent­ed from Great Alaskan Hol­i­days, Sales & Ser­vice. They offer the largest selec­tion of spark­ly clean and well-main­tained motorhomes in Alas­ka, with great pric­ing and a no-fuss reser­va­tion and rental process. It's the most con­ve­nient, flex­i­ble, and afford­able mode of inde­pen­dent trav­el in ...more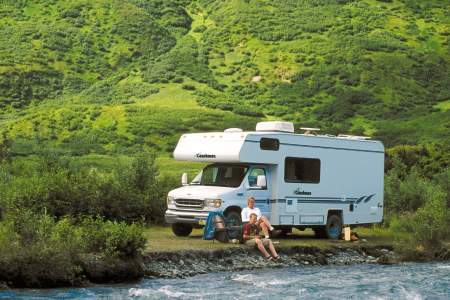 Season: May 01 to Oct 15 $169+ per night
Alas­ka Motorhomes Rentals from Alas­ka Trav­el Adven­tures offers one-way rental options. See­ing Alas­ka by motorhome is dif­fer­ent than see­ing it by train, for exam­ple – so why not expe­ri­ence them both? If the thought of a long, round-trip jour­ney on the Al-Can keeps you from set­ting out on that amaz­ing adven­ture, how about dri­ving one way and fly­ing back? You can con­sid­er all these options when you rent one of the com­fort­able, easy-maneu­ver­ing C ...more
Overlander Expedition Vehicles
Size of a regular SUV, easy to drive • 4 seat belts • rooftop tent sleeps 3-4 • cooler and camp stove store in back for outdoor camp kitchen setup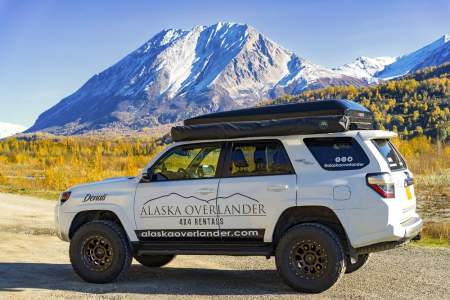 Season: April to Mid-October Summer $259+ per night | Spring & Fall $189+ per night 3+ days
Com­plete with rooftop tents that set up in min­utes, camp stove, and refrig­er­a­tor, Over­lan­ders are per­fect for explor­ing Alas­ka. Explore the Denali High­way, McCarthy Road, or Dal­ton High­way just as eas­i­ly as you can zip into towns like Homer, Tal­keet­na, or Fairbanks.
Campervan Rentals
Size of a regular van, easy to drive • 4-5 seat belts • 2 beds • Most include kitchenette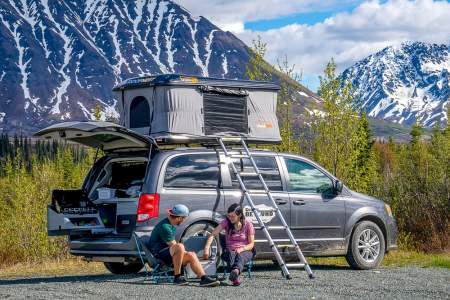 Season: May 01 to Sep 30 $199+ per night 3+ nights
Take a road trip across Alas­ka with­out the size or cost of a full-size RV. These con­vert­ed camper­vans, rent­ed out of Anchor­age between May and Sep­tem­ber, come with unlim­it­ed mileage, sleep four and offer most of the com­forts of a big RV in a com­pact mod­el — with a pop-up tent on top.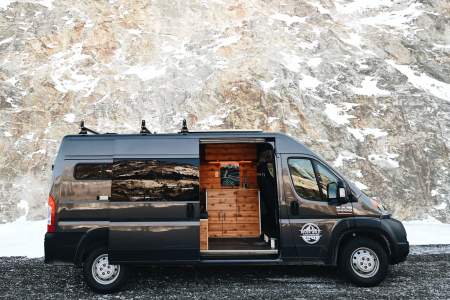 Season: Year Round May - Sep $275 / night | Oct - Apr $215 / night 3+ nights
Adven­ture in a lux­u­ri­ous camper van on your own terms. No time­line. No agen­das. Pure free­dom. These camper vans were designed specif­i­cal­ly for Alaska's wilder­ness by incor­po­rat­ing addi­tion­al insu­la­tion, gear stor­age, cab­in heat­ing, and all of the essen­tials for your adven­ture, in an easy-to-dri­ve Camper Van. Set off on your own, or work with Riv­er Wild to build a cus­tom itin­er­ary – includ­ing the high­lights as well as ...more