Thrill-seekers, families, and independent travelers take their Alaska adventures to the next level by exploring the state's vast terrain in comfort and convenience. Great Alaskan Holidays, a full-service RV rental company, provides lots of options along with customer-centric approach that gets you on the road quickly.
Convenience from Start to Finish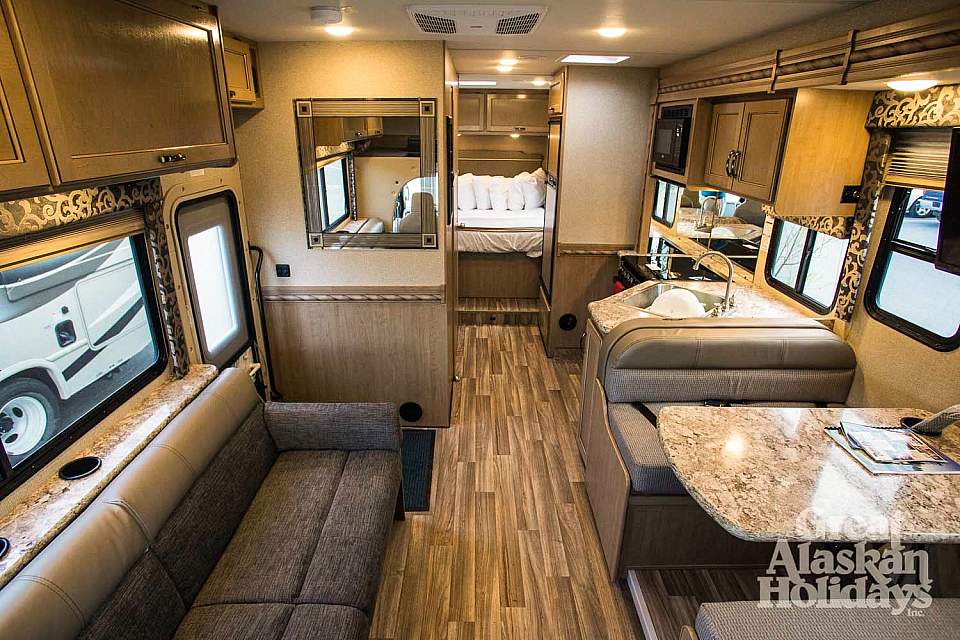 The philosophy at the heart of Great Alaskan Holidays centers around convenience for customers so they can start exploring Alaska right away. The entire rental process is straightforward and easy for novice and seasoned RV travelers.
Before you travel: Use the online reservation system to browse photos and floorplans of your options; then select the RV that will work best your trip. You'll get an orientation packet with all the info you need to help you prepare for your grand adventure. It will include instructions on viewing the RV orientation video online ahead of time to make check-in go even faster. This 30-minute video familiarizes you with the RV operations so you can feel confident behind the wheel.
Once in Anchorage: Complimentary shuttle vans will pick you up from the airport when you arrive and drop you off when you return the rental. Arriving after hours? No worries! Catch a taxi, stay in your RV for the night and fill out the paperwork the next morning. Check-in does include the 30-minute orientation video, but you can watch a shortened driving video refresher if you've rented before or viewed the online version.
Outfitting your RV: Your RV is stocked with complimentary linens, cookware, water & other high-quality amenities. If you have extra travelers, there's a low per-person fee to add additional linens, towels, and pillows.
On the Road – Peace of Mind
Great Alaskan Holidays features the newest models from the most reputable RV brands. To ensure quality rentals and to uphold our high safety standards, no rental unit is over 3 years old. Each return undergoes a full cleaning detail and a 41-point safety and maintenance inspection by factory-trained technicians.
Locked your keys in? Got a flat while exploring? Support technicians are on call at Great Alaskan Holidays. They will find a solution to get you back to enjoying your trip.
Home again: When your journey is over, there's no cleaning or long check-in procedure. Just turn in your keys and hop on the shuttle to the airport.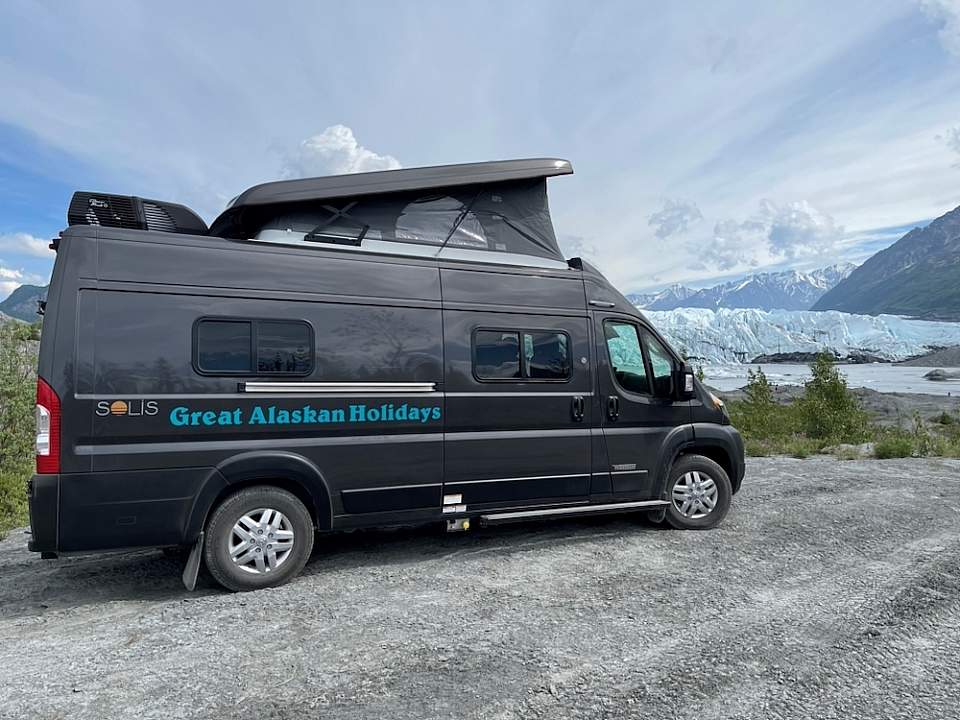 New! Camper Vans
New to the Great Alaskan Holiday fleet is the Winnebago Solis camper van, ideal for 2 adventurous travelers or a family with small children. There are four seats with seatbelts, and the rear seats are car seat compatible. There's a bed inside and a pop-up top that sleeps two comfortably.
The Folks Behind the Business
Great Alaskan Holidays features a team of dedicated employees who truly love helping travelers experience Alaska. This focus on customer service extends to advice about Alaska travel, sample itineraries, or the Alaska lifestyle. Team members are happy to chat with you about them all!
Winter Travel?
Want to play in Alaska's snow and ice? Whether you are backcountry skiing in Valdez or tailgating at Arctic Man or Tailgate Alaska, your RV is a perfect way to stay, warm up, and sample the wintertime view.