Indulge your wanderlust as you explore Alaska in a luxurious, easy-to-drive campervan that has been specifically designed to take you into the wilderness.
The Vans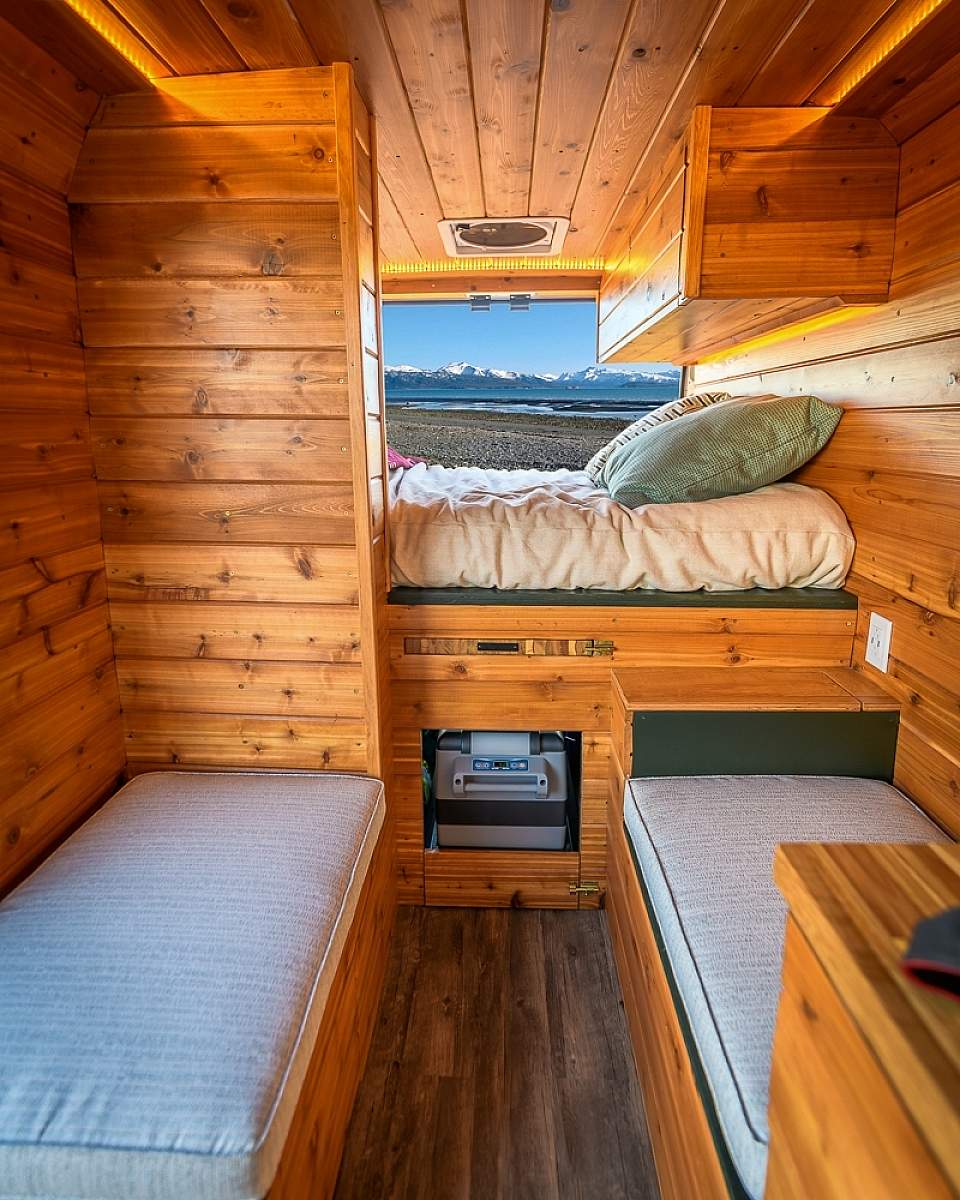 Experience the freedom and nomadic lifestyle that campervan living affords. If you've never rented one before, this is the perfect time and place. First off, campervans are easy to operate. Nimbler than a motorhome, these front-wheel-drive vehicles feel more like an SUV, which is perfect, since (unlike a motorhome) you can drive them almost everywhere in Alaska.
Inside, the super-comfortable vans have been efficiently designed to maximize living space for up to three people (or 2 adults and 2 small children), allowing you to focus on exploring the magical landscape around you. But they also come packed with features. The full- and twin-size beds feature Memory Foam mattresses and all linens are provided. You'll also find a two-burner stove, sink, refrigerator, freshwater tank, and all the cooking and eating equipment you need. Heat is easily regulated, and the energy-dense battery system (plus solar panels!) means you'll have electricity whenever you want it.
For relaxing outdoors, just grab the camping chairs and roll-top table; you'll even discover thoughtful touches like marshmallow skewers. Take your thrills up a notch with optional add-ons that include bikes, tents, fishing poles, and an inflatable kayak or whitewater raft!
It's super-simple to pick your van up from the Anchorage office or, for a small fee, have the company deliver straight to you anywhere within the Anchorage municipality (and have them pick it up when you depart).
Custom Itineraries
Then set off on your own, or work with the company to build a custom itinerary. You can call and tell them your interests and they'll build out the itinerary for you. They'll recommend hidden gems along the way and can even book the tours you want. The booking fee is $50 / day planned, but they're often able to get almost all of that back to the client from discounts with their vendor partnerships that they pass directly onto you.
Winter
Something else that sets River Wild apart is that you can operate these vans year-round, thanks to all-weather tires, insulation, and an indoor heater. If you love cold-weather adventures like backcountry skiing, for example, these campervans make it easy to access secret stashes with endless snow. Then come back after a long day, turn on the heater, watch a movie, and relax. Or maybe you've always dreamed of chasing the famed Northern Lights; River Wild can recommend where to go to set up camp and take a cozy nap in the van while you wait for the lights to dance across the sky.
About River Wild
Owners Tommy and David have always been dreamers and explorers. When they hit on the idea of campervan rentals, these two engineers set out to design a vehicle custom-made for Alaska. Tommy's experience in the hospitality industry—and as a passionate longtime Alaskan—helped bring the vision to life. They want visitors to be able to wander and to immerse themselves in the wilderness while experiencing everything that makes Alaska great, and campervans are the perfect way to do it!