Photo Credit: Get Lost Travel Vans
Everything You Need to Know About Car Camping in Alaska
With towns and services sometimes 100 miles or more apart—and the edge of real wilderness only yards away off the highway shoulder—exploring Alaska while car camping can feel a bit daunting.
Must you rent a lumbering RV? Do you need a guide? Or is it best to join a tour where you're ushered from cruise ship to star-rated lodge and back by train and motor coach on a strict itinerary?
Those options have their virtues. (And can be a great way to see Alaska!) But what if they're just not your style? You might like the freedom of wandering place-to-place by whim. Or only have a few days or a week for your trip.
You can easily explore Alaska's road-accessible wilderness on your own at your own pace, both as a tourist on vacation or as a resident. You can travel as far or as little as you want—without spending a lot of money either. It is safe and liberating, with lots of places to go and many things to do.
Here's how:
First, you need a vehicle
What you drive in town will work for most destinations on or near Alaska's main roads during summer camping season. If renting, consider a small SUV or wagon with flexible storage in the back and roof rails or luggage rack on top. All wheel drive is generally not necessary during Alaska's summer season because most main highways and access roads are paved or in decent shape.
Note that some roads are considered off limits by many car rental agencies. If you hope to explore one of Alaska's major gravel highways into the backcountry—like the Denali Highway through the Alaska Range or the Dalton Highway to the North Slope—you must rent a vehicle specifically cleared for the route.
Check out our car rental information for details.
Assemble Your Gear
Put together a camping outfit that's easy to set up in all weather and then convenient to stow when it's time to move on. Since you will be camping close to the car, you don't need to carry high-tech backcountry gear. You can also get away with heavier fabrics and materials, which will be less expensive.
If traveling to Alaska by air or ship, consider bringing these items
Sleeping bag rated between 20F to 30F
Sleeping pad or air mattress
Airline pillow (the stuff sack filled with your down vest makes a great pillow!)
Nesting camp pot set and skillet or wok
Utensils
Adventure gear (camera, binoculars, fishing gear, hiking poles and the like)
Clothing and personal items. (Check out our Alaska packing suggestions)
Freestanding tent with rainfly, stakes and tie-down cords. (Your regular car camping tent will work fine during Alaska summer season.)
Propane camp stove that uses 1 lb bottles.
You may be able to pick up some of this gear in Alaska
This camping gear will fit inside a large duffel that can be checked. However, if you need to save bulk and weight, or just want to travel light, you can rent most outdoor gear from local outfitters, like Big Rays or The Hoarding Marmot. Likewise, Alaska retailers definitely carry inexpensive car-camping tents, summer sleeping bags, simple stoves and cook gear. The gamble will be that you will be stuck with whatever happens to be in stock when you get to Anchorage or Fairbanks. Bargains may be harder to find as summer goes on. It's a judgment call, really. Often a trade-off between extra baggage fees versus purchase cost.
Our recommendation: If baggage is tight, consider buying a roomy-but-inexpensive car camping tent (less than $100) after you get to Alaska. A bottle-top propane burner will cost under $40. Suitable sleeping bags, pads and cooking gear may be harder to find, so bring them in your luggage you can.
What you should buy in Alaska
Superstores, outdoor retailers and home improvement centers carry these items. You should be spending less than what it would cost for a single night in a hotel. $150 or less.
At least one polyethylene tarp (a "blue" tarp with grommets) at least 8 by 12
At least two bungee cords
100 feet of inexpensive utility rope
Five gallon plastic water jug (under $20)
Indoor-outdoor carpet runner or square
At least two 1 lb propane canisters (three to five meals per canister)
Folding camp chairs (under $10 each)
Cheap "Styrofoam" cooler for keeping food cold
Two 14-gallon stackable storage tubs (for washing dishes, storing kitchen items and food storage)
1 canister of bear pepper spray (if you decide to go hiking)
Spray canister of bug dope (with Deet as active ingredient)
Matches and/or lighter
Mosquito coils
Groceries and ice
Poly tarp secrets: The crux to comfortable car camping
In dry, sunny weather, setting up camp is a breeze. Simply secure your tent on the nearby tent pad or a good flat spot, and arrange your space in a logical fashion that feels right. You know what to do!
Keeping kitchen, food and personal items organized in storage tubs and duffels can be helpful and make packing up easier. We like to set up chairs around the fire ring, place the carpet square in the tent's entrance to cut down on dirt, and eat dinner facing the sunset. Picnic tables make great kitchens!
But what about rain?
With everything from downpours to drizzles, Alaska summers can get drippy and dampen (pun intended) evening campsite fun. Here's where the polyethylene tarp saves the day by allowing you to create a dry "outdoor" room adjacent to the vehicle where you can prep food, sort gear and relax in comfort.
Center a tarp edge over the doors of one side of your vehicle or over the hatch back.
Connect the bungee cords from grommets on the tarp directly to the roof rack of the vehicle or some other logical tie off spot. Make sure the tarp between grommets is taut and overlaps the vehicle roof to block rain.
Tie utility ropes to the each of the outside corners and pull the tarp taut against the stretch of the bungees.
Tie off the ropes to trees, rocks or stakes. (Here's where having 50 to 100 feet of rope comes in handy.)
Adjust so that the tarp creates a flat sheet that slopes enough to shed water.
If you want to max out the comfort, a second poly tarp stretched over the tent can create an additional "dry" space. Even if the tent has a rainfly, this second barrier to rain makes it so much easier to exit and enter the tent, plus stash gear and keep firewood dry. Maybe best of all, the tent won't be wet when you pack up. Use the crown of the tent as the center support for the tarp, and tie off the four corners. Use bungees to keep the lines tight.
What about bugs?
A screen tent—what some Alaskans call a "Bug Palace"—is the luxury, bombproof answer to enjoying a roadside campsite swarming with mosquitoes, black flies and no-see-ums. Many residents who love car camping won't leave home without one. (Some of these auxiliary tents come equipped with rain flies, too.) But visitors might find carrying one in baggage too much trouble, or buying one new to be just too expensive. They can be heavy and bulky, and cost as much as $100 to $200.
Solution: Use the cheap poly tarp combined with strategically placed mosquito coils to create an insect-free refuge. Biting insects find their human prey by following exhaled CO2 and odors upstream to the source. The trick is to block that signal. This procedure really works!
Place your chairs (or your space) beneath the tarp that you've already set up, with backs to the vehicle or tent.
Place two burning bug coils at either side of where you're sitting or working. You should use two because the smoke streams cross and reinforce each other as the air eddies around you.
Move them around so that the smoke is generally flowing through your position and continuing downwind. Plus some smoke should collect near the ceiling of the tarp above your head.
Another anti-bug tip: A campfire will perform the same function, though not as efficiently as a tarp over well-placed coils. The wood smoke blocks the signal and confuses the bugs.
Where should you go?
This question is as big as Alaska! Check out our Alaska trip planning advice as a start, especially our Traveling Pitfalls To Avoid (Pitfall No 1: Trying to cover too much ground in too little time!). And then check out our quick list of multi-day driving tours and our tip sheet on planning an RV trip.
Tips for selecting campgrounds on the fly
Scores of managed campgrounds exist on public and private land along Alaska's major highways, often with direct access to streams or lakes. Most official campgrounds feature sites with a parking pad, picnic table, fire ring, vault toilets and a water source. It is easy to string together a road trip with half-day or less travel time between campsites, for as many or as few days as you like. Cost $15 to $25 per night.
Several campgrounds within a day's drive from Anchorage are associated with recreation sites that offer an array of other adventures and activities. Like those in Chugach State Park, Nancy Lake State Recreation Area, Denali State Park, Denali National Park and Portage Valley of the Chugach National Forest.
Excellent seashore car camping can be found inside Seward and Homer, and at state sites along the Sterling Highway between Kenai and Homer. Valdez and Whittier also offer camping options near or beside the ocean.
Unofficial car camping areas may be more numerous, especially along highways heading from Anchorage into the Interior up the Parks and Glenn highways and beyond. Alaskans often pioneer these sites in the right-of-way along streams and rivers at bridge crossings, in former gravel pits and in pullouts or disused roadways leftover from highway upgrades. Look for other campers, or fire rings. The Alaska Milepost can be a good resource for identifying potential sites along your route ahead of time.
Do you need to reserve campgrounds in advance?
That depends. Popular developed campgrounds—especially on the Kenai Peninsula and in state or national parks—will fill up completely on summer weekends. It can be difficult if not impossible to find an open site after noon between Friday and Sunday. Holidays are especially crowded. (Weekdays can have many vacancies, even in popular campgrounds.) If you know where you're going to camp on a Thursday, Friday or Saturday night between Memorial Day and Labor Day, strongly consider making a reservation well in advance. Reserve America has links to 37 state facilities and 207 federal facilities in Alaska.
Want some suggestions? (link to subpages doug created)
Best five-day round-trips from Anchorage
Five great public campgrounds
Five beach campouts
For more campground information:
Alaska State Park campgrounds
Chugach National Forest campgrounds (mostly on the Kenai Peninsula)
Kenai National Wildlife Refuge campgrounds
BLM Alaska campgrounds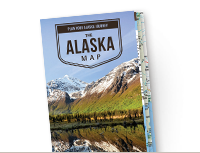 This state map includes top destinations and attractions, driving guides, & more!