Great Beaches To Camp In Alaska
Crashing surf. Brisk air and beachcombing. Boats. Marine mammals. Or how about a horizon of spectacular peaks, including (on Cook Inlet) four stunning volcanoes with storybook profiles? What's not to like about a car camping trip to one of southern Alaska's road-accessible beaches? (Check out our guide to beaches.)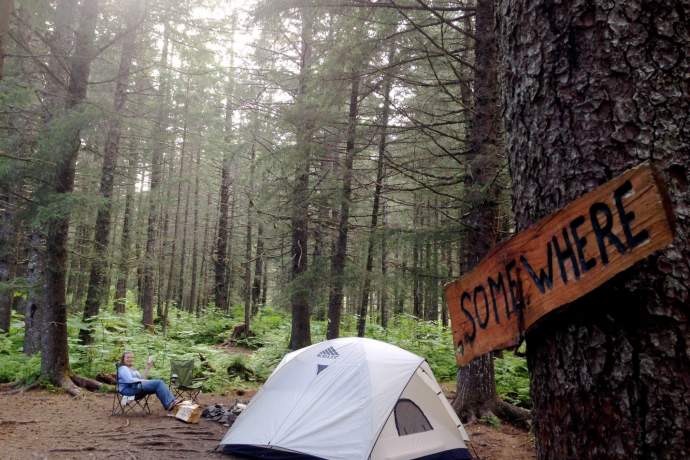 01
Downtown Seward and Lowell Point
The waterfront camper park just south of Seward's small boat harbor is one of Alaska's most popular camping destinations, with hundreds of RV and tent sites spread over several campgrounds on the shore of Resurrection Bay. While the shore itself is armored with rock, the setting may be one of the best places in Alaska to watch boats, seals and sea lions, seabirds and bald eagles. Adjacent to a walking trail that runs from the Alaska SeaLife Center past the marina, the campground complex spreads out only a few blocks from Seward's quaint downtown district, where you can find shops, restaurants and museums. Want to camp further out the bay, with a beachcomber's access to sandy beaches? Try the privately run Miller's Landing on Lowell Point, near the hiking route to Tonsina Beach and Caine's Head State Recreation Area.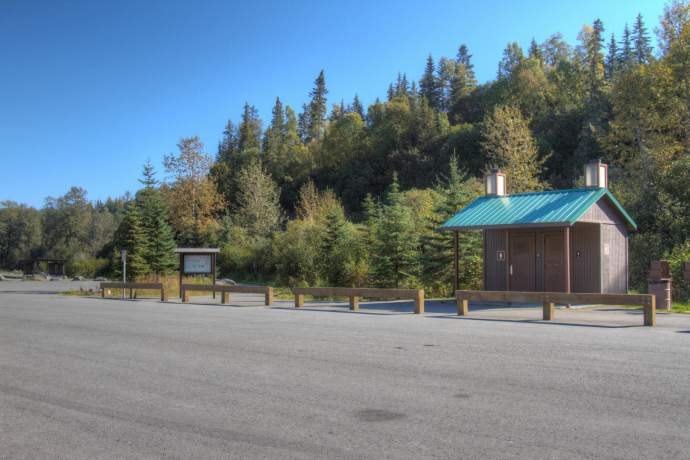 02
Deep Creek on Cook Inlet
This sandy beach and recreation area at the mouth of Deep Creek features 100 sites for car and RV camping, wildlife viewing of migratory birds in an estuary and tractor assisted boat launching into Cook Inlet. The community of Ninilchik, with roots as a Native village and pioneer settlement, retains the architecture and charm of an old-time Cook Inlet outpost, with modern lodgings, restaurants and shops. (Salmonfest music festival and the Kenai Peninsula Fair call Ninilchik home.) The beach site is legendary (in good years) for fishing—halibut offshore and king salmon in the creek. But it's the view and setting that really make the place extraordinary. Iliamna and Redoubt volcanoes loom over the vast reach of Cook Inlet to the west. A bluff overlooks the creek with interesting homes, creating postcard-worthy views. Located at Mile 137.3 of the Sterling Highway, about 186 miles south of Anchorage.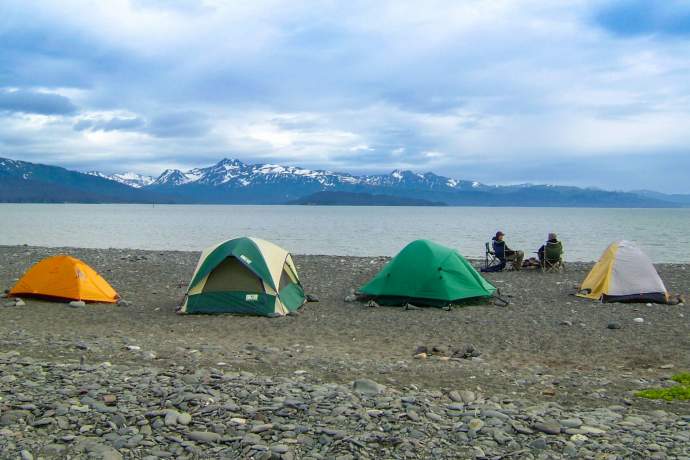 03
Homer Spit on Kachemak Bay
Thrust nearly five miles out into the middle of Kachemak Bay, the Homer Spit offers Alaska beach camping on steroids. More than 100 vehicle accessible sites are spread among several camping zones, every single one of them within yards of the pristine ocean with replete with sea otters, seals, sea lions and vast populations of seabirds. The whole west shoreline often rocks with dramatic surf, and it's a fabulous place to beachcomb, watch for bald eagles and enjoy the fresh, brisk air. During the summer season, the Homer Spit is also becomes the nexus for world-class halibut and lingcod charter fishing, wildlife and whale watching tours, and sports dozens of restaurants, shops and museums. The marina area takes on a carnival atmosphere during sunny weather. Located at the southern end of the Sterling Highway (as far as you can drive without boarding a ferry,) the spit is about 225 miles south of Anchorage and about 80 miles south of Kenai.