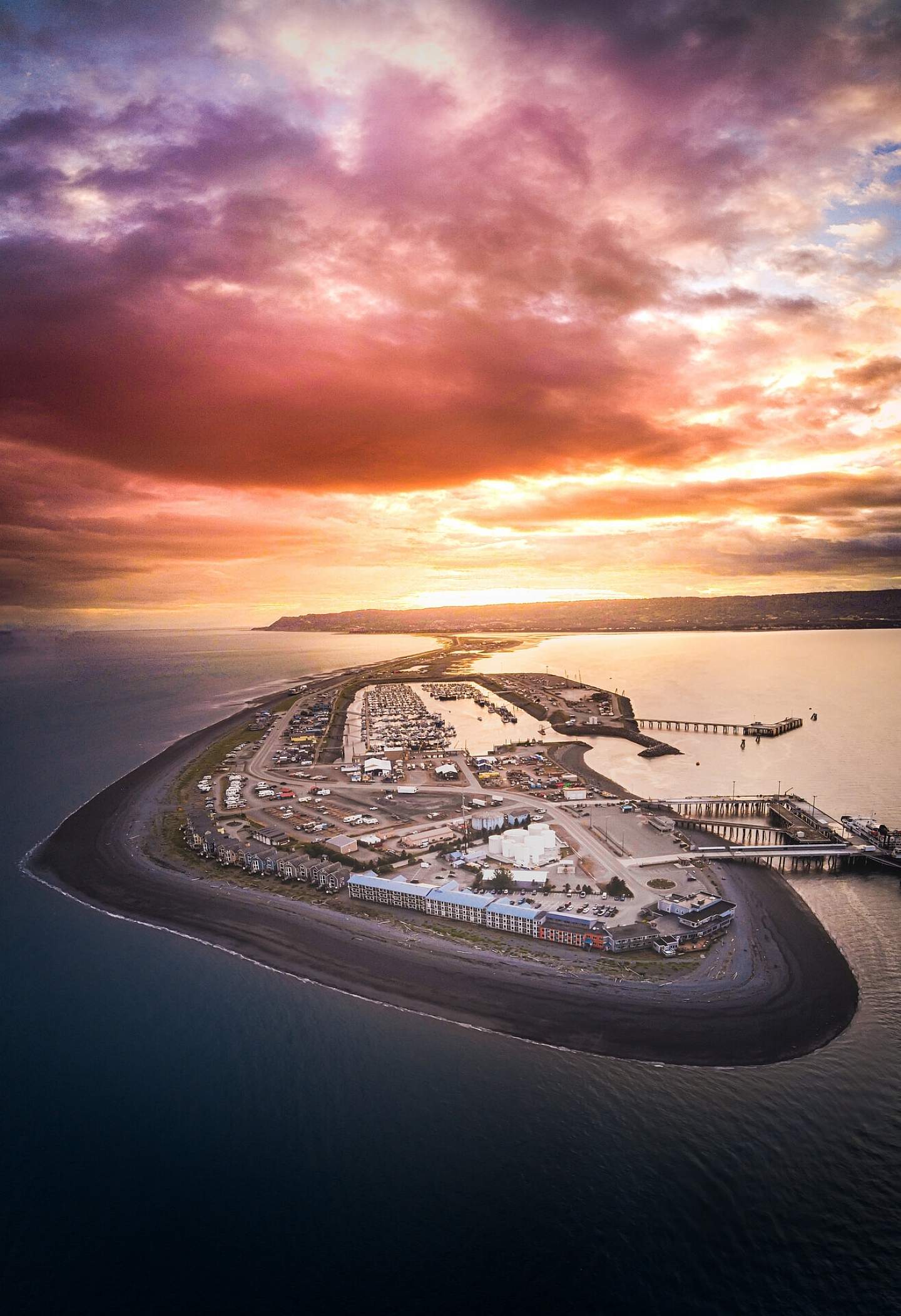 The Homer Spit is a long, narrow finger of land jutting 4.5 miles into Kachemak Bay. Dotted with businesses, the area caters to visitors and provides numerous recreation opportunities, from fishing and beachcombing to shopping and boating.
With glacier-studded mountains and crystal-clear water surrounding you, the tiny businesses and miles of beaches that make up the Spit also make for one of Homer's most beautiful features. Take long walks, take photos, check out the boats returning with their huge catches, or cast a line for salmon yourself at The Fishin' Hole-located near the boat harbor-which is stocked with kings and silvers. Test out your sea legs with a fishing charters for halibut and salmon, head out on a guided sea kayaking trip, or hop a ferry across the bay to the quaint boardwalk-lined town of Halibut Cove. The Spit also offers some of the best eagle viewing in the state - up to several hundred during certain times of the year! Extreme low tides (say a minus-15 foot) expose interesting sub-sea flora and fauna on beaches and harbor piers.
At the Harbor, you can take a walking or boat tour with guides who know the boats and their histories and functions. Many of the boats belong to commercial fishermen and charter operators and there are also a great number of pleasure sail and motor boats, which come and go throughout the summer. The Harbor Master's office has a harbor map with the names of all the boats and their functions as well as owners. Just observing the creative names people have given their pet boats is a fun pastime.
Since we weren't here when it formed, we rely on science, archeology and legend to know what caused the four-mile-long stretch of land that extends half way across Kachemak Bay near where the bay extends easterly from Cook Inlet. It is thought to be a moraine left behind by a long ago glacier that may have also been the creator of Kachemak Bay. The Spit was continuously reshaped by ocean currents until about 1000 years ago when early Alaska Natives began to inhabit it and re-inforced it in places to keep it from washing away. To this day, Homerites are keeping an eye on erosion and sandbagging as needed to prevent this vital piece of the town from being cut off from the mainland.