Photo Credit: O'Fish'ial Charters
From do-it-yourself fishing for Dolly Varden on the Anchor River to a fully outfitted, multi-day charter, Homer and north to Anchor Point is a hotspot for angling on the Kenai Peninsula. After all, as the sign leading into town declares, Homer is the self-proclaimed "Halibut Fishing Capital of the World." But halibut isn't the only fish around, and the variety of offerings can seem daunting, so doing a little research can make the trip much easier. Here's what you need to know.
Charter Fishing
Homer has a decades-long history of charter fishing, so you'll find lots of options to charter a boat for halibut, salmon, rockfish, lingcod, and even shark, depending on season and weather.
Jump to Our List of Recommended Charter Companies
Types of Fish
Halibut: You can find everything from half-day trips to multi-day excursions into the Kodiak archipelago, but the most popular are half-day charters on large boats (12–20 anglers) and full-day trips on "six packs" (boats that take no more than six anglers). On the half-day boats, anglers can expect to catch their limit of halibut (as of 2015, it's one fish of any size and one under 29"). Some six-pack charters don't target fish under 29" at all, though they may make a quick stop for smaller fish on the way back to port. Expect to pay somewhat more for these full-day trips. And be aware that you won't find charters on Thursdays.
Salmon: Homer has a spectacular, though often overlooked, salmon fishery. Feeder (or "winter") king salmon are targeted year-round, with "spawners" found in the fishery from roughly May through August. Feeders can run anywhere from a few pounds to more than 50, with the winning fish in the March Winter King Derby usually weighing in the 25- to 35-pound range. King salmon fishing in Kachemak Bay can be phenomenal at times, with limits often granted to anglers willing to brave the elements in the dark winter months. Several charter operators are available year-round to chase these amazing fish. Silver salmon begin to show in the fishery in July and are targeted through September. Pink salmon are most abundant in odd numbered years, though streams in Kachemak Bay State Park are on an even-year cycle.
Combos: Many charters offer combo trips, where halibut, salmon, rockfish and lingcod may be part of the day's quarry. Halibut and King salmon trips are offered nearly all year, with halibut only being off-limits in January. Silver salmon and halibut charters are popular in late July and August, when Kings are often as numerous as Silvers in the daily bag. Lingcod season opens July 1, and you can expect decent results for the first few weeks of the season. Black rockfish, cod, and yelloweye are additional targeted species.
Other species: Specialty charters out of Homer run the gamut. You can find boats offering salmon shark charters (you'll need to book the entire boat), half-day Pollack charters, and trips that offer fast action on smaller fish within the bay. Some outfits don't go after halibut at all, but can provide a great day on the water chasing cod, rockfish, salmon, and other feisty fish.
How to Book
To book a trip out of Homer, do some research. Get started well before you plan to arrive, and talk to numerous charters about when you'll be there and what your expectations are. If you find yourself in Homer and are looking to book in person, drop by the Chamber of Commerce building on the way into town for info, and then head out to the spit. Most charters have offices on one of the several boardwalks in the high-traffic areas near the harbor. We have worked with several charters for years, and you will find our recommendations in the list below.
What to Ask
If your biggest desire is simply to have a day on the water and catch a couple halibut, then one of the half-day boats or larger vessels may be your best option. If you want the chance at really big fish, then you may want to look at a full-day "six pack" Just don't plan on catching a 100-pounder; anglers may catch a few every day, but they're the exception, not the rule.
If you're a family with kids, make sure that the captain you're considering is good with that; some skippers are more kid-friendly than others. If you're a small party filling out a "six pack," realize that if the other folks on your boat aren't done, you'll be fishing until they are. A family of 4–6 should seriously consider booking the entire boat, as that gives you the option of saying you're done and ready to go home.
Also, ask about the boat you're booking. Does the skipper have a reputation as "Captain Midnight"—the first out and the last in? That's good for some folks but not all. And don't be overly swayed by hanging trophy fish or old pictures of successful excursions. Tomorrow may be nothing like yesterday. One more piece of advice: Don't limit your queries to charter offices. Ask about the best boats at coffee shops, restaurants, and gift shops, and talk to people on the street. Folks are generally pretty friendly, and usually happy to give an impartial opinion.
What to Expect
If you're on a half-day boat, you'll pretty much know when you'll be done. Full-day trips may not return until dinnertime, though most charters are back between 3pm and 5pm.
The weather may be anything from pouring rain and windy to dead flat calm and sunny, and often on the same trip, so pack rain gear, along with food. However, don't get carried away; space is at a premium on boats, and there's not always going to be room for, say, a big ice chest.
If you're concerned about seasickness, take motion sickness meds the night before your trip, and again in the morning. If you're already queasy before you take them, however, be aware they may not help.
Almost all charters include filleting in the cost, and will call a processor to meet the boat and deal with your fish should you want. Getting your fish home can be expensive—at least $3 per pound for vacuum packing and shipping. Most processors will hold your fish until you're home, and then ship it to you via 2-day Fed-Ex. Your fish will arrive frozen solid and ready for your freezer. Fillet yield on fish is variable, but you can plan on roughly 70% for halibut, about 50% for salmon, and between 25–30% for rockfish, cod, and lingcod.
Do-It-Yourself Fishing
For the angler not interested in a charter, Homer and the Lower Peninsula offer multiple opportunities for do-it-yourself trips. Since many of the river fisheries occur at specific times, it's important to do your research. For instance, though July is a popular travel month, it's pretty much between all the salmon runs (except reds on the Kenai/Kasilof, but that's not what were talking about here). King salmon river fishing opens in late May and is done by June, but In late July and August things start to pick up again with dollies, pinks, and silvers arriving in the Anchor, Ninilchick and Deep Creek areas. Various roadside saltwater fisheries are open to exploration as well, with different degrees of success depending on one's target species.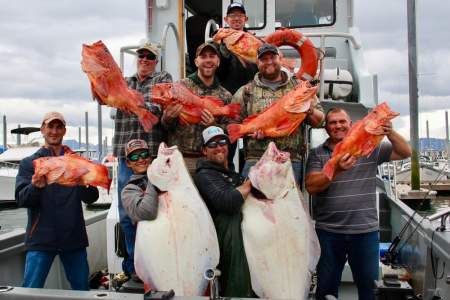 Season: Year Round $325+ 6 hrs+
O'Fish'ial spe­cial­izes in salt­wa­ter hal­ibut and king salmon char­ter fish­ing expe­ri­ences out of Homer, as well as Long Range tro­phy fish hunts. Own­er Chad has spent count­less hours with sea­soned Alaskan fish­er­men who shared time-test­ed advice – and their fish­ing hotspots – with him. He com­bines this knowl­edge with a cus­tomer-ser­vice focus and pas­sion for shar­ing all the excite­ment and adven­ture Alas­ka fish­ing has to offer.
Season: Mid April to September $195+ 3/4 to Full Day Excursions
Homer is the hal­ibut cap­i­tal of Alas­ka, and this long­time char­ter com­pa­ny offers a blue-chip way to get to the fish. They have high-qual­i­ty boats, expe­ri­enced cap­tains, and enthu­si­as­tic crews — as well as an inside line on find­ing hal­ibut, rock fish and sil­ver salmon. But they also offer a vari­ety of oth­er ways to enjoy the waters off Kachemak Bay, from wildlife cruis­ing to pad­dling a kayak or hik­ing in Kachemak Bay State Park.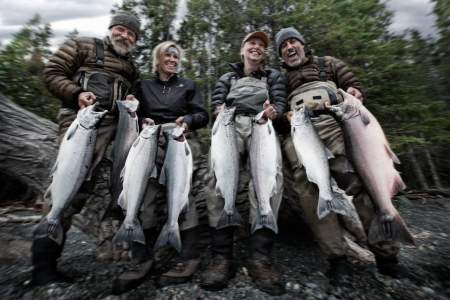 Season: Mid-May through mid-to-late September $225+ Half-Day to Multi-Day
Feel the thrill of world-class salmon and trout fish­ing on Alaska's Kenai Penin­su­la with expe­ri­enced, pas­sion­ate guides. You'll get out on the Kenai and Kasilof Rivers, just hours from Anchor­age, with a team that knows where the fish will be run­ning each day. Spend a day, or make it a mul­ti-day trip with a cus­tom pack­age that includes lodg­ing on the river.