Maverick Charters features 3 boats: The Ultimate - a big, fast 56-footer that can fit up to 18 people (or 20 for private groups) and two 6-passenger boats. All come tailor-made for the ideal fishing outing, with heated cabins, private bathrooms, and plenty of space for casting and relaxing. You'll board one of them and head out from Homer on ¾-day or full-day trips, taking in the mountainous scenery around you. The fishing grounds are 1–3 hours from town, depending on the weather and where the fish are biting.
Cast your Line for Iconic Alaskan Salmon, Halibut & More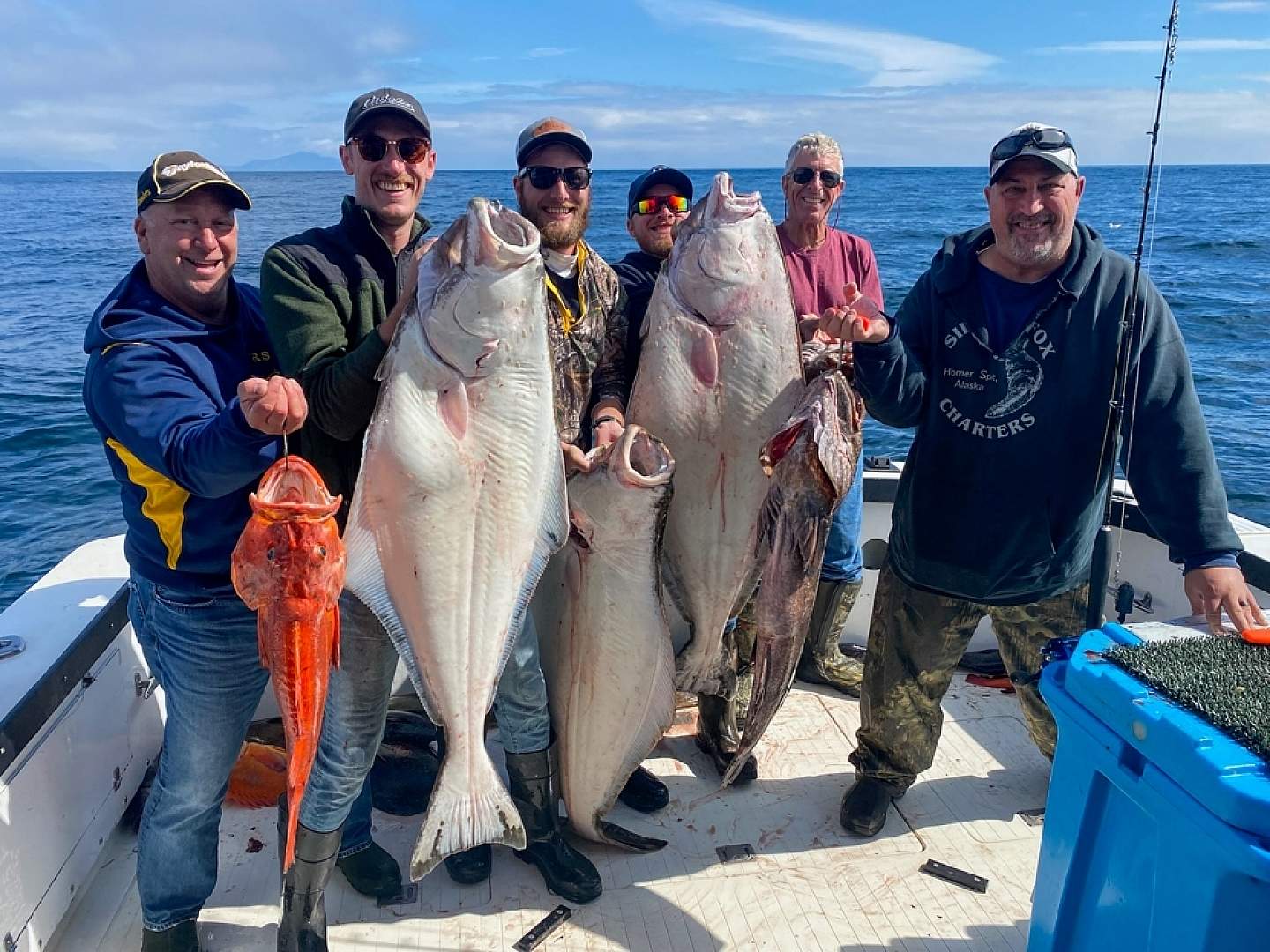 Choose from a variety of options. Focus on salmon or halibut, or book a combo trip that can also include rockfish. If you're after the famous huge halibut, taking one of the smaller boats on a full-day trip is a great way to maximize your chances of catching one of these monsters, which can run to 200 pounds! But even snagging an average-size halibut—which comes in at around 14 pounds—is also quite a thrill.
You can also chase delicious salmon, mostly kings and silvers. Or try for both! Spend half the day casting for halibut and the other half for salmon. You can also combine one of those species with rockfish. Or head to less-protected waters and angle for all of them, along with bonus fish like lingcod and mermaids.
Plus, bonus wildlife sightseeing is also on tap, as whales, puffins, otters, porpoise, and other creatures make their homes here.
Winter Fishing
Here in the winter? Don't let that stop you! Fish for king salmon from October through February, when you can also try your hand at crabbing, by dropping a baited pot in the water as you head out to fish and reeling it in when you return.
Private Charters
Ask them about booking the boats for special occasions, like engagements and reunions, or for any group trip. They're ready to make your Alaskan experience memorable; after all, they know that every trip to the 49th state is the trip of a lifetime.
About Maverick Charters
Maverick was started in 2015 and today is run by two couples—year-round Homer residents who double as guides. They're fanatical about fishing, and their enthusiasm will rub off on you. They pride themselves on top-notch service and education—if the crew doesn't have the answer, they'll find out!