Enjoy world-class fishing, whale watching, and sightseeing out of Homer Alaska with a twist.
Straight to the Fishing Grounds
Skip the 2-hour boat ride out to the fishing grounds and take a 30-minute floatplane flight straight to the boat instead! The outside shore of the Kenai peninsula is a scene like no other. From world-class halibut to five species of native salmon runs, the ocean is teeming with life. The scenery is unmatched as you are fishing in-between snowcapped peaks, hundred-foot tall rock bluffs, and remote islands. These trips are only sold on a private basis to ensure you and your group have the best possible experience. Looking to do a little fishing, a little whale watching, and some slow roll cruising by some waterfalls? Flexibility and fun is the name of the game for the crews at Destination Alaska.
Destination Alaska prides itself in finding the best crew and pilots for its operation. Some of the most important criteria for their staff is extensive experience in their field and an unmatched love for showing people Alaska.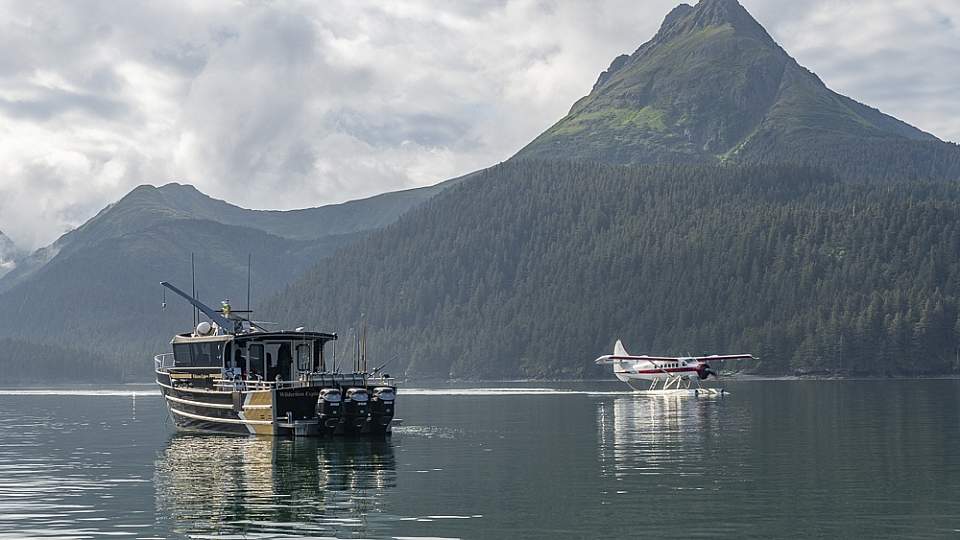 What does a day in this trip look like?
You'll meet at 8 a.m. and take off from Beluga lake for a gorgeous, quick flight out to the boat. You'll land on the water and a skiff will take you out to the boat. Thanks to your flight, you'll beat most of the boats coming from Homer! You'll board the Wilderness Explorer or the new Alaska Endeavor—the company's two state of the art, Seakeeper stabilized boats (no sea sickness!). Then it's time to fish!

Top-of-the-line gear is used to target Halibut, Salmon, and potentially Rockfish. Spend the day pole in hand fishing or ask your captain to take a wildlife cruise. The Homer area is home to a wide variety of sea life from sea otters to orcas to whales to sea lions and more. As you wrap up your day, your crew will fillet all of your fish. From here you can either take your catch with you to process it, or your crew can arrange for a local company to process your fish and mail it to you! Doing over 600,000lbs a year their processing partner is an expert at making the process easy and affordable. Ask your crew for more information.
Want to add food to fishing? No problem! Thanks to the flexibility you have with Destination Alaska, you could spend a half-day fishing in the morning and then enjoy a meal of steak and king crab in the afternoon out on the back deck as you cruise slowly through bays and past waterfalls. Ask about our Kachemak Bay premium package for more information.
Once you're done fishing, you can either cruise back to the harbor with the boat and crew or choose to fly back. Flying back means about an hour and a half of extra fishing time!
All Fish and Fly trips are custom, private, and catered to your group. They're great for families that want to do a lot of fishing, or perhaps just a little fishing and more sightseeing. Crews are flexible, and the schedule is flexible. Destination Alaska even offers Anchorage direct to the boat, fly-out fishing for those not wanting to travel to Homer, but still wanting the world-class fishing experience! Call for more information.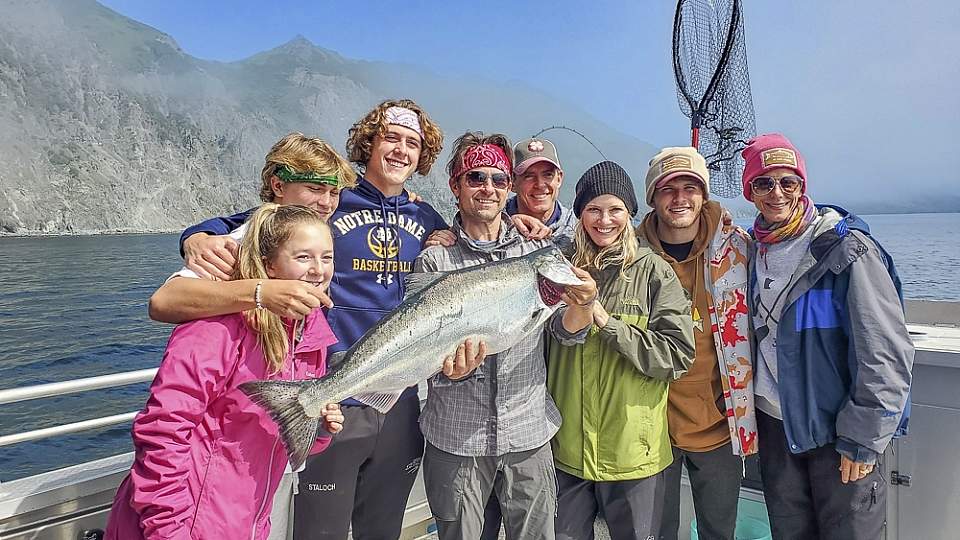 About Destination Alaska Adventure Company
Family-owned and operated, Destination Alaska Adventure Company was founded in 2017 by the Jackson family— Scott, Barb, and their sons Chris and Brandon—who all have a passion for showing people the Alaskan outdoors, particularly in and around Homer. They saw a growing need for private, custom trips that were flexible enough to satisfy guests. In addition to their ocean excursions, Destination Alaska also has an aviation branch specializing in bear viewing, flightseeing, volcano touring, custom charters, and air taxi work. They are a true one-stop shop. Looking for help in planning your trip? Let their experts guide you in the best adventures and lodging. Their goal is to make your trip to Alaska a trip of a lifetime.