Homer is known as the Halibut Capital of the World, and longtime charter company Homer Ocean Charters (HOC) offers a blue-chip way to catch these giant fish. They have safe, comfortable boats, experienced captains, and enthusiastic crews, as well as an inside line on finding halibut, rockfish, and king salmon. They also offer a variety of other ways to enjoy the waters of Kachemak Bay, including wildlife cruising, paddling a sea kayak, and hiking in Kachemak Bay State Park.
Decades of Expertise
Homer Ocean Charters has been in business since 1979 and, as a serious stamp of approval, is the preferred vendor of Holland America Cruise Line, which is well-known for vetting its tour operators thoroughly. HOC's owners, Roark Brown and Scott Jackson, have served on the Homer and Seldovia Chambers of Commerce and the Alaska Tourism Industry Board, so they have a deep appreciation for customer service. Plus, HOC and their captains have been on the waters of Kachemak Bay for more than 40 years and they know the tides, locations, and feeding patterns of trophy fish.
Two-for-One Excursion
If you choose one of their fishing trips, your ride to the fishing grounds also offers a spectacular photography experience. You'll get views of remote and rocky shorelines, snow-capped mountains, and a wide variety of wildlife that call Kachemak Bay, home. It's not unusual to see otters, pods of whales, eagles, and other sea life along the way.
Comfortable Boats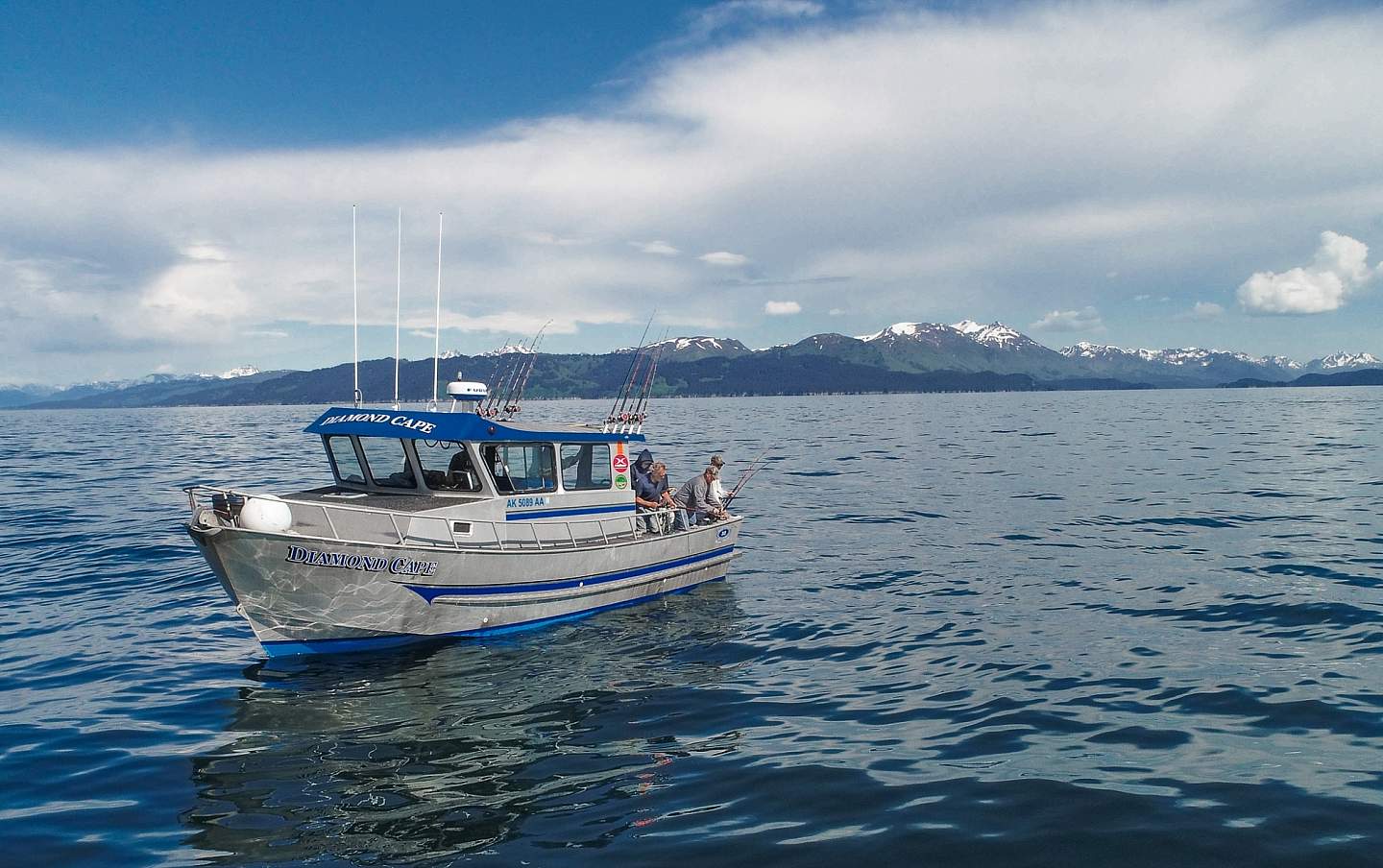 Whether you're a seasoned angler or a first timer, you'll appreciate the well-maintained, company-owned vessels. The 18-passenger vessel, Bay Explorer, and 10-passenger Sea Hawk are U.S. Coast Guard Inspected, and both vessels feature reliable twin diesel engines. The boats are really stable too, making them great for first-time anglers and anyone who just wants a smoother ride. Bigger boats also mean more crew, so you'll have the captain and at least one deckhand to help with baiting hooks or landing fish. They also have a 32', faster, six-passenger boat, the Diamond Cape, available for a more personalized charter outing to fish for halibut, salmon, and rockfish.
All their boats feature heated cabins and flush toilets—a nice perk not offered by everyone—plus top-of-the line gear, from lures to rods and reels. And when you land your dream halibut or king salmon, the crew will fillet it for you, and even arrange for your catch to be vacuum-sealed, frozen, and shipped to you back home.
Cruising for Views
They also do more than just fishing. For instance, they offer multi-day yacht charters—using the plushily comfortable 60-foot Outer Limits—departing Homer for four and five-day cruises. Three private cabins with private bathrooms are available for your group of up to six guests. All meals, fishing equipment, kayaks, and a full crew are included.
Water Taxi to Adventure
If you want to get dropped off for a longer stay, to camp, hunt, or just take a long hike, they also offer a full water taxi service. They can transport you anywhere in the bay, like hiking trail heads, pristine kayaking locations, and camping spots in Kachemak Bay State Park. For these trips, they use the Bay Link, a shallow water landing craft that can carry six passengers, lots of gear, and even kayaks.
Exclusive Resort
HOC can also take you to their own cherished destination, Otter Cove Resort—a group of four cabins that provides you a perfect remote Alaskan getaway experience. Otter Cove has a deep-water dock, beautiful beach, and opportunities for guided kayaking tours, or kayak rentals for experienced cold-water paddlers. Half-day and full-day tours are available. Otter Cove Resort is surrounded by Kachemak Bay State Park and has a trail that meets the Sadie Knob trail for a great day of hiking into the state park. With 40 years of local experience, the folks at Homer Ocean Charters can set you up on whichever trip will help you best experience the magic of Alaska.