Encounter wild Alaska from the comfort of a private yacht on a custom-designed, multi-day cruise departing from Homer.
The Experience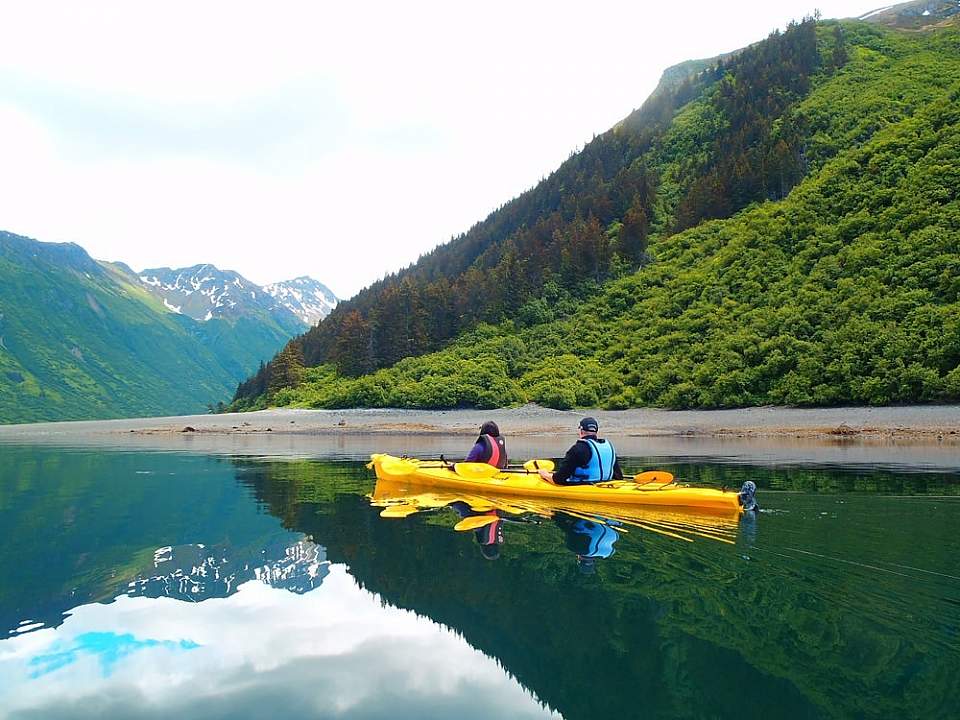 An Alaska yacht cruise with Homer Ocean Charters will take you from Homer to the outer coast on a multi-day trip of a lifetime. Charter their private, live-aboard, 60' yacht and choose from a variety of activities for the ultimate 4- or 5-day excursion. Wake up each day in the middle of untouched wilderness and go sea kayaking, hike through boreal forests, fish for trophy halibut and salmon, or spend a quiet day on the water photographing wildlife. Whatever you choose, Homer Ocean Charters unites you with your dream Alaska vacation.
Your destination will include wild and remote locations along the outer coast, like Gore Point, Chrome Bay, or the Barren Islands. Each coastline is dotted with quiet coves, hidden waterfalls, and prime wildlife viewing you won't find anywhere else.
While sailing, you'll enjoy comfortable accommodations and excellent food. Thanks to the fully equipped galley, your crew will whip up delicious meals, which you can enjoy in the main cabin enclosed by large picture windows. Your captain and crew are experts in the preparation of local seafood—they truly take pleasure in serving up the catch-of-the-day for their guests.
Great for Anglers
Love to fish? An Alaskan yacht cruise is ideal for you. On a normal fishing charter, you can expect at least 2 hours of sailing to get to the best fishing spots, then another 2 hours to sail back to the harbor, leaving less time to fish for the big ones. With a Homer Ocean Charters yacht cruise, you'll wake up close to the best fishing grounds each day, ready to drop a line with your morning coffee. Homer Ocean Charters will even fillet your catch.
The Yacht
The Outer Limits is a 60' yacht built for Alaskan waters and thoughtfully laid out for the comfort of all passengers. With four staterooms and three private bathrooms, the Outer Limits can accommodate up to 6 passengers in style. Select from three suites with a double bed and a single over it, each with a private bath with sink and toilet; the fourth suite contains three single beds and a bath next door. There are also private showers and a washer-dryer. The main cabin has comfortable seating and spacious dining tables. During the day, you can choose a hard-hitting adventure or sit back, read a good book, and soak up the sun and sea breeze from one of the open decks.
If your goal is to experience wild Alaska in first-class comfort, the right choice is a vessel-based, multi-day adventure with Homer Ocean Charters.