Best Time To Fish In Alaska
Alaska provides year-round fishing, provided you're willing to try new locales and species. There's winter kings out of Homer, spring rainbows on the Kenai River, summer sockeye on the Russian River, and of course ice fishing while lakes remain frozen. No matter the time of year, you can find something to fish for.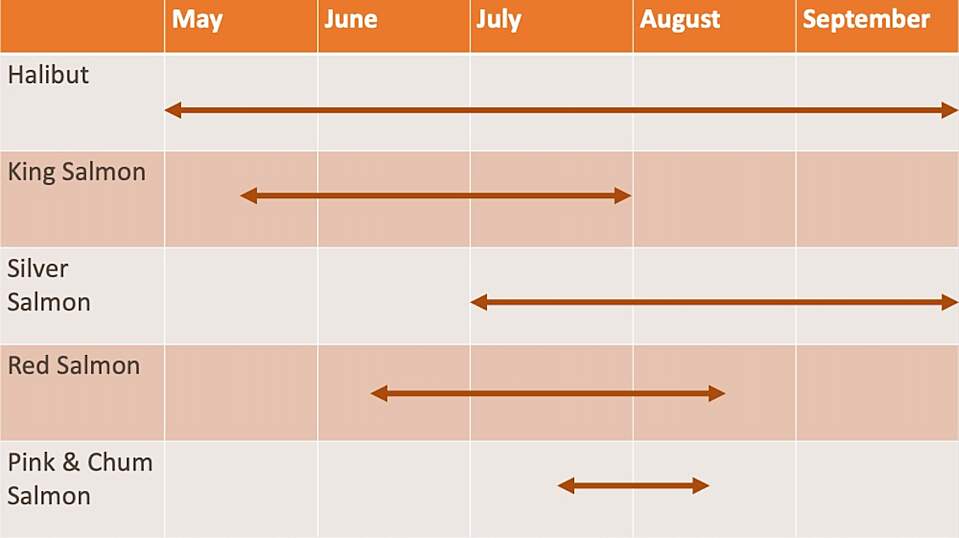 Peak Salmon Runs are May to September
If you're visiting Alaska, you'll mostly likely to arrive in summer. Peak season for salmon fishing occurs from May through September, with the five major species spread across the season. King Salmon fishing begins in May, and you can continue fishing for Silver Salmon all the way through November. The entire summer offers at least one type of salmon fishing.
Think About Alternative Species, Too!
If you're seeking some adventure away from the crowds, you can find some very enjoyable fishing for some of Alaska's "alternative" species. Interior lakes and streams abound with Arctic Grayling, the sailfish of the north. Dolly Varden and Rainbow Trout explore Southcentral lakes and streams, with trophy size fish spread from the Kenai River to the Susitna River tributaries. Additional species such as Northern Pike, Burbot, and Arctic Char can be found in numerous locations along the Alaska road system.
Halibut & Other Deepwater Ocean Species
If you'd prefer time on the ocean, Alaska offers world class halibut and lingcod fishing, with many opportunities for rockfish and shark as well. There are even surfcasting opportunities for those that are boatless, with catches of halibut and other bottomfish possible from the shore.
No matter what type of angler you are, there is a place and a species for you in the great state of Alaska.
Need Fishing Gear or a Guide?
If you're looking to rent fishing gear, contact the folks at The Bait Shack. Or, if you prefer a guided experience, here's our list of recommended fishing charter companies and fishing lodges for multi-day packages.
What About Winter?
Here is our list of recommended companies who can take you ice fishing!