No matter when you travel to Alaska or what part of the state you see, you'll always need some kind of gear – even if it's just raingear in the summer or warm coat and boots in the winter. The list gets longer if you plan on outdoor activities like kayaking, fishing, skiing or snowshoeing. Renting gear is a savvy way to get everything you need affordably, rather than making a huge investment in buying items you may never use again.
Alaska Outdoor Gear Outfitter & Rentals is every visitor's dream for a hassle-free way to get ready for your adventure. You get advice, a local perspective on just what items you need, affordable pricing and convenient options for actually getting the gear in hand.

Benefits of renting
Getting quality items that can withstand the rough-and-tumble nature of Alaskan adventuring makes a big difference to the success of your experience. But investing in the proper gear can run in the hundreds to thousands of dollars. Then you've got to bring it with you (even more fees), or spend valuable vacation time buying it once you reach Alaska. Then you have to figure out what to do with it afterwards. (Ice auger, anyone?). Renting simplifies this process down to a couple of phone calls.
Get local expertise
Alaska Outdoor Gear Outfitter & Rentals is run by fourth generation Alaskans with plenty of user experience. They know what works best for Alaska's terrain and climate. You won't have to rely on a catalog description or an online review to figure out what winter parka really performs at 20 below, or how much tent you and your buddies actually need. Get high quality gear that works from people who've actually tried out the brand and found it good enough to add to their inventory.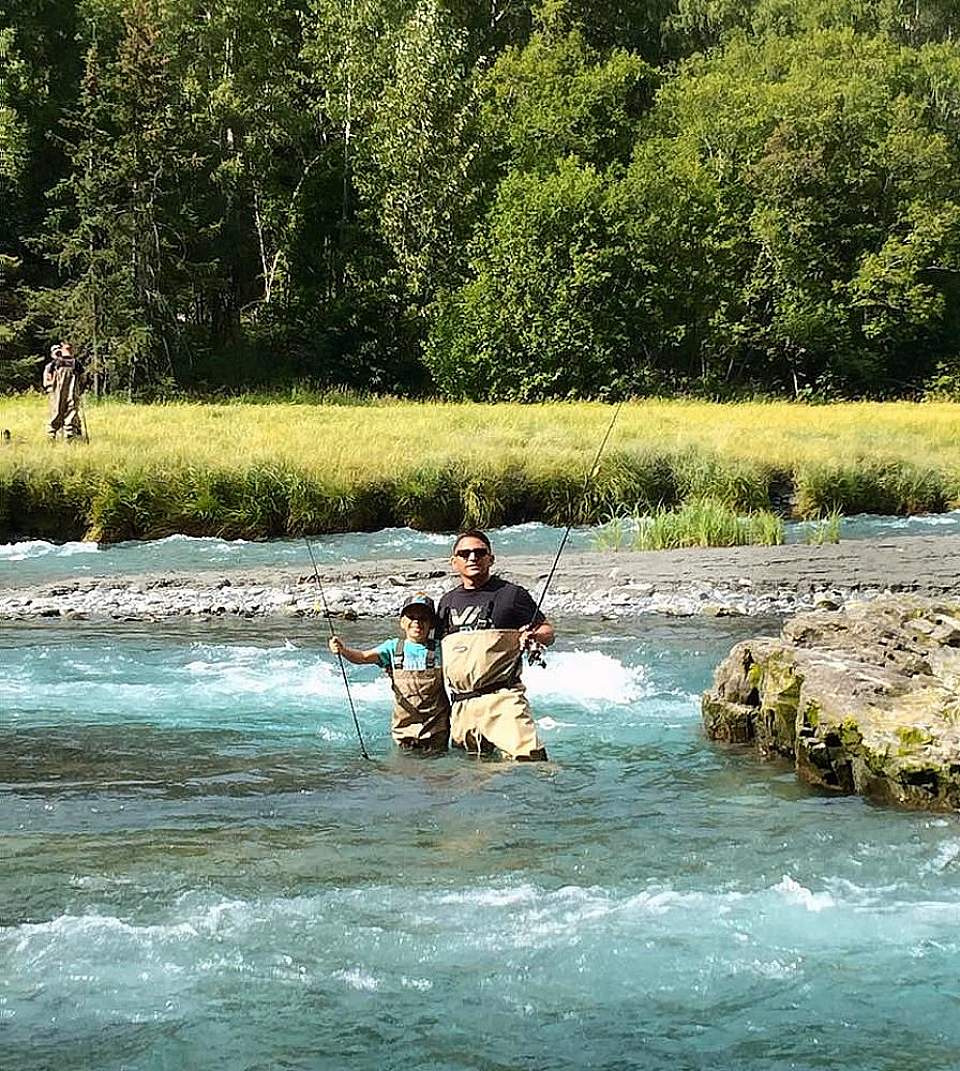 Gear up for a wide range of activities
So much of Alaska is waiting to be explored; it just requires the right gear. Alaska Outdoor Gear Outfitter & Rentals offers just about anything you need for hiking, backpacking, camping, fishing, rafting, canoeing and kayaking (even inflatable kayaks that will fit in your RV.) Winter clothing and activity gear include items such as thermal layers, parkas, boots, ice fishing poles, snowshoes, sleds, and cross country skis.

Tailor your gear list
When you call, they will talk about your interests and then draft a gear list for your approval. Several pre-designed activity packages (like for kayaking or ice fishing) make this process even easier, and you can customize as you like.
Get it on-the-go. Gear delivered to airport, RV rental, hotels & more
Once you've settled on your gear list, there are a few options for getting the items in hand. If flying into Anchorage, you can visit Alaska Outdoor Gear Outfitter & Rental's Anchorage store, have everything delivered to the airport, or loaded into your RV rental in advance. If you're flying into another major Alaska location, they can ship your box there for you.
Rental fees
Rent by the day or by the week. There are even half-day options for certain hiking and recreational packages in Anchorage.
Call for your custom gear rental package 907-830-0232
Sell your stuff
If you've already invested and don't want to lug everything back home, Alaska Outdoor Gear Outfitter & Rentals will give you a quote for buying your gently used gear. This includes popular items like sleeping bags, tents and chest waders.
Sample summer packages
Summer in Alaska should be spent outdoors, and Alaska Outdoor Gear Rental can gear you up for any adventure. Give them a call, tell them what you have planned, and they'll recommend the perfect package. Here are a few ideas:
Backcountry Camping or Public Use Cabins: The basic backpacking package includes your backpack, tent, and sleeping pads. Additionally, you can add on accessories like binoculars, bear spray, camp stoves, pot and pan set, utensils, bear canisters, handheld GPS, trekking poles, and more. This is deal for remote national parks like Katmai or Brooks Range. You can modify the package to exclude the tent if you're hiking into on of Alaska's 200+ public use cabins. You may consider renting ultralight small compact gear to gain additional space.
Car Camping: If you're looking to hit the road instead of the trail, you'll have a bit more room for gear. The basic package includes a tent, sleeping bag, and sleeping pad. You can customize by adding on a stove, pot and pan set, camp chair, cooler, coffee pot, utensils, kitchen table and more. As a tip, economy cars don't have the trunk space necessary for all of the gear.
Sightseer: Taking a day cruise into Prince William Sound or Kenai Fjords? Or perhaps riding the bus into Denali? Get basic gear to cover you no matter the weather. The basic package includes binoculars, rain boots or hiking boots, rain hat, rain jacket and pants, and trekking poles. Add or subtract from the package as needed.
Day Hiker: Even if you're just hitting the trail for the day you want to be prepared. Reserve a day pack, water bottle, bear spray, trekking poles, rain gear, and hiking clothes. If you like, they'll even pack a lunch for you!
Fishing: A basic package includes your rod or fly rod, chest waders, net, tackle and tackle box including fillet knife and bonker. They'll sell you your fishing license too.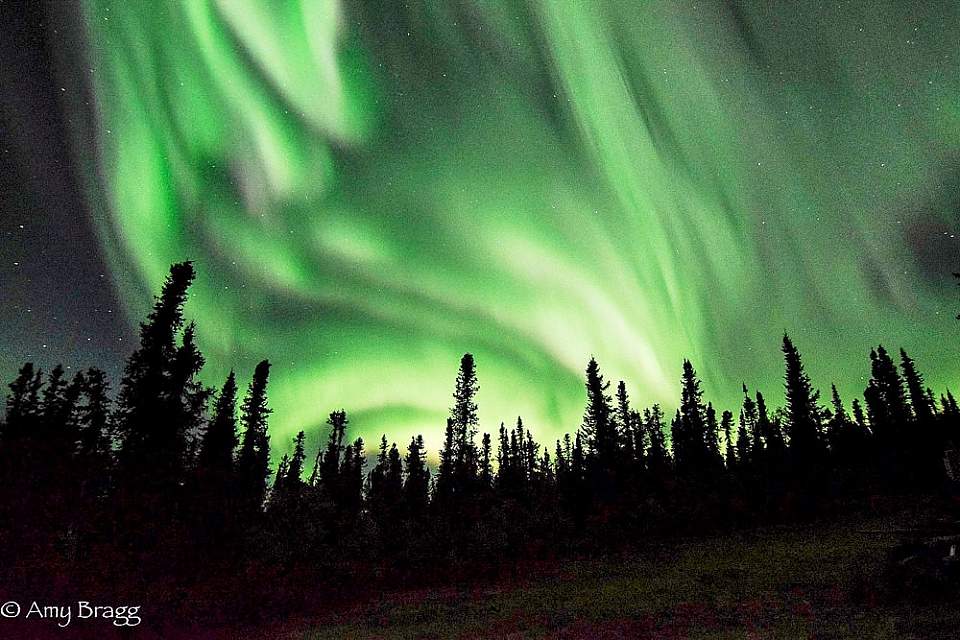 Sample winter packages
Aurora viewing: Be ready for the chill blast of the Arctic with clothing built for extreme temps: from an expedition weight parka and snow pants down to layers of socks and winter boots.
Active winter: Alaskans love to play in the snow. This package, featuring a 3-in-one winter jacket system with breathable waterproof shell, is perfect for those wanting to ski, snowboard or snowshoe.
Standard winter: Stay warm in a toasty down jacket, snowpants, and boots on a quiet walk through the woods, checking out ice sculptures, or other winter wanderings.
Snowshoeing: Trek around Alaska's mountains, lakes and trails with warm active winter clothing, boots, snowshoes and poles. Guided snowshoeing also available.
Ice Fishing: Comes with everything but the fishing license! From the ice shelter to the sled for towing all your gear across the lake. Guided ice fishing also available.