Less than a two-hour drive from Anchorage, Alaska Heavenly Lodge offers the best of both worlds: all the seclusion and luxury normally associated with fly-in lodges, as well as the affordability and convenience of being on the road system.
Solitude & Comfort
Set on a large piece of property that the owners have tastefully developed with only three cabins, the lodge is a private retreat, complete with a trail system and picturesque views of the Chugach Range and Kenai River. The location makes it easy to soak up the solitude of Alaska, then pop into town for a meal or a guided fishing trip. And because this is not a large, commercial lodge—it only sleeps up to 25 people—it's the perfect size for group fishing trips, family getaways, and wedding parties. Rent a cabin, or the lodge exclusively.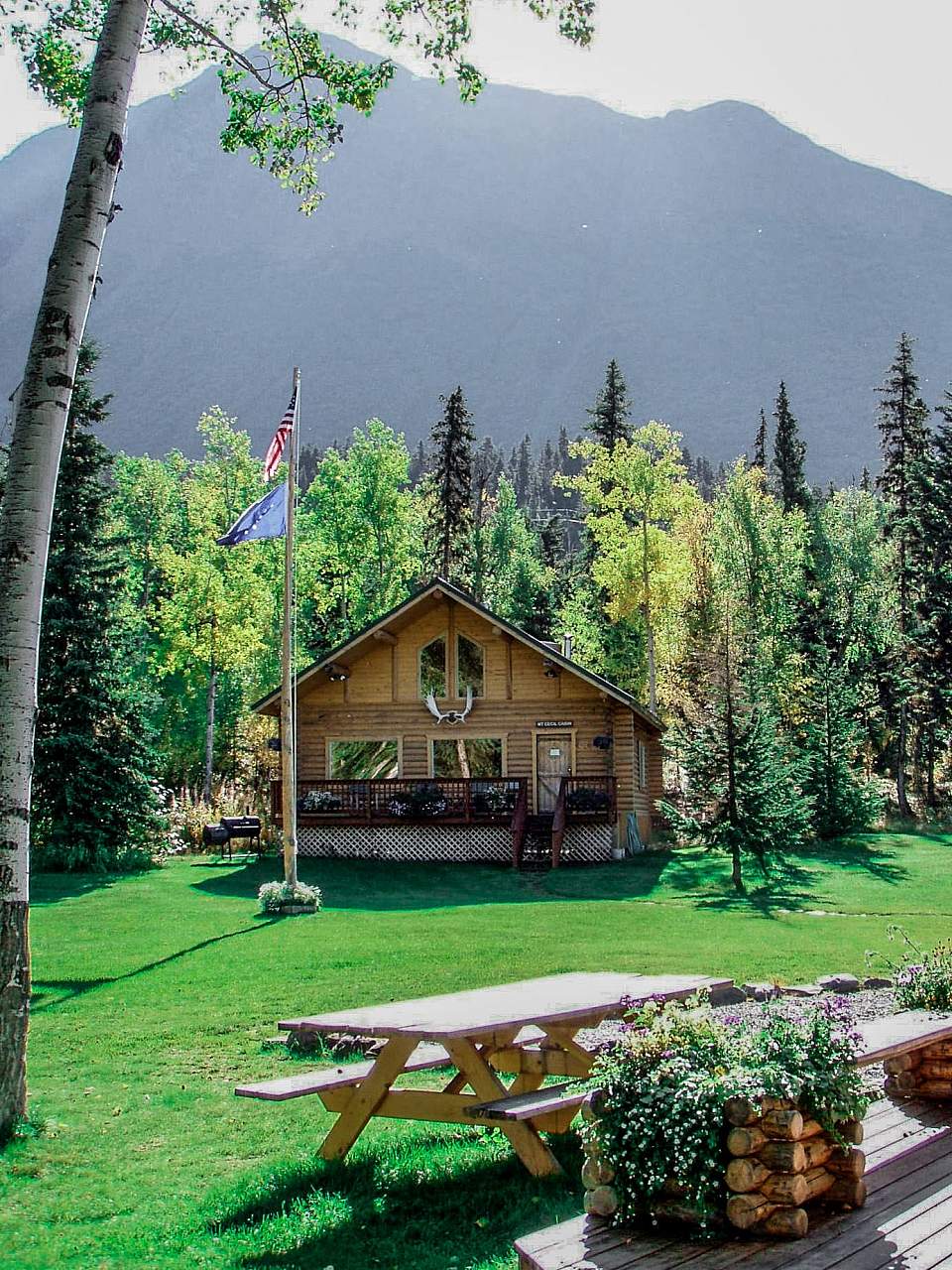 Built in 1974, Alaska Heavenly Lodge is made up of three hand-hewn log cabins. The Main Lodge features a full kitchen, a 16-person dining room table, a comfy sitting area with a wood-burning fireplace, a loft library, and a deck overlooking the Kenai River. But it's far from rustic: Wi-Fi, flat-screen televisions, and a Jacuzzi bring the lodge fully into the 21st century.
Food Tailored For You
Still, this isn't a full-service hotel. You can bring you own food or have the managers, Katy and Brian Borchers, stock the kitchen and bar before you arrive. If you love to cook, there's a stainless-steel professional cooking range so you can whip up a feast for the whole family. You can also go out to eat in Cooper Landing. Or customize a menu for you and your group by using a catering service.
Shoot a game of pool on the billiards table, enjoy the sunset from the deck, or relax on the lawn. With great views and comfortable cabins, the property's ½-mile hiking trail may be as far away as you want to go.
Fishing, Kayaking & More
But the lodge can also be your home base for serious adventurers. Katy, a lifelong Alaskan, and Brian, a former kayak and fishing guide, are both great resources for information on local waters, trails, and nearby communities. After years of working at remote, fly-in lodges, they've finally found it all here at Heavenly: a private, beautiful corner of Alaska near a friendly community and all the easily accessed recreation and wilderness of the Kenai. And they love their work because they get to share this place with guests, whether trading stories around the grounds or joining groups for an outdoor adventure.
Wilderness Weddings
The lodge has become increasingly popular as a wedding destination, luring couples from as far away as Hawaii. You and your party can rent the property exclusively, which sleeps up to 25 people. And the bride and groom get their own honeymoon suite. Hold the ceremony on the tastefully manicured lawn with forest and mountain views, then move to the reception area, which has space for up to 50 people. The lodge has an arbor, tables, chairs, and linens; Katy and Brian can help you find a caterer, a DJ, flowers, and a photographer.
Family Reunions & More
With the ability to accommodate 25 people and book out the entire property, Alaska Heavenly Lodge is perfect for group getaways and family reunions. And, it offers a rare combination of seclusion and accessibility. While you can stay on-site and enjoy the fire pit, private hiking trails, and lawn games, you also have access to all of the adventures of nearby Cooper Landing, from rafting, to fishing, to horseback riding, and more. Below is a sample itinerary of how you could spend 3 days in the area.
Typical 3-Day Itinerary For Couples or Families
Day 1 – Scenic Drive from Anchorage to Heavenly Lodge
Driving time is only 1 hour 15 minutes, but we recommend making a day trip out of it. Pick up any groceries and fishing or sporting gear you might need before leaving town. Take a casual drive along Turnagain Arm, ranked one of the world's 10 most scenic. Break up the trip by riding the aerial tram at Alyeska Resort and having lunch at Seven Glaciers Restaurant. See wildlife up close at the Alaska Wildlife Conservation Center. Or take a 5-mile detour into beautiful Portage Valley where there's so much to explore, including hiking right up to Byron Glacier or walking the shoreline of the glacial Portage Lake.
Check-in time is 3pm. Meet Katy and Brian, unpack your bags, and unwind. In the late afternoon, head out for a drive to nearby Skilak Lake Road, a scenic wonder in the Kenai National Wildlife Refuge—a massive turquoise lake surrounded by majestic mountain scenery where your odds of seeing a black bear are very high. Return to the main highway, go for dinner, and come home.
Day 2 – Horseback Riding and River Rafting in the Kenai National Wildlife Refuge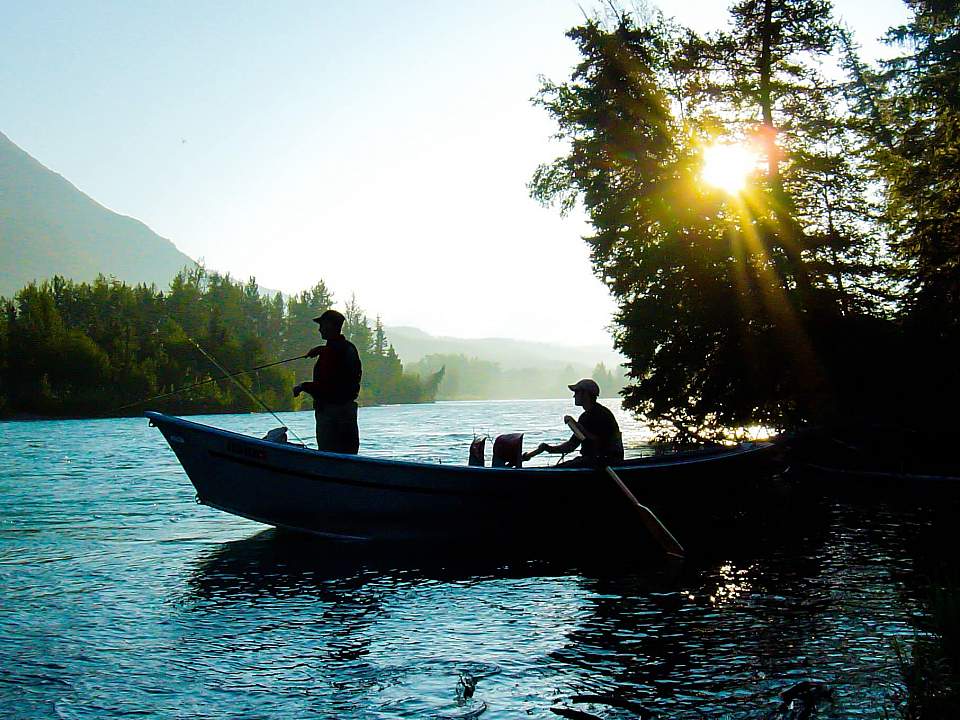 Brian and Katy can arrange a day full of adventure. Head to a nearby guest ranch where you'll put on a long trench coat, don a cowboy hat, and saddle up for a trail ride through the backcountry of the Kenai Wildlife Refuge where few people go. No horseman skills are required for this 5-hour adventure. Your powerful steed will take you on a wilderness adventure along old pioneer trails with 360 degree mountain views. Return to the ranch for a bonfire and cookout for the kids.
In the late afternoon, take a serene float down the colorful Upper Kenai River, a frosty blue river where you're likely to spot bald eagles in the treetops, Dall sheep high on the mountain slopes above, and maybe even moose or bear along the riverbank. If you'd prefer whitewater thrills, drive 45 minutes to Six Mile Creek near the town of Hope, where you can run some of the most exciting commercially-run whitewater in the world. Stop for a bite to eat on the way back to the lodge.
Day 3 – Fish the World Famous Kenai River, Fly-Out Bear Viewing, or Visit Seward
Whether you're a novice or seasoned angler, there's nothing more fun than reeling in salmon while floating down the river. Your guides will provide everything but your fishing license. If you have kids, this may be the highlight of their trip.
Another popular option is to drive 45 minutes to Seward. Board a smooth-sailing catamaran vessel for a glacier and wildlife day cruise into Kenai Fjords where you'll see glaciers, seabirds, otters, puffins, and likely whales and Dall's porpoise. Then visit the Alaska Sealife Center, Alaska's only public aquarium and window on the sea where you can get nose to nose with sea lions, puffins, octopus and other marine wildlife—another popular attraction for kids. Drive 15 miles out to Exit Glacier, probably the best walk-up glacier in the state and take Alaska.org's self-guided audio tour. Or explore downtown Seward with our audio-guided Seward History Tour or our Mural Walk.
Brian and Katy can also arrange a fly-out bear viewing tour. Fly past active volcanoes and over bays and estuaries, land on a sandy beach, and photograph bears fishing, digging for clams, and just relaxing with their young ones. Or, you can book a scenic flightseeing adventure.