Best Three-Day Camping Trips from Anchorage
You've loaded the car with camping gear. Sleeping bags and tent are stowed. Gas tank is full. Bug dope and camera at the ready. Cooler brims with food and refreshment.
Where should you go?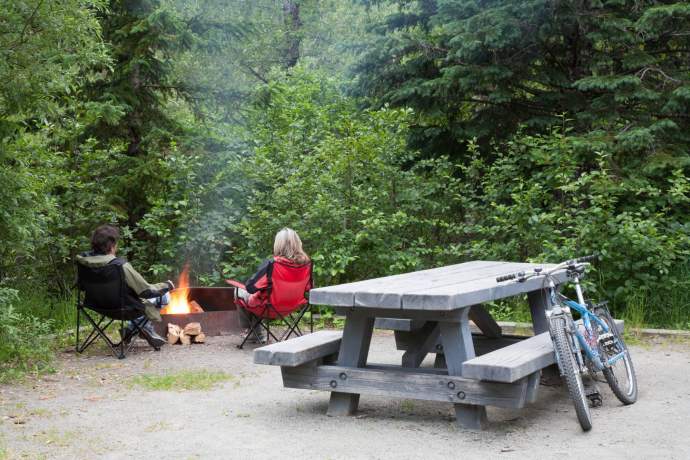 01
Portage Valley
Nestled at the head of Turnagain Arm between spectacular mountain walls replete with hanging glaciers, Portage Valley delivers a national park quality experience for campers and day-trippers. Only about 45 miles southeast of Anchorage on the Seward Highway, this destination in Chugach National Forest features more activities than you and your family can do in a single, long weekend—hiking, biking, berry picking, glacier access, salmon viewing, fishing and paddling. The Begich, Boggs Visitor Center (open in summers) provides exhibits and interactive displays about regional natural history, and the M/V Ptarmigan offers tours to the calving face of Portage Glacier three miles across Portage Lake. Plus you can drive through the Anton Anderson Memorial Tunnel to Whittier and Prince William Sound.
The road has several pullouts where you can commando camp in gravel pits or sand bars near Portage Creek. But the valley's two official campgrounds—Williwaw and Black Bear—feature amenities like vault toilets, picnic tables, and water pumps in clean, wooded settings. Both are adjacent to the handsome Trail of Blue Ice multi-use corridor.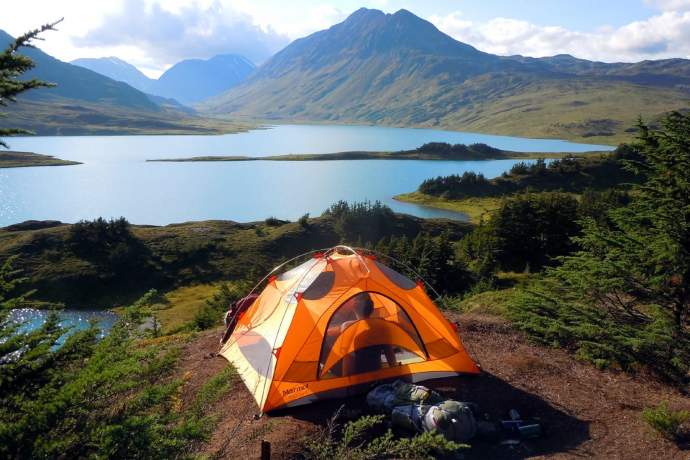 02
Kenai Mountains
With many places to car camp plus scores of trails, historic sites, lakes and rivers, the rugged mountain wilderness of the northern Kenai Peninsula may be the most scenic weekend road trip in Alaska. The Seward Highway traverses the Chugach National Forest for about 75 miles, stretching from the shore of Turnagain Arm over a 1,000-foot pass toward Seward, while the Sterling Highway extends west from the Seward Highway intersection at Tern Lake into the Kenai National Wildlife Refuge with access to the Russian River and Skilak Lake. The national forest and refuge maintain more than a dozen campgrounds along these roads. A great itinerary: Spend your first night in the Porcupine Campground just outside the historic village of Hope, followed by a second night on the shore of Kenai Lake in Primrose Campground with a trail leading to the alpine zone and Lost Lake.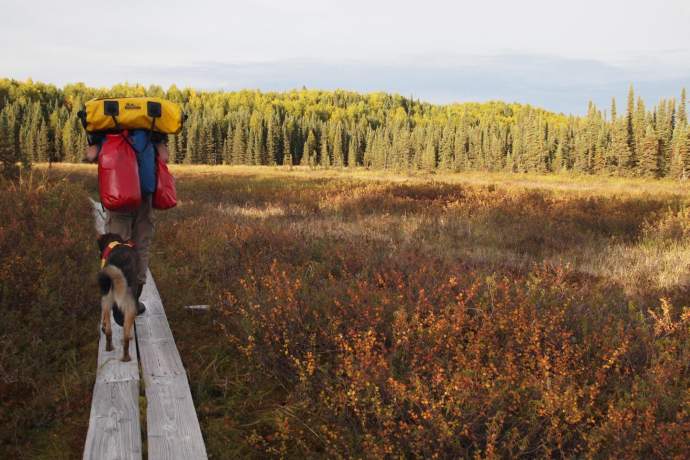 03
Parks Highway
This major byway stretches about 360 miles from Anchorage to Fairbanks via Denali National Park in the Alaska Range. But you don't have to undertake a marathon road trip to link a couple of nights of car camping. Only about 75 miles from Anchorage, the sprawling South Rolly Lake Campground six miles deep into the Nancy Lake State Recreation Area works well as a first-night stop from Anchorage or the Mat-Su Valley, with lake fishing, canoe rentals and hiking close by. The campsites are laid out on a hilly lakeside moraine in a thick forest, with the vibe of a deep-woods destination. For a second night, venture further up the Parks and check out Willow, Sheep or Montana creeks for streamside camping and (in season) salmon fishing. Want to throw in some shopping and socializing? The village of Talkeetna is a half-hour away. For a slightly more ambitious outing, head to Denali State Park, home to two large campgrounds, wilderness trails and lakes, plus the most extraordinary views of Denali on the road system. The park stretches between Mile 130 and Mile 160, less than an hour beyond the Talkeetna Spur Road and about 75 miles from Nancy Lake.