Experience the excitement of walking or climbing on the largest road-accessible glacier in Alaska—just 90 minutes from Anchorage—and guided by one of the state's most experienced companies.
Glacier Hike
There's nothing that can prepare you for what it's like to walk on a glacier. The crinkling of ice beneath your feet. The deep, blue crevasses. The cracking of settling ice and the echoing booms of rocks dropping into bottomless holes. It's beautiful, it's surreal, and it's slightly spooky—kind of like an earth-bound moonwalk!
NOVA Alaska Guides walk into this world every day, and they love to share the wonders of a glacier with guests. You don't need any specialized skills for this trek, just a basic level of fitness and an ability to walk with crampons. You'll be on the ice for three hours, exploring the many wonders of the Matanuska Glacier. A fast group can set out for a longer trek, while another group may move more slowly. All you need is a sense of adventure, some warm clothing, and snacks. NOVA provides everything else: crampons, helmets, and glacier hardware for everybody, and hiking boots for anyone who needs them.
Adventure Trek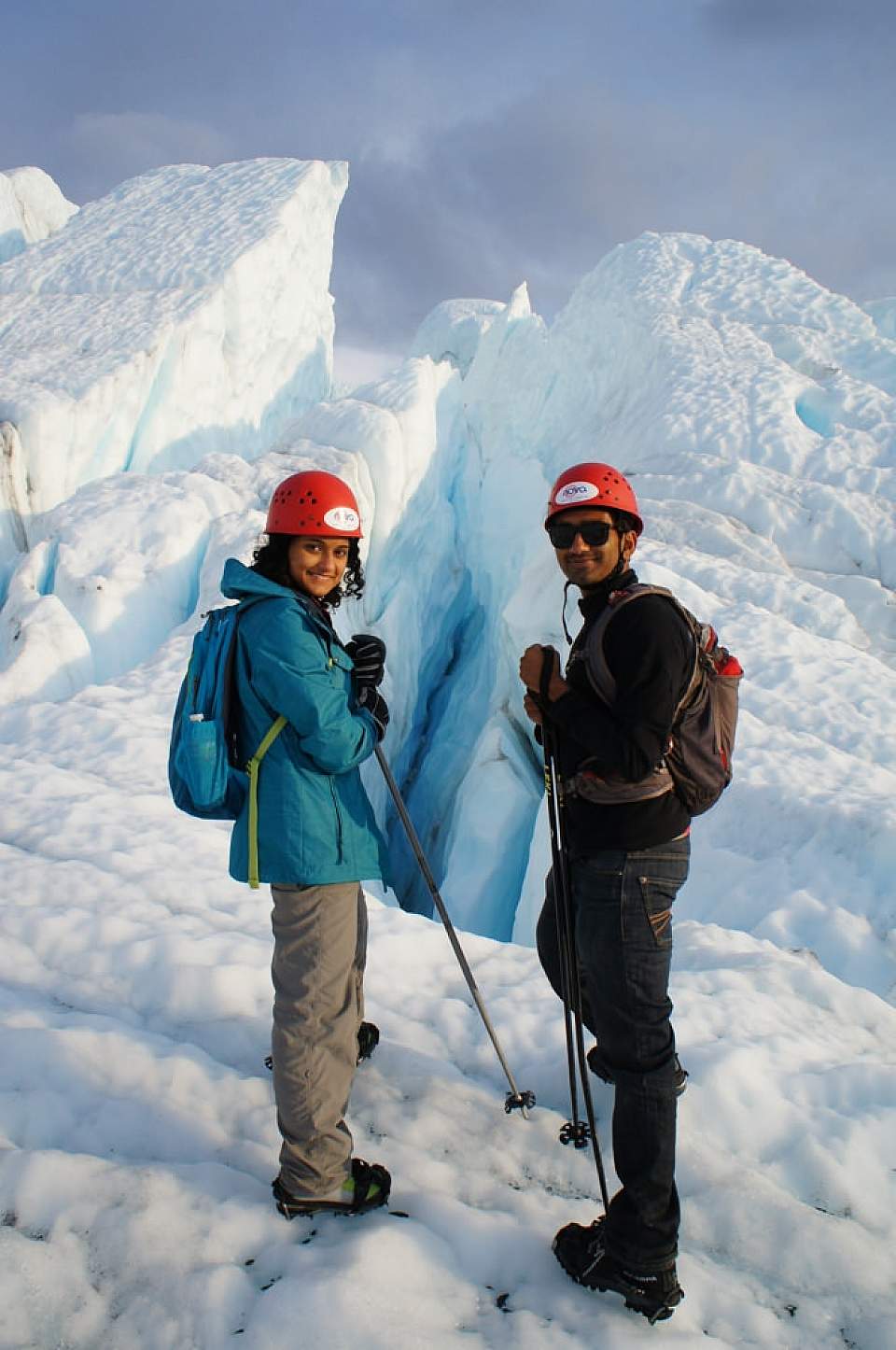 The Adventure Trek is a longer version of the Glacier Trek adventure into Matanuska Glacier, and is a good choice for those who want to explore out beyond the ice-falls area. Its approximately 5 - 6 hours long and you must be able to comfortably walk 5 miles to enjoy this tour.
NOVA guides carry all of the ice-climbing hardware out with them so most groups do stop and get a taste of ice-climbing as well. Your guide to client ratio is kept small, 1:4, that way it is possible to customize each trip to your groups desire.
No experience is required and all of the glacier gear is provided; including boots, crampons, walking stick, ice-axes, ropes, all climbing hardware and a helmet.
Ice Climbing
For those looking for more of a thrill or challenge, consider NOVA's Ice Climbing trip. This is a good trip if you're looking to test yourself physically and mentally. You'll finish the day exhausted and with aching muscles, but you'll have learned a whole new set of skills.
NOVA's introduction to ice climbing lets you learn basic techniques, then put them to use. You'll be outfitted with crampons and ice axes, a climbing harness and helmet, and learn the skill and art of ice climbing.
How do you most efficiently kick in a crampon toehold, or how can you tell when your ice axe has a good purchase?
Start on low angle pitches, then build your way up to more vertical sections of ice. Soon you'll be looking down from towering ice pinnacles!
The Matanuska Glacier is the classroom, and your guides are experts who spend their lives exploring the world's climbing meccas—Alaska, Utah, the Andes, and the Himalayas. They'll share their knowledge, tips, and insights as you work your way to the top.
This tour lasts 6 hours, and you should be ready to work hard. But remember, the harder you work, the higher you get.
About Nova Alaska Guides
The first company in Alaska to guide glacier hikes, NOVA Alaska Guides offers these hikes—as well as ice climbing—on the Matanuska Glacier. NOVA groups everyone according to fitness level, and since they offer a low guide-to-client ratio, everyone gets the most out of their adventure.
Few people know the Matanuska Glacier like NOVA founder Chuck Spaulding, who's been guiding on rivers and glaciers in Alaska for more than 30 years. His company headquarters is just down the road from the Matanuska and on the Glenn Highway National Scenic Byway, and Chuck and his crew spend a lot of time on the ice.
Whether you're looking for a family-friendly glacier walk or a steep ascent with an ice axe, you'll find it with NOVA.
I really love my home area. I feel it rivals many worldly locations for its dramatic scenery. Then we take them on the whitewater or a glacier, and that's a whole other level.
Meet me