Nothing gets your heart pounding like zooming high above a glacially carved valley. The Nitro and G2 are two of the longest zips in Alaska, and the G2 is the fastest in the state. You'll get the most amazing minute or so of sight-seeing you've ever had, gliding up to a half mile near the Matanuska River, and into the forested area around Matanuska Glacier.
Low-Impact Adventure, High-Flying Results
These ziplines are the brainchild of Don Wray, whose MICA Guides, which was founded in 1999 and also offers ice climbing and glacier treks at Matanuska Glacier. Just two hours from Anchorage, Matanuska has long been a destination for adventure seekers from all over the world, but it also makes an easy day trip. The zipline option is great for travelers who want an adventure-travel thrill but in a low-impact form: after all, it's appropriate for ages 7 and up (and with maximum weights of 235 or 285 pounds, depending on which line you take). Families with children enjoy booking this tour as a private trek. It's one price for groups up to 6.
Certainly, this is a fabulously unique way to stretch your legs and take a break from the road.
Two Thrilling Options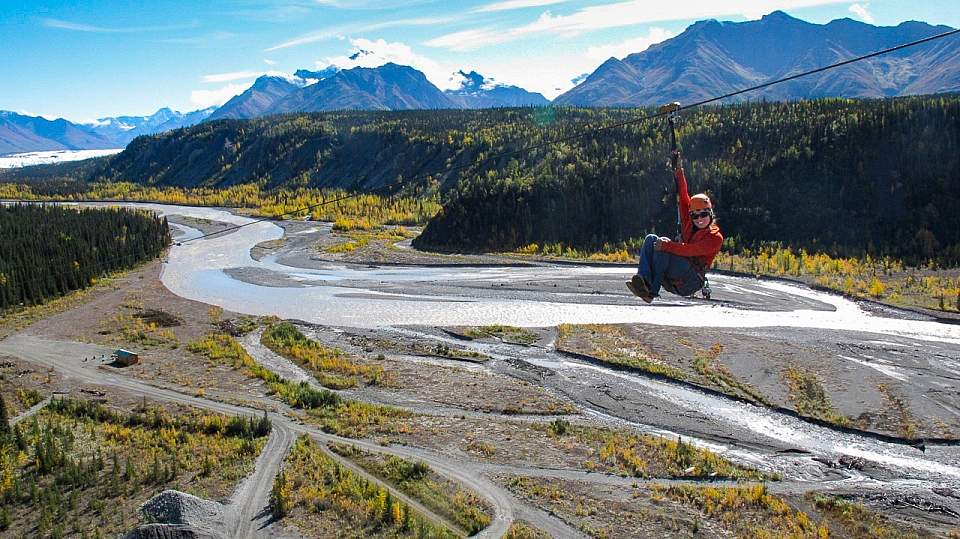 You get to enjoy two different ziplines. The original is called the Nitro, which you reach from the top of a three-story tower. After taking that first jump—which features a 200-foot drop—you'll glide 1,500 feet (more than a quarter of a mile) as you enter the forest and coast along the dazzling Matanuska Glacier Valley, going up to 40 miles per hour. And if you're a beginner? Never fear. MICA prides itself on well-trained, attentive guides who know just how to encourage you to try something new and exciting.
The second (and newer) zipline—the G2—is the fastest zipline in Alaska. Your guide drives you to the cliffside where the zipline begins, more than 250 feet above the Matanuska River. Once you step off the deck—with picture-perfect views of the mountains, river and glacier—you'll get a jaw-dropping thrill: a 250-foot drop, speeds of up to 60 mph and a 2,200-foot-long ride, almost a half mile. You can even add a competitive edge: the G2 has dual ziplines, so you can "race" one of your companions to the soft landing. Spoiler alert: with these views, you both win.