Mountain scenery, wildlife and off-road thrills: Located between the Talkeetna and Chugach Mountain Ranges and a part of the Matanuska Valley, the scenery—and blissful lack of crowds—make this ATV adventure around the wilderness feel like the best-kept secret off the Glenn Highway.
Towering mountains rip through the forested valley to reveal the Matanuska Glacier at this prime address, mile 99 of the Glenn Highway. The location of this ATV adventure is the midpoint between Anchorage and Glennallen. Plenty of travelers drive through this area without pausing for more than a picture of the roadside glacier, but Glacier View ATV's three-hour tour—the only ATV excursion in this part of Alaska—makes this tour well worth a longer stop.
From Horses to Horsepower
Glacier View ATV Tours, which is locally owned, harnesses the spirit of Hick's Creek Roadhouse, which was founded in the 1940s and was operated by the same family. The Roadhouse was known for its horseback adventures, but it was relocated in 2003. Through Glacier View ATV tours, its essence lives on. As one of the owners says, they decided to upgrade from touring "vehicles" with four hooves to those with four wheels—from "hay-burners to gas-burners."
Today, their fleet is made up of Honda all-terrain vehicles, which have automatic transmissions and power steering. They're easy for even a first-timer to get the hang of and start enjoying.
Get on the Trail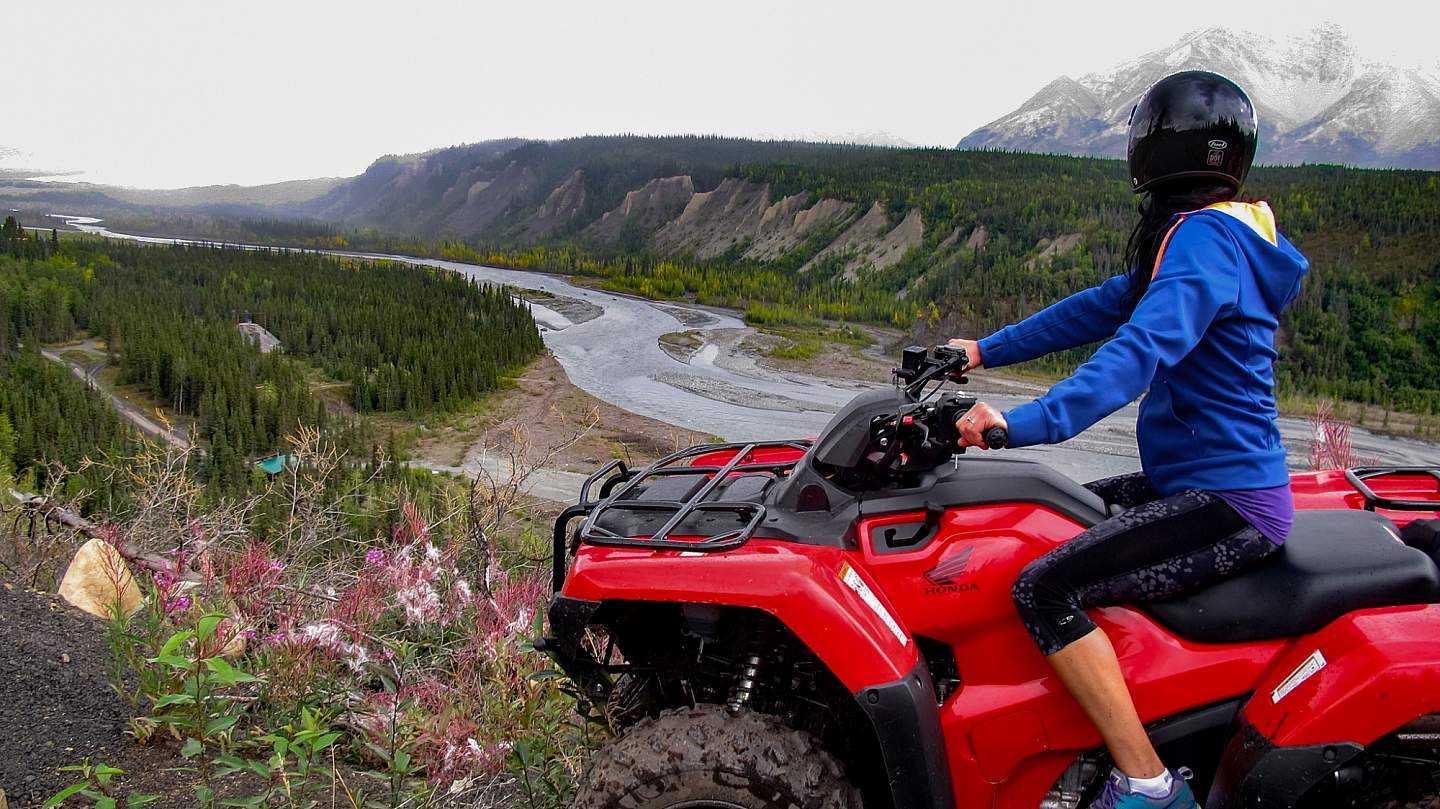 Indeed, the guys at Glacier View ATV love helping cheechakos (that's Alaskan for "newbies") get comfortable driving an all-terrain vehicle. You'll be outfitted with a helmet, goggles and a tutorial when you first arrive. For warm-up and training, you'll drive through an obstacle course and water to acquaint yourself with the safety and handling of the vehicle. (Participants must be at least 16 to drive, but kids under 16 can be passengers on a UTV, or utility task vehicle, driven by one of the guides.)
Then, you're ready for a guided tour through the most stunning valley in Alaska. Mud and water are never an issue with four-wheelers, so there is no need to be weather-dependent. The wilderness is your oyster, as you drive alongdside a pearly glacier and rugged mountains. Keep an eye out for wildlife—like plenty of moose, as well as the occasional Dall's Sheep. What strikes guests the most is the way that this stunning, seemingly untouched terrain surrounds them.
Zipping Through the Air, or Trekking on Ice
There's more to do here than just ride ATVs— a good thing if your group contains members with tastes for other adventures. Glacier View ATV is affiliated with two nearby zip lines—with speeds of up to 60 mph, and lengths of up to a half mile—or you can trek on a glacier with MICA Ice Trekking, where you can spend a day trying your hand (and feet, with crampons) climbing or trekking on the dazzling Matanuska Glacier. Better yet, you could spend a few days and try them all. Immerse yourself in both the beauty and challenges of this majestic stretch of breathtaking wilderness.