Photo Credit: Brent Reynolds
Forty minutes from downtown Anchorage lies Eagle River Nature Center, a gateway to Chugach State Park and a glacial river valley as wild and dramatic as any in Alaska. Enjoy an easy, 3-mile nature walk on the Albert Loop or trek up-valley 5 miles to see plunging waterfalls and 3,000-foot cliffs.
The Eagle River Nature Center started out as the Paradise Haven Lodge, a popular bar and steakhouse in the '60s and '70s. Driving there was an adventure, as the last two miles of road were often glaciated. Nowadays, the road stays clear and adventure starts at the trailhead.
Getting There
View on Map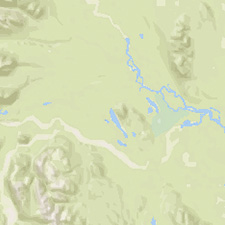 32750 Eagle River Rd
Eagle River, AK 99577

Take Glenn Highway north from Anchorage. Exit at Hiland Rd./Eagle River Loop Rd just past the truck weigh station. Follow Eagle River Loop Rd. for 2 miles until you reach Eagle River Road (Walmart on the corner). Turn right and continue for 10 miles until you reach the parking lot and log cabin visitor center at the end of the road. There is a parking fee not covered by state parks passes.
Driving Directions
Guide To Eagle River Valley
Eagle River Nature Center