Located seven miles from the park entrance, the comfortable accommodations at Denali Park Village are far enough from the park's hustle and bustle that you can focus on Alaska's natural treasures. Sitting among 20 acres of spruce forest alongside the rushing Nenana River, the village offers rooms in several two-story buildings as well as 52 cabins.
The Cabins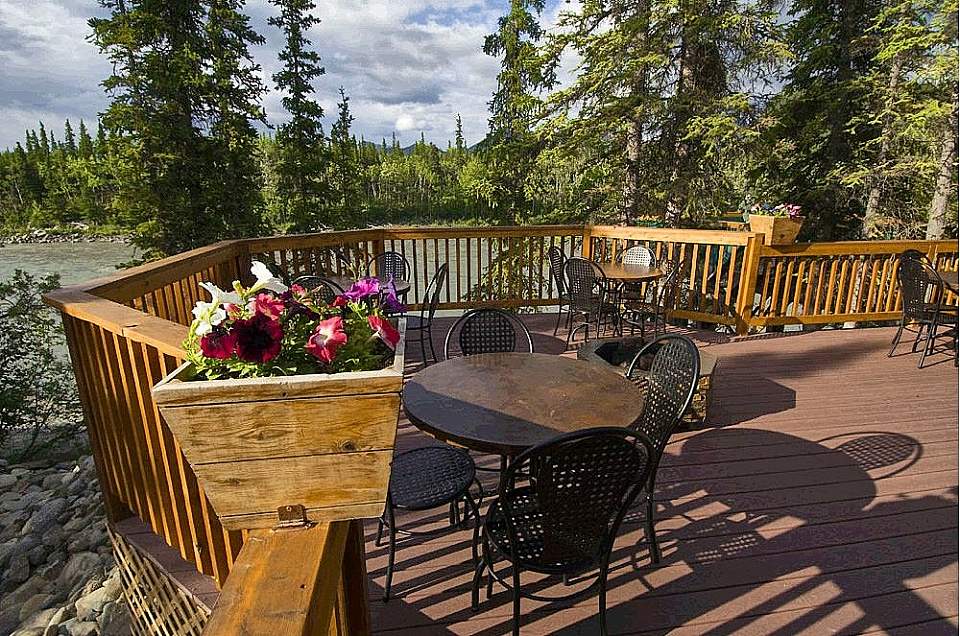 Don't let the term "cabin" fool you—these cozy, luxurious cabins come fully furnished with a king or queen bed, private bath, hair dryer, flat screen TV, telephone, and coffee maker.
Lodge Rooms
The Lodge features a comfortable lobby with a stone fireplace as well as 4 room types: standard (2 queen or 2 double), riverview (2 queen), lodge king room, and king room with a river view. In all of them, you'll find a private bath, flat screen TV, phone, coffee maker, and hair dryer.
Adventures at Your Door
Denali Park Village is just six miles from the park entrance, and there are shuttles to the Wilderness Access Center and Denali Visitors Center. But you don't have to go far to experience the Alaskan wilderness. In fact, you'll find interpretive walking trails right on the property, and you can even just stroll along the Nenana River, listening to the alluring sound of the rushing water. If you're up for a more adventurous outing, hike to the gorgeous Triple Lakes, walk the 1.5-mile Oxbow Loop Trail, or take a thrilling whitewater raft journey—several of them launch from in front of the lodge. Of course, you can also just relax on the outdoor seating deck, enjoying a drink by the fire pit while watching the rafts floating by.
Restaurants & Dinner Theatre
Cabin Nite Dinner Theatre
Performed twice nightly during the summer, this energetic show tells the story of Fanny Quigley—a real pioneer back in the Gold Rush days of the early 1900s in Kantishna—the area that you can visit deep inside Denali National Park. The show is performed in an authentic, log-paneled roadhouse, and the actors and actresses do double-duty as your servers for the all-you-can-eat family-style dinner. You'll howl with laughter as you enjoy endless portions of wild-caught Alaskan salmon, BBQ ribs, slow-roasted BBQ pork ribs, wilderness baked beans, tundra vegetables, garlic cheddar biscuits, and Fanny's famous mixed berry cobbler—as well as a full bar.
Gold Rush Dining Room
Come in the morning to enjoy a hearty buffet that includes pastries, muffins, oatmeal, yogurt, fruit, scrambled eggs, bacon/sausage, biscuits and gravy, and French toast, as well as coffee, tea, juice, and milk. It's open early if you're taking a tour down the Park Road. You can also stop by for lunch—to enjoy sandwiches, soups, salads, and burgers—or come for dinner, when you'll find everything from burgers and fish and chips to finely prepared Alaskan salmon and halibut, as well as steaks.
Lucky Miss Saloon
Drop by for spirits and casual fare like burgers, fish and chips, chowder, and kettle chips, which you can enjoy on the patio outside.
The Shack
Here you'll find grab-and-go burgers, shakes, and more.
Quigley's Coffee Cart
Come for coffee, ice cream, and other small grab-and-go items.