Denali is an absolutely stunning park—full of amazing wildlife and unforgettable scenery. And the best way to get an overview is aboard one of the park buses, which feature a trained naturalist who both drives and provides narration.
The Experience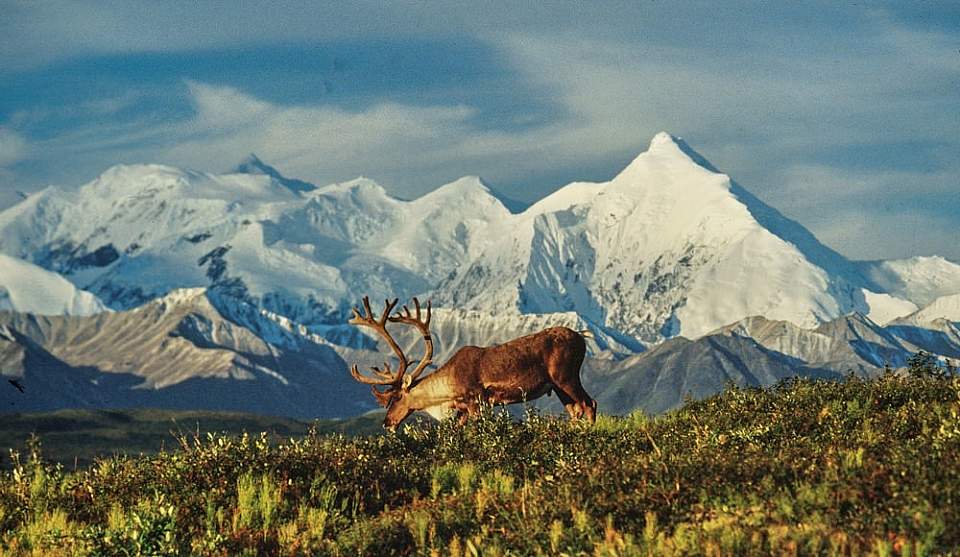 The Park Road extends 92 miles into this magical preserve, and since private cars aren't allowed to go past Mile 15, taking a narrated bus tour is highly encouraged. Not only will you explore areas you can't see while driving yourself, but you'll get the added benefit of hearing about the park's history and geology, as well as its flora and fauna. And of course, not driving also allows you to fully focus on the beautiful landscape and keep an eye out for wildlife. And when you or your guide spot some an animal, the bus will stop so everyone can get a look.
Tours range from 4-5 hours to 11-12 hours, offering an option for everyone, depending on how much time you have in Denali. Even the shortest tour will give you a great flavor for the park and provide lots of wildlife-spotting opportunities; longer tours add gorgeous spots like Wonder Like and the fascinating old gold-mining town of Kantishna.
The Tours
Denali Natural History Tour (4–5 hours)
Focusing on the rich natural and cultural history of the park, this 4 ½ to 5-hour tour travels to the Primrose Overlook (mile 17). Several interpretive stops enhance the experience with an hour of off-bus experiences. Beginning with a stop at the Denali Bus Depot, learn about the creation of the Denali Park Road with the film "Across Time and Tundra." Next, visit the historical Savage Cabin to learn how the cabin was once used, and how it continues to be used today. Finally, a stop at Primrose Ridge to experience a memorable Alaska Native presentation that will enlighten you with how the land has been used for nearly 10,000 years! Your driver/naturalist will provide a great introduction to the landscape, geology, and history of Denali National Park and Preserve aboard the Denali Natural History Tour.
Denali Tundra Wilderness Tour (5 - 5.5 hours)
The Tundra Wilderness Tour is the premier tour of Denali National Park and Preserve! This tour offers wonderful diversity for visitors. Incredible scenery, a narrated history of the park road, and some of the best opportunities to view the park's wildlife inhabitants await you on this tour.
The Tundra Wilderness Tour will guide you along the spectacular road corridor, promising different experiences every day, as Denali's wildlife moves at its own pace and according to the seasons. Travel to the Murie Cabin near the East Fork River to experience where Adolf Murie lived while conducting his famous research inside what was then known as Mount McKinley National Park!
Eielson Excursion Tour (8–9 hours)
Tour not available for 2023

This extended tour follows the same path as the Tundra Wilderness Tour, but instead of turning around at Mile 62, you'll have the chance to visit the Eielson Visitor Center at Mile 66. This is a beautiful structure built into the mountainside to better fit into its surroundings, and you'll get off the bus and explore. There are daily ranger-led programs, a small art gallery, and hiking trails that radiate from the center—including a short, easy loop trail. Check with your driver to see how much time you have to explore before the return trip to the park entrance.
Note: There's only one bus per day, which departs the Denali Bus Depot at 6:10 a.m.; due to limited availability, be sure to book in advance.
Kantishna Experience Tour (11–12 hours)
Tour not available for 2023
Travel to the very end of the Park Road and back—all 92 miles. This is a unique opportunity to experience the old gold-mining town of Kantishna and learn about Denali's history in the Gold Rush, as well as its role in the formation of Interior Alaska. Of course, you'll also learn about the park's general history, along with its geology and wildlife, as you drive the length of the Park Road—plus, you'll also stop at Wonder Lake, where you'll be joined by a National Park Service Interpretive Ranger for a private tour of this gorgeous area.
Note: This tour departs only twice daily—at 6:15 and 7:30 a.m.—and returns between 6 and 7:30 p.m. There's limited seating; advance reservations are recommended.