The family-run Denali Grizzly Bear Resort offers a variety of accommodations, great amenities, and amazing views of mountains and the Nenana River. And its location, six miles south of the Denali National Park Visitors Center but outside the main tourist area, means you'll have easy park access without feeling crowded.
Lodging Options
Cedar Hotel
The hotel has 119 comfortable rooms, all done in cedar. Each has two double beds, a full bathroom, a private deck with a table and chairs, in-room coffee and tea, and Wi-Fi. In 92 of the rooms, you'll be overlooking the gorgeous Nenana River, while 27 newer rooms are set on a hill and feature stunning mountain views.
Cabins
You can drive right up to any of the 30 cabins, some of which are originals from the homestead. All have heat, linens, and Wi-Fi; some come with bathrooms, kitchens, and TVs. Options include: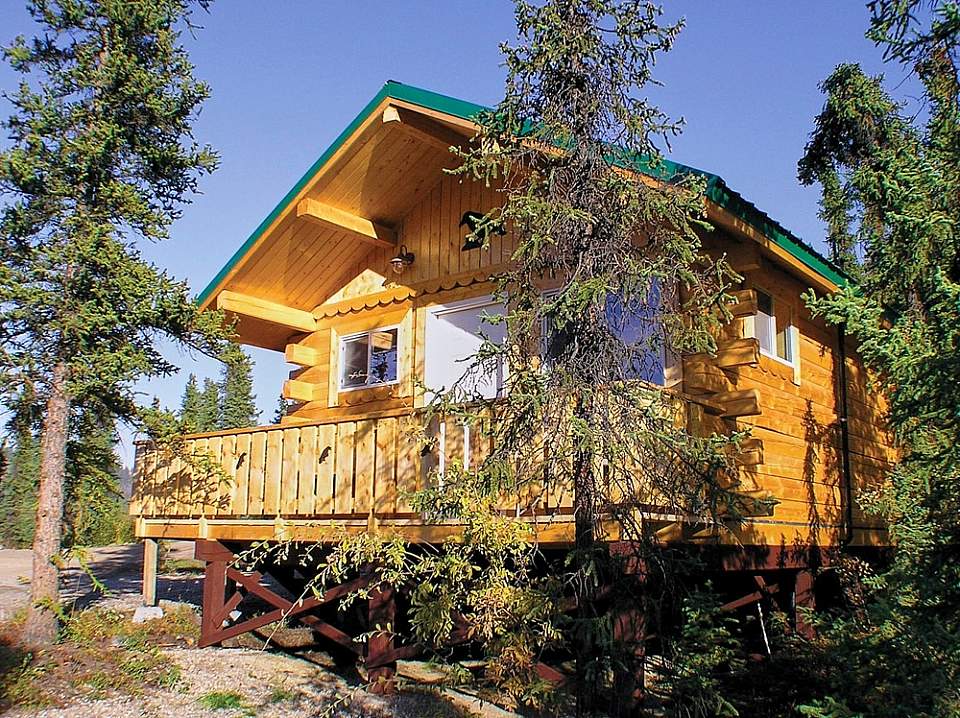 3 dry cabins (sleep 2–4) with access to the central bathhouse and laundromat.
2 cabins (sleep 2–3) with a toilet and sink, plus access to the central bathhouse and laundromat.
17 cabins (sleep 2–6) with full bathrooms, cable TV, private decks on the river or up on the hill, and in-room coffee and tea.
3 premier cabins (sleep 4 – 6) with full bathrooms and a kitchen.
Campground
Choose from 18 RV sites—complete with electric and water hookups—and 20 tent sites. The campground also has bathrooms, a central cooking shelter, a nearby food truck court, laundry facilities, and Wi-Fi coverage. Unheated tent cabins are also available.
Other Amenities
Shuttle. This a great option If you're arriving or departing via railroad; shuttle times line up with the train schedule. The round-trip cost is $20 per passenger.
Dining. A nearby park is full of great food trucks serving everything from Thai to Mexican. Or walk across the street to find two terrific restaurants.
General store. You'll find a gift shop, liquor store, general necessities, and camping needs like ice and firewood.
Trip planning. Hit the tour desk for help planning your time in Denali. Whether you want to go flightseeing, rafting, or do other activities, staffers can help you figure out which local tour options are best for you.
The History
The Denali Grizzly Bear Resort is the oldest family-owned and -operated tourism property in the Denali area. It all began in 1958, when Jack and Ede Reisland moved from Ohio and purchased 40 acres of remote, undeveloped land through the Homestead Act. They cleared it and built small cabins, renting them seasonally to Denali Park rangers. By the mid-1960s they added a campground, then built out more cabins and campsites every year. In 2006, they removed some of the campsites to make room for new, cedar-filled hotel rooms along the banks of the Nenana River. Today, four generations of family members have helped evolve the resort into a top-notch property for visitors to the Denali area.