Hewn from local timber and imbued with luxurious touches, this low-rise lodge just one mile from the Denali National Park entrance feels intimate despite its 663 rooms. The main lodge, with its 40-foot windows and outdoor deck provide great views of the Nenana River Canyon. Its two-story rock fireplace is a great place to relax, and the smell of fresh baked cinnamon rolls from the cafe is enough to make anyone hungry. The rest of the hotel is spread out across the grounds in different buildings, all connected by trails, shops, and restaurants. The trails lead out from the hotel so you can stroll the river bluff at your doorstep.
Traditional Splendor, Modern Comforts
Open in the summer season only, Denali Princess Wilderness Lodge is built in the tradition of some of the great national park lodges, full of natural wood and surrounded by nature. Yet right on the premises you'll find several restaurant choices: a burger joint, pizza parlor, a casual restaurant, and an upscale dining room, the King Salmon Restaurant. As the name implies, the restaurant serves fresh-caught Alaskan seafood—king crab, halibut and wild salmon.
Expert Advice on Denali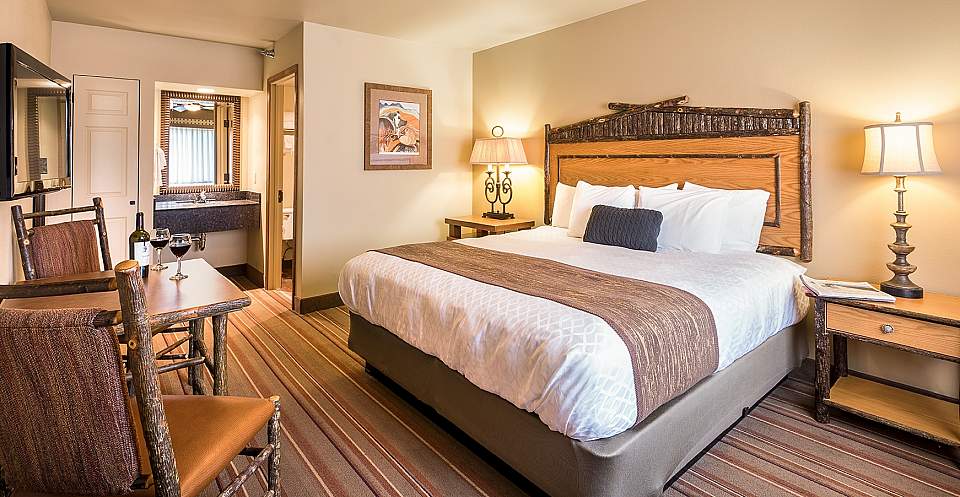 You'll want to make the most of your time in Denali and there are a wealth of activities to choose from. At times, it is hard to choose which is the right activity for you. The Guest Service desk can assist you in planning your adventures; whether it be a park tour, hiking, flightseeing, rafting, or any of the other activities available.
Princess rail service is one of your options for arriving in Denali. They offer glass-dome cars and open-air viewing platforms which make for an amazing ride. Packages are available from Anchorage and Fairbanks.
Multi-Day Packages
Arrive in Denali on a Denali Rail Tour by Princess Lodges, where you can enjoy the views from glass-domed cars and open-air viewing platforms. Packages are available from Anchorage, Fairbanks, and Seward (ideal if arriving or departing by cruise ship). Available packages include Blue Rail Tours, with overnight accommodation in Denali, at Mt. McKinley Princess Wilderness Lodge, or both locations, but not in the departing towns of Anchorage or Fairbanks; and Yellow Rail Tours that inlclude overnight accommodation in Denali, Mt. McKinley Princess Wilderness Lodge, or both and also include overnight accommodation in Anchorage, Fairbanks or both. See website for more package details.