A creative menu, gorgeous views, and just enough indulgence. Under the banner of "Fat & Lean World Cuisine", this resort-town favorite offers proof that healthy cuisine need not be serious—or feel like a sacrifice.
Midwestern Movers and Shakers
Three Michiganders who had relocated to Alaska— husband-and-wife team Frans and Jen Weits, along with a good friend—opened the restaurant in 2001, largely because they wanted to provide more healthy options in Girdwood, and Alaska as a whole. Back then, there weren't many vegetarian options in Girdwood or Anchorage, nor was there a focus on fresh produce.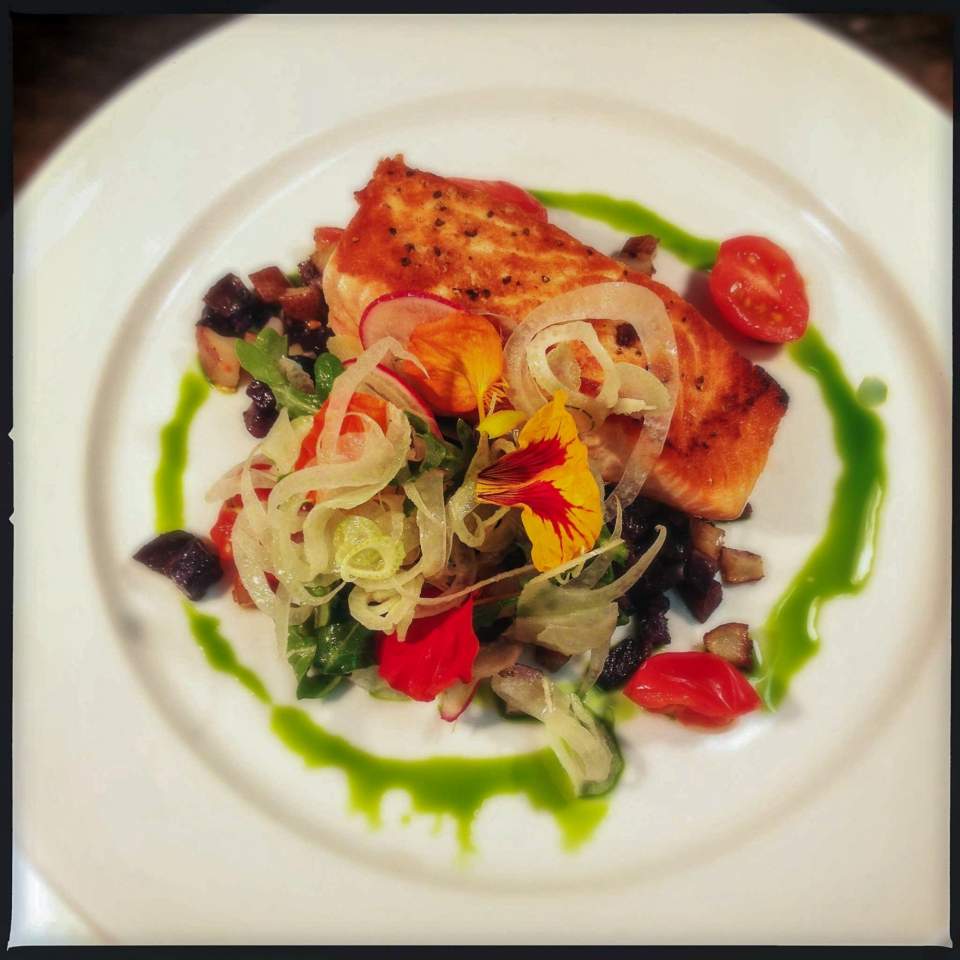 Licking the Platter Clean
The name Jack Sprat was Jen's idea, derived from the famous nursery rhyme. ("Jack Sprat could eat no fat/his wife could eat no lean/and so betwixt them both, you see/they licked the platter clean.") So in addition to the healthy vegetarian and vegan options, they also serve the "fat"—meaning meat, seafood, and decadent desserts. Across the board, the healthy fare need not feel like a compromise of taste and textures. One of the most popular appetizers is the yam fries, served with a roasted jalapeno and arugula aioli.
Indeed, the decadent dishes are also cooked in a healthy manner, using raw ingredients instead of processed ones, creating desserts from scratch and utilizing healthier-option oils. And it is all executed quite well by the experienced team visibly working hard in the open kitchen.
Healthy Views
The restaurant's casual ambience has a healthy glow too: the restaurant's main dining room has an open-kitchen layout and large, Bavarian style booths, while the front room is a two-story glass solarium with views of Mt. Alyeska. In the summer, you can sit out on the deck (the only restaurant in Girdwood that has one) with its mountain views, or relax in the seasonal outdoor beer garden which sometimes features live music and events.
While the décor is pretty consistent, the globally themed menu, the Weits Team admit, is happily all over the place. For dinner, aside from the local fresh-catch specials (like rockfish, halibut, spot prawns, or salmon), one signature dish is Bibimbap: a Korean dish served in a hot stone bowl, with rice, house-made kimchi, bean sprouts, pork, and a fried egg. Another favorite is Alaskan Bouillabaisse, made with king crab, local mussels, seasonal fish and clams in a rich tomato saffron broth and served with in-house baked bread. Kids, meanwhile love the variety of choices like oodles of noodles mac and cheese or pita pizza.
Crowd-Pleasing Desserts
Save room for dessert, though. The most notable might be the raw (and vegan, and gluten-free) cheesecake made without any refined sugars. Its crust is formed from almonds and dates and the filling is made with ground cashews— which vegans will attest tastes like cheese—as well as homemade almond milk, agave, fresh lemon, and a swirl of berry, like local summer blueberries. Pair it with something from the full espresso bar, (can you say, "homemade almond milk latte?!"). Or, you can wash it all down with beer and wine—local draughts, German lagers, or a diverse selection of global wines—or house-crafted cocktails (like mararitas, cosmos, bloody Mary) made with wine-based spirits.
The most popular choice for dessert, though, might be the chocolate olive-oil cake. It's made with extra virgin olive oil instead of Crisco and is accented with chocolate mascarpone filling and chocolate ganache—all indisputable arguments for the value of wholesome, healthy eating.
Visit Mother Hubbard's Cupboard
Stop into the little log cabin next to Jack Sprat, home to Mother Hubbard's Cupboard, to browse a variety of home goods, cookware, gifts, fashion items, treats for your canine friends and more! A cultivated collection of Alaska and beyond. If you find yourself waiting for a table at Jack Sprat, grab a drink and explore the shop while you wait.