Schussing through deep powder in the deep wilderness and surrounded by dramatic peaks: Backcountry skiing in Alaska is unlike anywhere else on the planet. Spring is the season to take advantage of this thrilling sport in the Valdez area, as the days grow longer and the weather gets warmer.
Why Fly?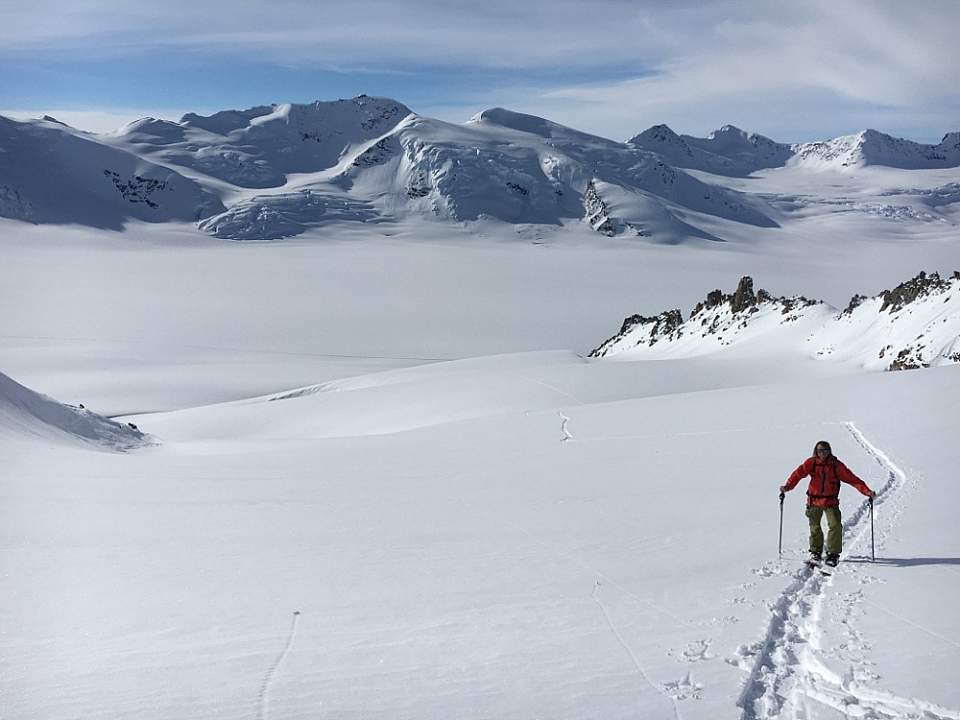 While it's possible to hike to some of these remote areas, you'll save hours by flying. Plus it's easy: Book an outing with Tok Air Service and they can fly you to dramatic areas of the Chugach Mountains, Eastern Alaska Range, and the mountains in Wrangell St. Elias National Park.
Tok Air Service has years of experience with skiing and boarding in Valdez, home of backcountry and big-mountain skiing. Part of what makes it magical is the Pacific currents, which bring warm air up to the Gulf of Alaska. The humidity stacks up against the Chugach Mountains, resulting in several hundred inches of snow that cling to the mountainsides around Valdez.
And there are countless options for all kinds of skiing. If you're looking for long, steep runs, you'll find tons of them in Valdez. But you'll also discover many easier runs that are perfect for relaxing glides as you cut fresh lines in the perfect powder.
Ski-Bump Flights or Multi-Day Glacier Camps
Plus, Tok Air Service offers different ways to enjoy the experience. Take a ski-bump flight and enjoy a nice long run without having to hike—then arrange for a pickup out to the road system when you complete your run. Looking for a more immersive outing that offers a truly once-in-a-lifetime opportunity? Book a multi-day trip to a glacier ski camp, and in most cases you'll be skiing on actual glaciers.
How does it work? Depending on the type of skiing you wish to do, you'll meet Tok Air Service at either the Valdez airport or Thompson Pass, 30 miles northeast of Valdez. You'll need to provide your own gear, and you can find some rentals in Valdez. (Hint: Your best bet is The Prospector for skis and splitboards.)
You'll also find fellow winter sports enthusiasts at Tok Air Service, where the staff enjoys split-boarding, AT skiing, and telemark skiing, and has completed level 1 avalanche training.
About Tok Air Service
Tok Air Service is owned and operated by third-generation pilot Zack Knaebel, who started flying when he was just 11 years old. Exploring the Alaska wilderness, and especially scouting places where no plane has ever landed, is exciting for the Fairbanks-born pilot. Now a resident of Tok, Zack operates Tok Air Service with the goal of making the Alaska wilderness accessible and affordable to all visitors. As a pilot and a guide, Zack provides air taxi service, trip advice, and guidance for a variety of clients. Tok Air Service operates three types of small aircraft to accommodate small to large groups, as well as different types of bush-flying needs.