Head out into the Alaskan wilderness on this exciting ATV adventure, driving through woods and splashing through rivers on your way to a gorgeous glacial moraine surrounded by towering snow-capped peaks.
Your Wilderness Adventure
49th State Motor Tours is headquartered in Palmer, about 45 minutes North of Anchorage. You can meet there or catch the company's shuttle from Anchorage. Then you'll gear up and hop in an ATV or UTV as either driver or passenger to travel through gorgeous Alaskan backcountry, kicking up mud and fording rivers on a heart-pounding adventure that will truly give you a new perspective on this land.

You'll be in a small group led by the owner, Brian, or one of his experienced guides who know this area well and are focused on getting you out of civilization, and back, safely. Adventure pup (and company mascot) Wheeler the Heeler often comes along for the ride, too. Either way, you'll be with knowledgeable guides who know how to combine the laid-back vibe of Alaska with the thrill of adventure. Plus, no experience is necessary!
The Tours
Knik Glacier Full-Day Experience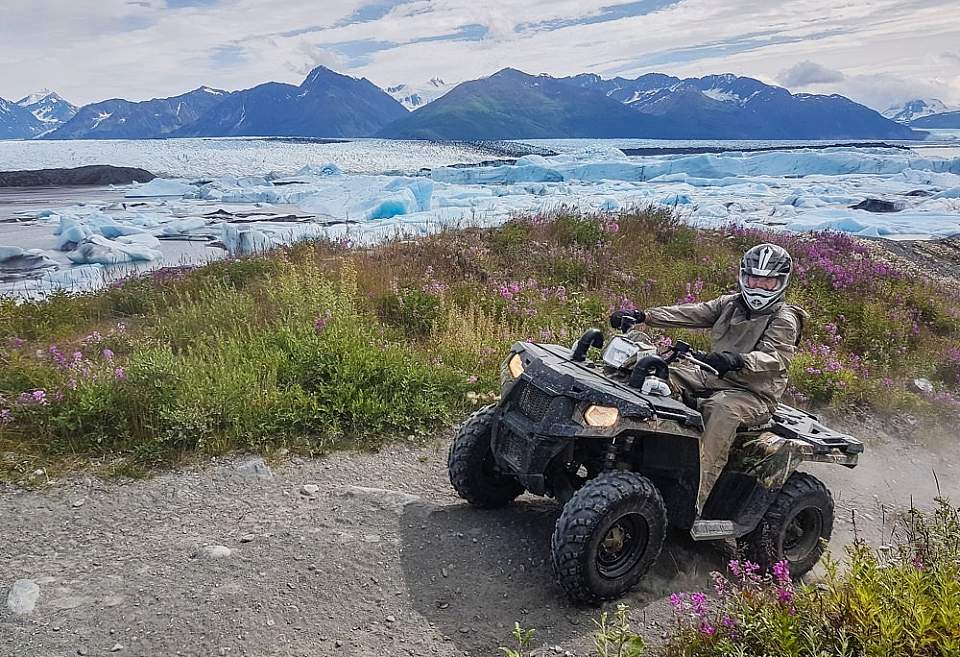 The most popular tour usually runs 6 to 8 hours long and begins by gearing up with helmets, goggles, and gloves, (rain gear is also available if needed). After an orientation on your easy-to drive ATVs, you'll head out onto the trail. You'll start at the Jim Creek trailhead and ride along the river up to the Knik Glacier, going through sand dunes and crossing over creeks and ponds, stopping to take photos along the way.

Look for moose, eagles, foxes, porcupines, and bears, and keep an eye out for Dall Sheep when you reach the cliffs at Wolf Point. You'll then break out into an open area on a big glacial gravel bed, with the goal of getting out onto the moraine of the glacier. There, your guides will set up a stove for a made-to-order hot lunch. Sample their signature, Alaskan salmon quesadillas, or ask in advance for a meal tailored to your dietary needs, and enjoy it with cider, cocoa, coffee, tea, or a true Alaskan favorite, hot Tang. You'll spend 45 to 60 minutes at the glacier before starting the adventure back to the trailhead.

Knik Glacier Half-Way Experience
This tour is perfect for those who want the sights and sounds of this adventure without the commitment of a full day. The 3- to 4-hour tour departs daily and goes out to Wolf Point, the halfway mark. If the day is clear, you'll be able to see Knik Glacier in the distance. While no meal is offered on this tour, there will always be a snack box available.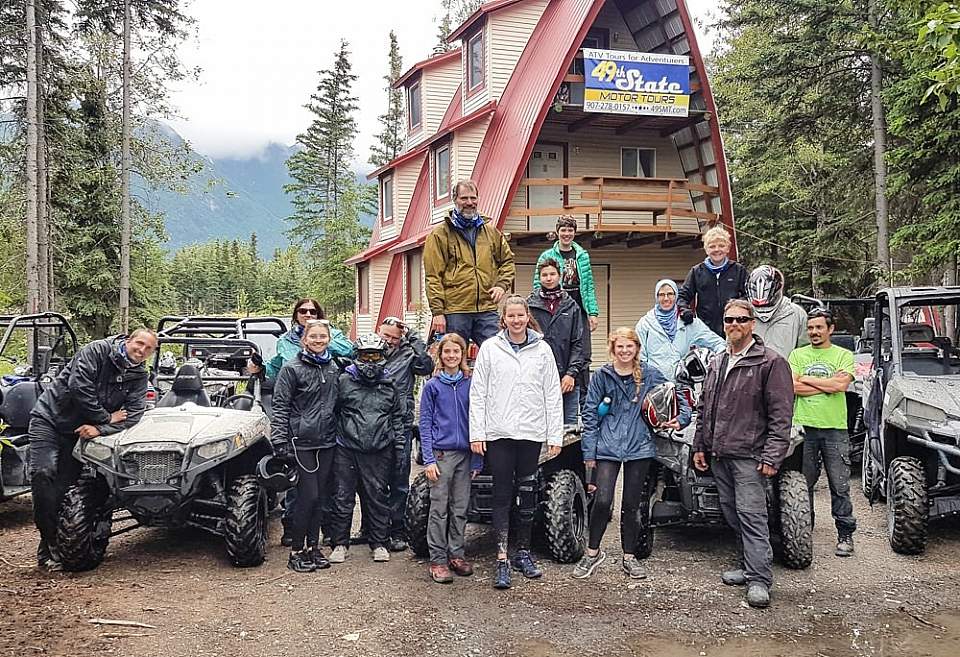 Custom Tours
Designing an adventure tailored to you is where 49th State Motor Tours really shines. Having spent a lifetime getting lost and unlost in the wilds of Alaska, in addition to chasing film crews to the furthest reaches of the state, Brian knows the Alaskan backcountry well and can put together unforgettable multi-day adventures. The options are endless. Looking for epic boulder crawls? You'll have them. Enormous hill climbs? Yep! 49th State Motor Tours knows where those are too! Spectacular vistas where you feel on top of the world? Say the words and they will stretch in front of you (after an unbelievable day of riding of course). Camp on the trail, or at the trailhead. You decide. Need camping equipment? It can be provided. Call to discuss.
About 49th State Motor Tours
This family operation, started by Brian and Cedar, grew out of their work in the Alaskan film industry and in particular, working on a series on off-road racing that went from the bottom to the top of Alaska. After spending a summer getting paid to do what he loves best, Brian knew that he could never return to his "day job" and 49th State Motor Tours was born. Brian's knowledge of Alaska's trails and his work in the entertainment industry (he knows how to keep visitors engaged!) makes for a great combination that has proved successful over the company's 6-year run.