Stunning scenery, a thrilling ride and happy puppies: this tour out of the Anchorage area offers an unbeatable combination of classic Alaska experiences that will delight families or—really, anybody. Taking a total of about 90 minutes, and running from mid-May to early September, this tour includes a helicopter flightseeing round trip, a small friendly group environment, and plenty of one-on-one time with the dogs and their mushers.
Meet the Mushers
The heart of this tour is the mushers and their sled dogs. They compete in classic
Alaskan sled dog races like the Iditarod, and they all stay on a glacier in the Chugach Mountains from May to September. They're here to keep the dogs in shape, do some training, and have some good doggie socialization. The mushers love to share stories about their dogs and the trail with visitors. It is cool but not cold here during summer: as chilly as 40 degrees and as warm as 70.
A Gorgeous, Smooth Flight
Your experience starts at the tour desk at the Alaska Glacier Lodge, where you check in and get outfitted with overboots that keep your feet dry and warm; then, you board the helicopter. Just be sure to bring a hat, gloves and your sunglasses, to see better against the snow. Transfers from your hotel in Anchorage are available dailly if you don't have a car or prefer not to drive yourself. The 15-minute flight sets out over a dazzling array of whites and blues: Knik Glacier, Lake George, and Colony Glacier. The views are incredible, and if you've never taken a helicopter ride before, you're in for a treat: most people find that this is much more comfortable than a small plane—there's less turbulence, and no wings to impede your view. The helicopter's rotors move so fast you can see right through them, so you'll get unlimited views both below and above.
Greet the Pooches and Go for a Ride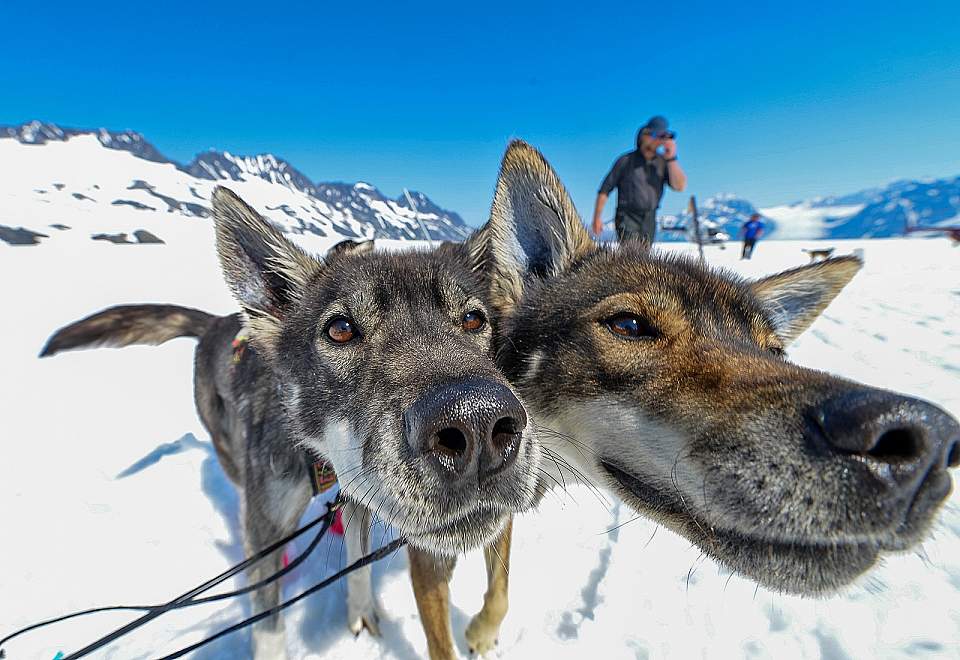 When you land on the glacier, you're a very short walk from the dogs (the tour is even wheelchair-friendly if you give some advance notice). Now you get to meet the dog team—with the excited pups jumping in the background—and get hooked up to a sled. You choose whether you mush your own sled, standing on the runners (you'll get a quick lesson on what to do), or sit in the sled's basket and enjoy the ride. Either way, the ride lasts about a half hour, with a few stops for pictures. You're on the glacier for about an hour total, then it's back into the helicopter to fly back to the base. Keep your eyes peeled for wildlife along the way, such as mountain goats, Dall sheep, moose and black bears.
You can also take a combo tour: the dog sled experience and then a landing on the ice of the lower glacier, where you'll see the unique features in the thousands-years-old ice and little rivers—a totally different experience. On either of the tours, you'll get a visual feast: the peaks of the Chugach Mountains in the background, the pristine snow, and the otherworldly feel of this little community, seemingly in the middle of nowhere. This is the quintessential Alaskan Adventure, suitable for all ages and abilities.
Alaska Helicopter Tours - Stellar Reputation, Stellar Safety Record
Locally-owned Alaska Helicopter Tours is well respected in aviation circles for its unique helicopter tours, customs adventures, glacier weddings and corporate events. With its focus on safety, Alaska Helicopter Tours has a fantastic reputation with the FAA and its commercial clients, including fortune 500 companies, universities, and government agencies. Safety is the top priority at Alaska Helicopter Tours, and their staff is most proud of the company's perfect safety record, noting that there have been no accidents or incidents in its 25+ year history. Some of their pilots have more than 16,000 hours of accident-free and incident-free flying in some of Alaska's most challenging conditions.