For outstanding viewing and access to Alaska's remote, wild places, there's nothing like flightseeing by helicopter. Join Alaska Helicopter Tours – a locally owned, highly-respected helicopter tour company for excursions that show off hidden sites just minutes from the road system.
Touring by helicopter is an incredibly fun, comfortable and exciting alternative to flying by small, fixed-wing aircraft. Hop in and you're quickly airborne as powerful rotors lift you vertically, with a surprising ease of navigation. This is your chance to experience helicopter travel and incredibly cool sightseeing all at once.
Amazing views – There are no wings to peer over, and you are surrounded by clear plexiglass, so your views are unimpeded in every direction. And there's plenty to see, no matter where you look and it's a lot more comfortable than bush planes - virtually nobody gets motion sickness in a helicopter.
Convenient – Tour options range from 1 hour to a full day combo tours, with plenty of options for those schedules that are already packed. With courtesy pickup available at your Anchorage hotel, you can be taking off in no time.
Small group – No crowds here! With a minimum of 2 guests you'll enjoy a quiet experience, taking in Alaska's beauty with your pilot's full attention. If your party is larger than six, you can arrange to travel in two or more helicopters.
Safety – Alaska Helicopter Tours is known for its perfect safety record. All its pilots are very experienced and will put your safety as the top priority.
Personable pilots – Your pilots all enjoy showing guests the Alaska that they know and love, found in the wild places off the road system. They'll point out notable features, be on the lookout for wildlife, and answer all your questions. You'll learn a surprising amount in just a short time!
Custom tours – Want to exchange vows on a glacier or find the best spots for aerial photography? Alaska Helicopter Tours will work with you to accommodate your dream wedding or plan an epic custom flightseeing tour. If you only have one day to play, consider chartering a helicopter for the day. It's surprisingly affordable and you can see the glaciers, remote mountain ranges and wildlife all in one epic day. They also work with some remote lodges where you can spend the night in the wilderness and still be fully pampered with great food and adventures like fly fishing, rafting or 4-wheeling.
Most Popular Tours
Knik Glacier Landing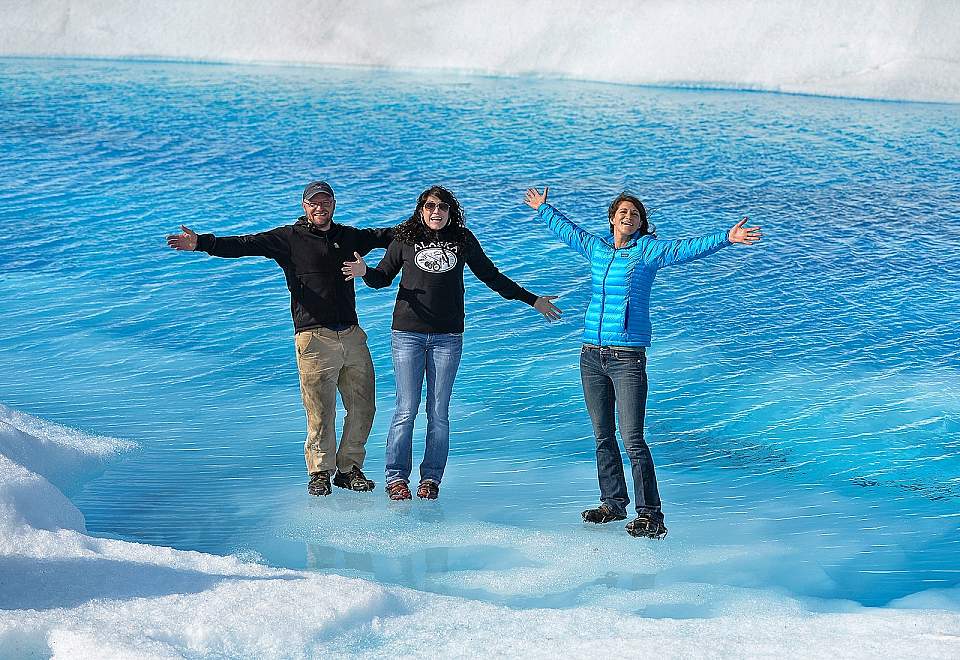 Alaska Helicopter Tours' signature glacier tour will have you standing on glacier ice that is thousands of years old. The massive Knik Glacier is 25 miles long and boasts a 5-mile wide face. Approaching the glacier, you'll see its craggy blue ice, deep crevasses, glacial rivers and waterfalls. Your pilot sets the helicopter down in the middle of the glacier and will be your guide on the ice. They outfit you with crampons for better traction on the ice to safely explore some of the crevasses, melt pools and other 'cool' features. After a 30-minute easy walk, you'll board the helicopter for views of several other glaciers, the Knik River gorge and possible wildlife sightings on the way back. If you are less mobile the group can stay around the helicopter to explore. They can even take folks in a wheelchair with some advance notice and some help from family or friends. This tour is available year-round.
Glacier Dog Sledding
Stunning scenery, a thrilling ride and happy puppies: this tour offers an unbeatable combination of classic Alaska experiences that will delight families or —really, anybody. Taking a total of 90 minutes, and running from mid-May to early September, this tour includes a helicopter flightseeing round trip, a small friendly group environment, and plenty of one-on-one time with the dogs and their mushers. Meet the new puppies and go for an exhilarating sled tour on real snow, high on a glacier. Your experience starts at the tour desk at Knik River Lodge, where you check in and get outfitted with wind- and waterproof outerwear and boots; and after a quick safety briefing you board the helicopter. Be sure to bring a hat, gloves and your sunglasses. Transfers from your hotel in Anchorage are available three times a day if you don't have a car or prefer not to drive yourself. This tour can be extended with an extra landing on the lower glacier to see the blue melt pools and the crevasses in the ice up close. The quintessential Alaskan Adventure, suitable for all ages and abilities.
Grand Knik Tour
A staff favorite, the Grand Knik Tour gives you the time to really experience the stunning beauty of the area by combining three activities. Fly by helicopter to Lake George Glacier to land in front of a 100-foot wall of ice. The bright blue color of the ice will take your breath away. Then, you'll fly to an alpine meadow, where you'll take in a birds-eye view of the Knik Glacier below, with Colony and Cataract glacier visible in the distance across Lake George. En-route, there's a good chance to see bears foraging along the hillsides, as well as moose and Dall sheep. Finally, you'll fly to the middle of the Knik Glacier for a third landing at the azure colored melt pools. See the deep blue ice, and learn about the life cycle of glaciers. Explore the glacier for a half hour with your experienced pilot and guide. And don't forget your water bottle so you can fill it up with water from the glacier. There's nothing more pure!
Alaska Helicopter Tours - Stellar Reputation, Stellar Safety Record
Locally-owned Alaska Helicopter Tours is well respected in aviation circles for its unique helicopter tours, customs adventures, glacier weddings and corporate events. With its focus on safety, Alaska Helicopter Tours has a fantastic reputation with the FAA and its commercial clients, including fortune 500 companies, universities, and government agencies. Safety is the top priority at Alaska Helicopter Tours, and their staff is most proud of the company's perfect safety record, noting that there have been no accidents or incidents in its 25+ year history. Some of their pilots have more than 16,000 hours of accident-free and incident-free flying in some of Alaska's most challenging conditions.