Pilot a utility task vehicle (UTV)—an ATV that's fully enclosed—with family and friends as you splash through rivers, take in stunning views, and even pan for gold on this unique, 3-hour excursion with Hatcher Pass ATV Tours out of Willow.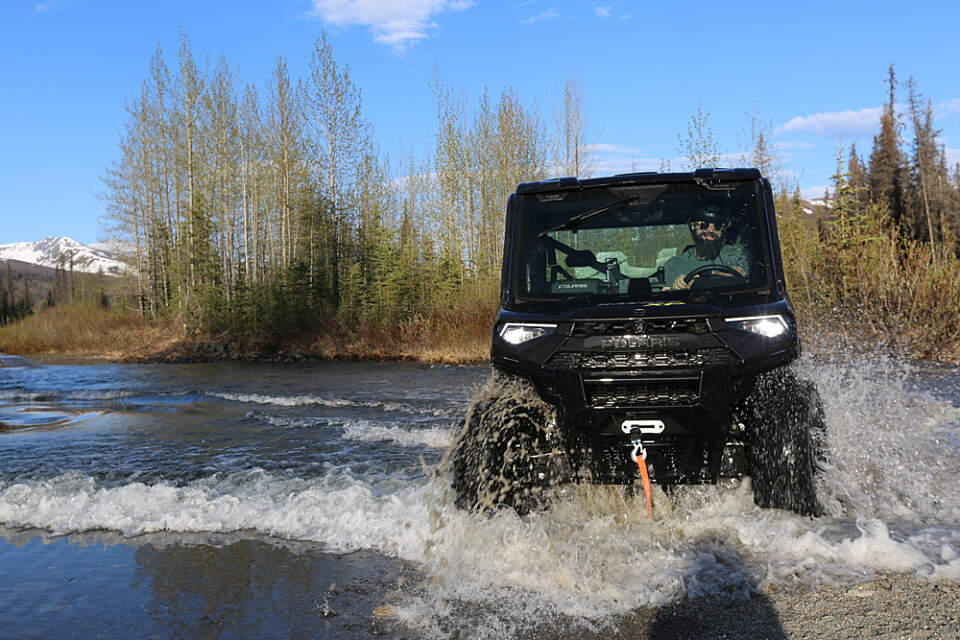 The Experience
Six people can fit into one of the brand-new Polaris UTVs, making this tour perfect for families or groups—especially since you won't have to share the vehicle with anyone. Each of the fully enclosed, side-by-side machines features a GPS, A/C and heat, front and back cameras, and a winch, so you'll be able to drive fearlessly over Alaska's rugged terrain. Led by your expert guide, you'll drive past tons of willow trees, through creeks, and up to some amazing mountain views while keeping an eye out for moose, birds, and maybe even a bear.
You'll also get a first-hand lesson in Alaskan history as you drive past abandoned gold-mining cabins and old mining equipment. You'll also have the opportunity to stop and try your hand at panning for gold.
The 3-hour tour includes 2 to 2-½ hours of off-roading. All the while, you'll be accompanied by one of the company's guides—longtime Alaskans who possess a wealth of knowledge on local flora and fauna, as well as all things Alaska.
Best of all, this is a tour you can take year-round! When the snow starts to fly, the UTV's tires are swapped for snow tracks, turning our UTV into a mini snowcat, giving you the opportunity to explore gorgeous winter landscapes and a chance to see the northern lights. And because the vehicle is fully enclosed, you'll stay warm and dry no matter what the weather!