One of Alaska's most scenic spots lies just an hour's drive away from Anchorage. Portage Valley, nestled within the Chugach National Forest, serves up an endless collection of glacial lakes, snow-capped peaks, snaking rivers, and wildlife—making it the perfect place to embark on an adventure with Glacier City Rafting & Hiking.
The intimate, small-group expeditions have a maximum of 12 people, and you'll be led by seasoned guides who love this area and know it well. In fact, one of the owners started as a tour guide for the company (!), which has been family-run for more than 20 years. And if you come back in winter, check out their excellent snowmobile tours!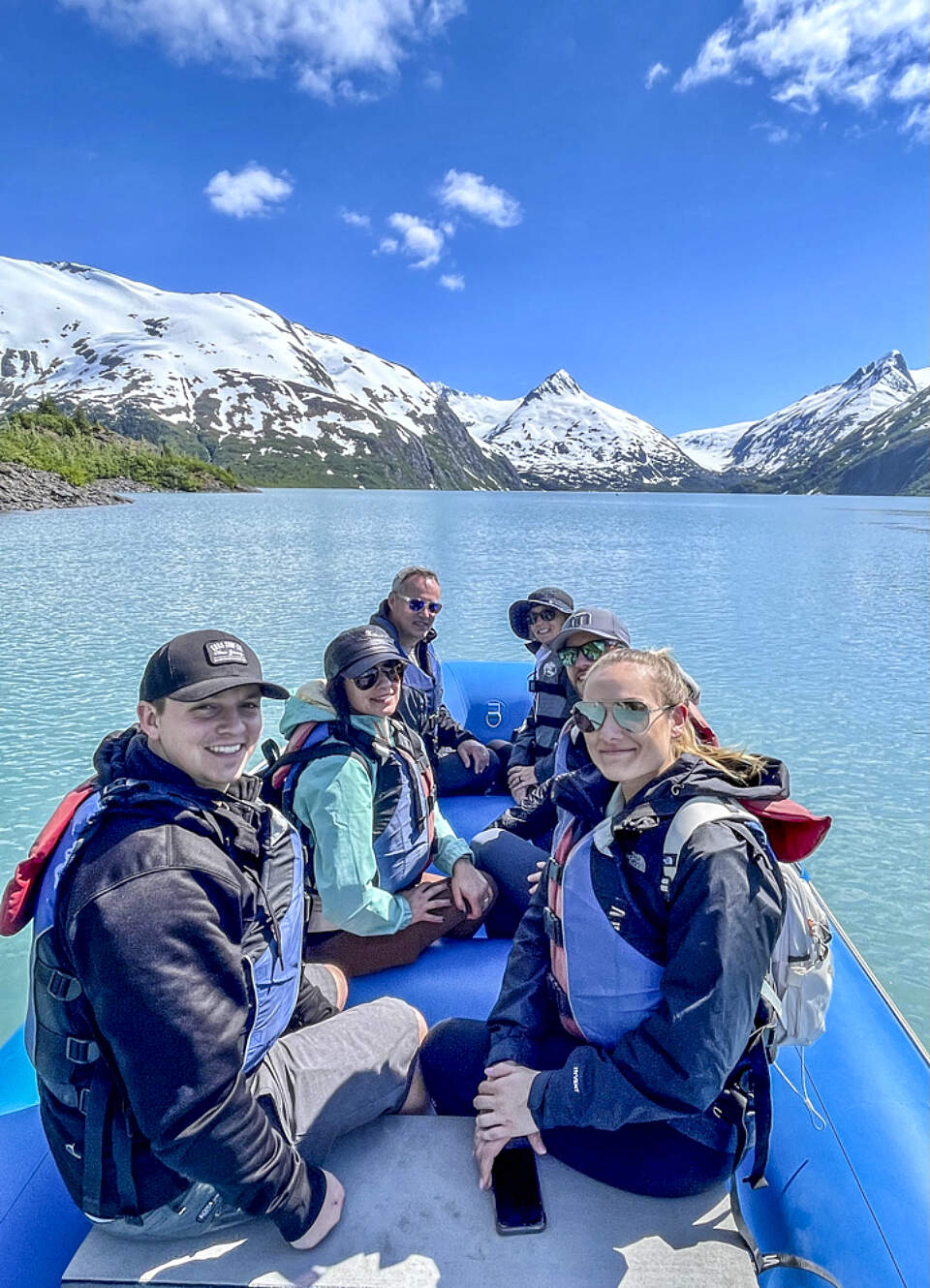 The Tours
Glacier Raft / Glacier Raft + Hike
Leaving early in the morning from Girdwood, you and your small group will raft an easy 3 miles over calm water, with your expert guide rowing and narrating as you gaze up at the jagged peaks. The river of ancient blue ice that is your destination slowly comes into view and looms ever larger as you marvel at its wonder from a close (but safe) distance.
You could also start your journey in Whittier (after driving through North America's longest highway tunnel, the 2.5-mile Anton Anderson Memorial Tunnel) and take a 4-mile hike to the lake via the Portage Pass Trail. When you reach the top, you'll be rewarded with one of the best views of any hike in all of Alaska. On one side you'll have the stunning Portage Lake and Portage Glacier; on the other, you're treated to magnificent views of the harbor. You'll descend down to the shore, then get in a raft and enjoy a paddle out on the lake.
Both tours are 5–7 hours; lunch and snacks are provided.
Scenic Portage Rafting
Take a gentle float trip down Portage River from Portage Lake. The gentle, whitewater-free journey makes it a great tour for families and visitors of any age. In the valley, you'll be treated to views of hanging glaciers tucked into mountain peaks and lush forests as you keep an eye out for commonly seen creatures like bears, moose, and eagles. In late summer, you even may see salmon returning to their spawning streams. For an even more action-packed day, add on a custom Portage Valley hike or a visit to the nearby Alaska Wildlife Conservation Center.
Morning and afternoon departures are available. A hot drink and snack are included.
Portage Valley Hiking
Go with your group and a pro guide on a custom hiking tour to explore one of the beautiful trails in the Portage Valley. Most hikes last 2 or 3 hours, and Glacier City can help you pick the best trail for your group so everyone has fun and returns with unforgettable memories.
Departures available throughout the day. Snacks and hot drinks are included.