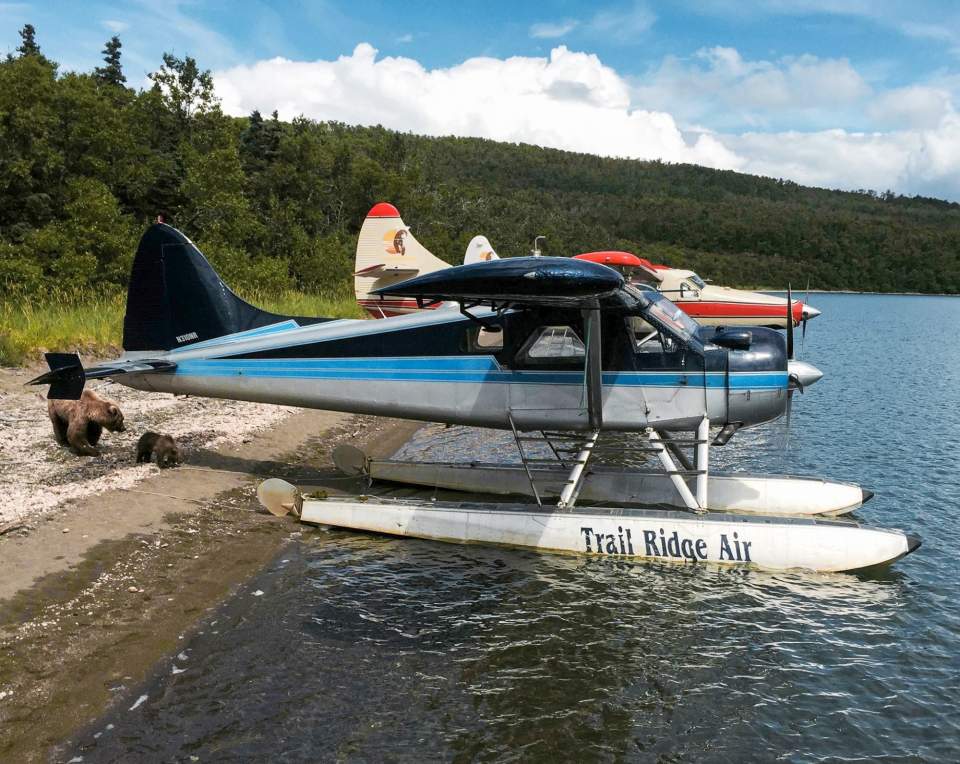 Viewing brown bears in their natural habitat is probably one of the most amazing things you could do in Alaska. If it's high on your list, don't leave it to chance. Instead, you can book a flightseeing trip and bear viewing all in one, knowing that you'll get to spend a few hours watching bears splash, fish, and rear their cubs.
Trail Ridge Air bear viewing excursions run from July to September, giving you more options for getting out where the bears are feeding. In July, the place to be is Brooks Falls, the famed brown bear feeding mecca in Alaska's Katmai National Park. When fishing season is over there and the bears move on, so does Trail Ridge Air. From August through September, a flight out to Mt. Redoubt Lodge in Lake Clark National Park finds the bears feeding on sockeye salmon at the Crescent River, where you can leisurely view them from the comfort of a boat with a knowledgable guide.
Brooks Falls Katmai National Park
You've seen the iconic photos of bears balanced at the top of the falls waiting patiently for salmon to launch themselves within reach. Now take your own photo at the bear viewing platform at Brooks Falls.
The flight is full of breath-taking scenery featuring the vast waters of Cook Inlet, and the mountains, glaciers, alpine lakes and rivers of the Aleutian Range. You'll fly over McNeil River State Game Sanctuary and Refuge – also known for its incredible bear viewing – and land on the shores of Naknek Lake in Katmai National Park and Preserve.
From here your bear venture truly begins, as bears sometimes roam among the parked aircraft and along the trail to the viewing platform! National Park Service staff conduct a required orientation on how to safely view and respect the multitude of bears that are expending all their energy fattening up for the long winter months.
Your first scene of bear activity will likely be on the two-mile walk to the viewing platform at Brooks Falls. From there, prepare to spend a few hours in awe as you see bears fishing and eating up close. The largest, most dominant bears take position at the Falls, with smaller bears, sows and cubs a little further down the river. The Brooks Falls bears tend to be a little more aggressive with each other in July, before they've had a chance to fatten up much, so you may see interesting bear interactions along with some keen fishing techniques.
The ten-hour day ends with a flight back to Anchorage, and a camera full of great photos.
Redoubt Mountain Lodge
Bear viewing at Redoubt Mountain Lodge in Lake Clark National Park and Preserve is a different kind of experience altogether. Redoubt Mountain Lodge is the only private inholding within 25 miles in this part of the park, giving it a more secluded feel. A large run of sockeye comes up the Crescent River each year, attracting dozens of bears and their cubs for late-summer feeding.
The ten-hour excursion starts with a 70-minute flight packed with breath-taking views of volcanoes, the Chigmit mountains, and untouched swaths of wilderness in the Lake Clark National Park and Preserve. You'll fly right to the lodge, aptly named for Mount Redoubt, an active stratovolcano just eight miles away that last erupted in 2009. Get geared up at the lodge and into a pontoon boat navigated by a knowledgeable tour guide. Watch for salmon, eagles, moose and black and brown bear as you explore Crescent Lake and Crescent River.
Viewing from a boat offers mobility and a sense of security as you view these powerful bruins in their natural habitat. It's definitely a unique experience!
About Trail Ridge Air Incorporated
Trail Ridge Air is a locally-owned, family-run air taxi service that specializes in getting you out to experience Alaska's incredible scenery from on high, either on a flight-seeing trip or packaged in with bear viewing, fishing, a float-trip or something entirely custom that fits into your dream vacation.
Since 1999, Jim and Loree Jensen have been running Trail Ridge Air out of Lake Hood, the busiest seaplane base in the world. Along with their team of pilots (some of whom are also family), they maintain a beautiful fleet of aircraft:
Two classic 1950s-era DeHavilland Beavers, a quintessential bush plane that seats 6-7. Ruggedly functional, the Beaver still offers a comfortable ride. Fewer than 1,700 Beavers were ever made, so it's quite a treat to ride in this aircraft that evokes a sense of nostalgia in those who understand its place in Alaska history.
A Cessna 206. This 5-seater is known for its load-carrying capacity, so is a common sight in Alaska. It's a bit smaller, and also faster, than the DeHavilland.
A Piper PA-12 Super Cub. Trail Ridge Air is the only water taxi service operating a Piper PA-12 out of Lake Hood. The 1940s-era Super Cub seats two passengers in the back. Its small size and rugged construction allow for short landings on rough terrain, making it perfect for those custom flights headed into the back country.
Piloting those Trail Ridge Air seaplanes are staff committed to safety, customer service and showing off Alaska – and that garners a lot of repeat business. Pilots are experienced, safety-conscious, knowledgeable about the area, and take pride in what they do. "We aren't the oldest pilots out there, but we do make up for that by being personable," laughs Trail Ridge pilot Casey. "You won't find any cranky pilots here." Casey started out in the business working on the floatplane docks and soon developed a passion for small aircraft and bush flying. "It brings me joy knowing my passengers are having as much fun as I am up there."
And Jim and Loree still meet every flight with a smile, waiting to hear passenger comments about jaw-dropping glaciers they just saw or a pod of beluga whales they spotted.
Customization is another big part of the Trail Ridge Air philosophy. If you're planning an Alaska vacation, give them a call so they can help you put together the puzzle pieces of your itinerary to get what you want out of your trip. Even if you only have an hour, you can get up in the air for incredible views and an insider's chat about wild and wonderful Alaska.