If you fly in to Anchorage on a commercial airliner, you've gotten just a taste (a small window's-worth) of what you'll see on one of Trail Ridge Air flight-seeing trips. And on this trip, you'll be able to meet your pilot and ask questions about everything you're seeing. The two-way headsets allow for easy communication, as you hear plenty of stories of the Alaskan wilderness just moments away.
Depending on your schedule and budget, choose from one-hour flights around the Anchorage area or longer flights that take in glaciers, Denali or Lake Clark National Park.
Discover Alaska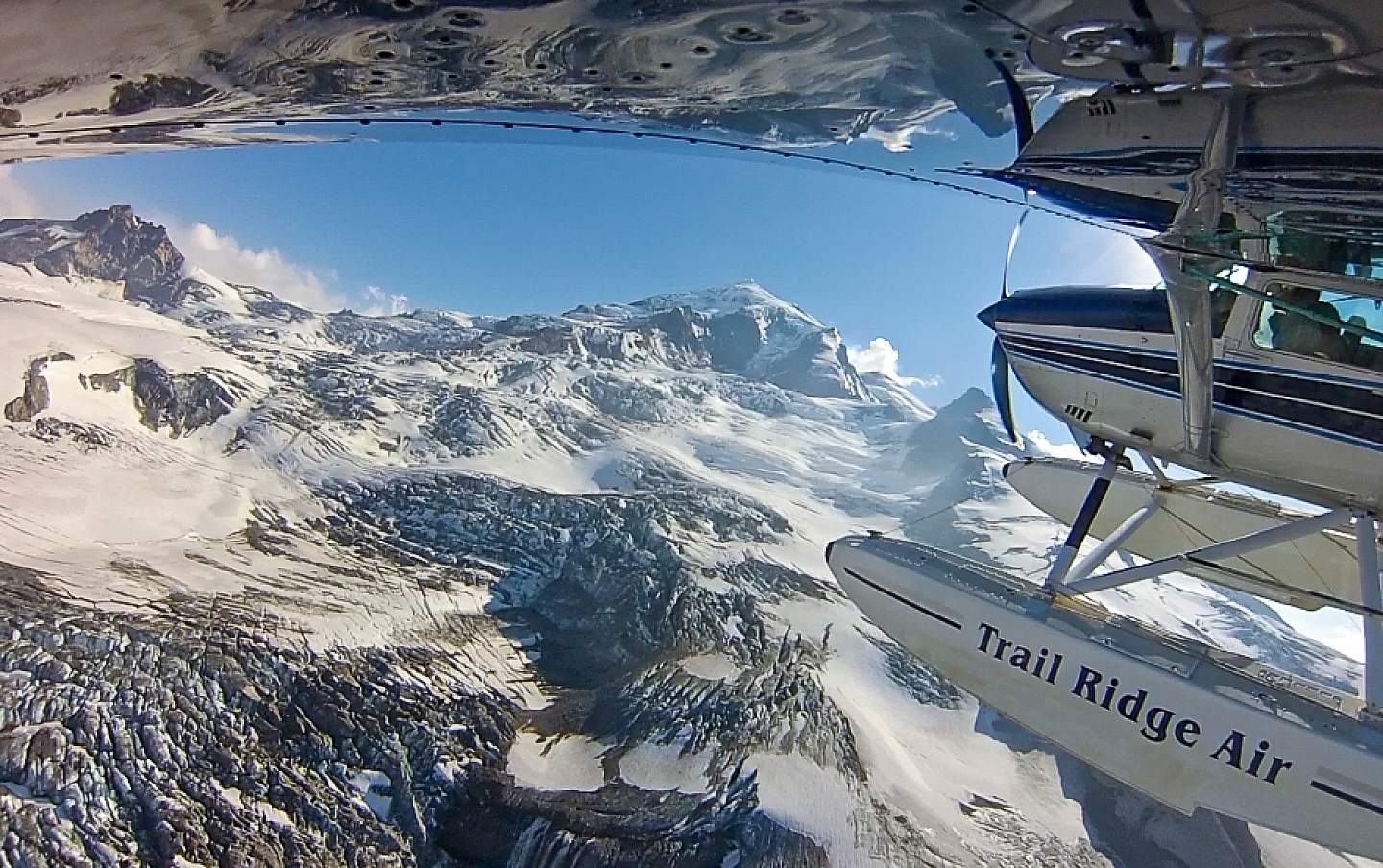 This popular one-hour flight gives you a float plane experience even if your time is limited. And you'll see a lot! Depending on the weather and your interests, you'll head either east or west.

1-1/2 Hour Glacier Tour
Seeing a glacier is at the top of the list for many visitors to Alaska. Luckily, there are three very distinctive glaciers each just a short flight from Anchorage, so you can check that off your list in just a 90-minute flight! Mountain goats and Dall Sheep are always a bonus on these flights.
2-Hour Glacier & Wildlife Tour
This 2-hour tour can include views of the Turnagain or Knik Arms of the Cook Inlet, or you might fly out towards Prince William Sound – home to the largest concentration of tidewater glaciers in the world. You'll see a wide variety of Alaskan terrain and landscapes, from beaches to high alpine glacial bowls. And always be looking for wildlife. You might see Dall Sheep high in the mountains, moose in the lowlands, or whales, seal, and porpoise near the coast. This flight also includes an exciting mid-flight stop for photos and refreshments.
3-Hour Explore Alaska Private Tour
The destination of this exclusive private tour could include a trip to see the tallest mountain in North America, Mt. Denali, the glacier studded Prince William Sound, or the towering mountains of the Alaska Range. Where you go will depend on your interests, as well as the weather. Every trip includes a landing on a remote beach to enjoy a snack, and take photos to preserve this memory for years to come.
Twin Lakes - Dick Proenneke's Cabin, Lake Clark National Park
Surviving in the wilderness takes skill, adventure and a penchant for hard work. Dick Proenneke, an amateur naturalist, did it for thirty years in the Twin Lakes area of the remote and magnificent Lake Clark National Park.
Trail Ridge Air pioneered this 4- to 5-hour flightseeing tour to the cabin Dick Proenneke built, which is now a featured landmark at Lake Clark National Park. Whether you know Mr. Proenneke's story or are hearing it for the first time, you'll be impressed with his ingenuity, the craftsmanship of his cabin home and how he documented the land and nature that surrounded him.
This tour highlights some of the prettiest country in Alaska, in one of the least visited national parks in the country. On the way there, you'll fly through Lake Clark Pass, threading through mountains and glaciers on either side. Land at the cabin and learn about Mr. Proenneke from volunteers who personally knew him and can answer all your questions. Hike above the tree line into a glacier valley that begs to have its photo taken, from all angles! On the flight back, if weather permits, your pilot will take a different route through another pass so you can see even more.
About Trail Ridge Air Incorporated
Trail Ridge Air is a locally-owned, family-run air taxi service that specializes in getting you out to experience Alaska's incredible scenery from on high, either on a flight-seeing trip or packaged in with bear viewing, fishing, a float-trip or something entirely custom that fits into your dream vacation.
Since 1999, Jim and Loree Jensen have been running Trail Ridge Air out of Lake Hood, the busiest seaplane base in the world. Along with their team of pilots (some of whom are also family), they maintain a beautiful fleet of aircraft:
Two classic 1950s-era DeHavilland Beavers, a quintessential bush plane that seats 6-7. Ruggedly functional, the Beaver still offers a comfortable ride. Fewer than 1,700 Beavers were ever made, so it's quite a treat to ride in this aircraft that evokes a sense of nostalgia in those who understand its place in Alaska history.
Two Cessna 206's. This 5-seater is known for its load-carrying capacity, so is a common sight in Alaska. It's a bit smaller, and also faster, than the DeHavilland.
A Piper PA-12 Super Cub. Trail Ridge Air is the only water taxi service operating a Piper PA-12 out of Lake Hood. The 1940s-era Super Cub seats two passengers in the back. Its small size and rugged construction allow for short landings on rough terrain, making it perfect for those custom flights headed into the back country.
Piloting those Trail Ridge Air seaplanes are staff committed to safety, customer service and showing off Alaska – and that garners a lot of repeat business. Pilots are experienced, safety-conscious, knowledgeable about the area, and take pride in what they do. And Jim and Loree still meet every flight with a smile, waiting to hear passenger comments about jaw-dropping glaciers they just saw or a pod of beluga whales they spotted.
Customization is another big part of the Trail Ridge Air philosophy. If you're planning an Alaska vacation, give them a call so they can help you put together the puzzle pieces of your itinerary to get what you want out of your trip. Even if you only have an hour, you can get up in the air for incredible views and an insider's chat about wild and wonderful Alaska.