You don't need to be an expert or a Hollywood star to enjoy fly-out fishing in the wilds of Alaska. Trail Ridge Air partners with backcountry lodges to get you into creeks and lakes where you can catch not only fish, but also a great Alaskan fish tale of your very own.
Your first decision is whether you want a guided or non-guided trip. There are benefits to both, but the deciding factor is likely going to be your comfort-level being on your own for a day in a secluded Alaskan paradise.
Trail Ridge Air offers the following tried-and-true locations, but you can also plan a custom fishing trip. Maybe you want to be put down to try fishing for a day on a remote lake that hasn't even made the map yet, or maybe you are interested in a multi-day trip. Trail Ridge Air can help you explore logistics and options due to its extensive connections with backcountry operators.
Guided Fishing
Lake Creek Fishing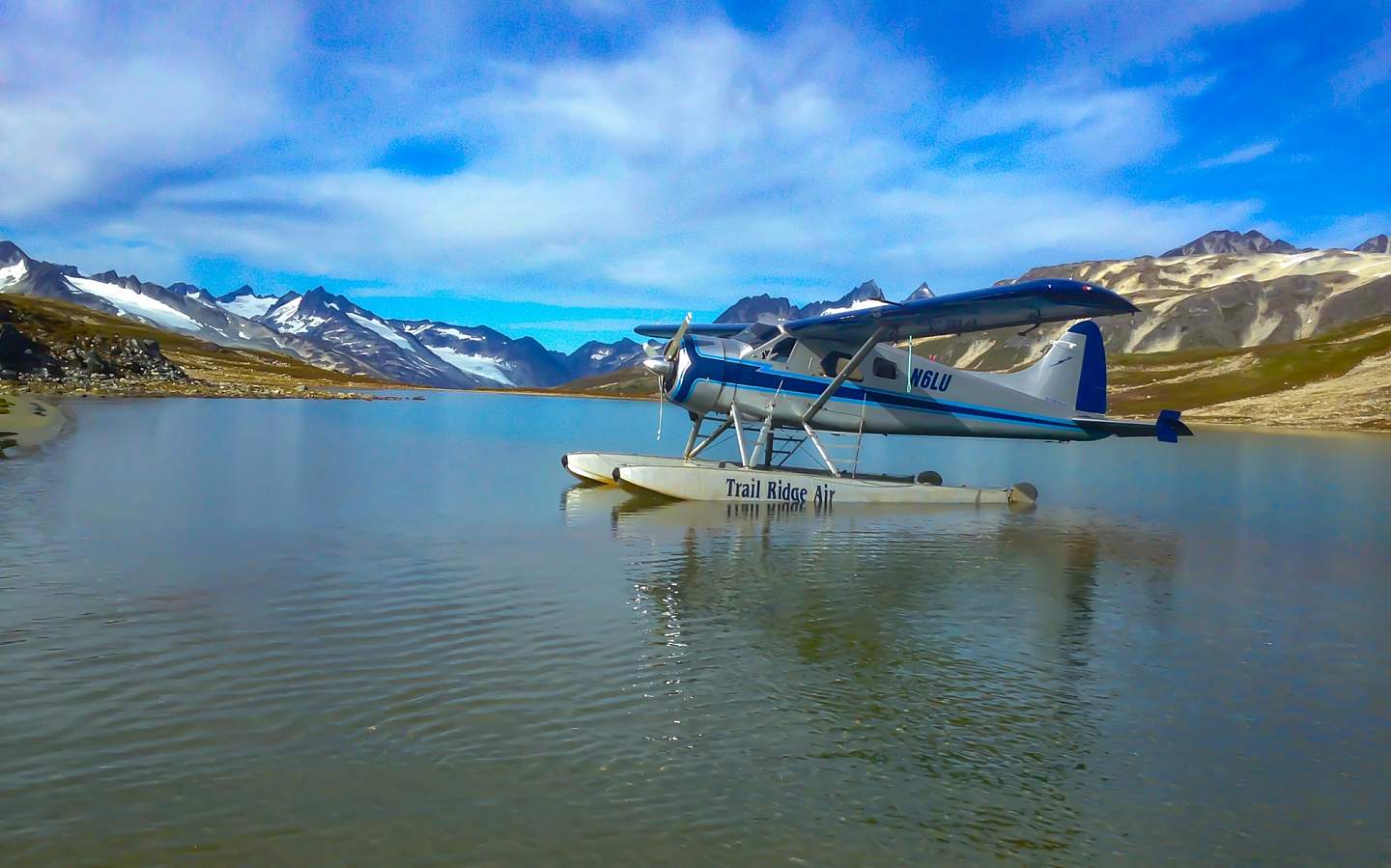 Fish for salmon and trout in this full-day, fly-in excursion in the Lake Creek area of Alaska's Matanuska-Susitna Valley. Lake Creek is a 60-mile long corridor for all five species of Alaska salmon, as well as Rainbow Trout and Arctic Grayling. Once you arrive at Trail Ridge Air, you can buy your Alaska fishing license and a King salmon stamp. Then a 40-minute flight takes you over Knik Arm to the rushing white water of Lake Creek. It's hard to believe this view, with annual runs totaling about 70,000 salmon, is just minutes from the largest urban center in the state. Meet your guide for the day, who will navigate your boat, provide the tackle and advise you on what's biting. After a few hours in this pristine Alaska setting, a hearty lunch will help you refuel and get ready to fight a large King or coax a Rainbow onto your lure. This guided trip is a great way to experience the range of Alaskan salmon fishing in a remote location without packing in your own gear or hassling with your own boat. Just relax and fish on!
Non-guided Fishing Trips
Alexander Lake Pike Fishing
Fly over Cook Inlet, the Susitna delta and up to Alexander Lake for a fun day of pike fishing. Trail Ridge Air helps you get a boat in the water and then you're off! Pike are so abundant in Alexander Lake that you can spend the whole day just putting your hook in the water over and over. In fact, the Board of Fisheries even allows spear fishing or bowfishing for pike in Southcentral Alaska. Northern Pike put up a pretty good fight and are a little goofy besides – great for a family day on the water with the kids and for cool fishing photos. Bring your own gear, fishing license and lunch.
Lake Creek Salmon and Trout Fishing
Lake Creek is close to Anchorage, which means a shorter flight and longer time out on the water. This creek is a well-known fishing spot, but isn't overrun with anglers, as the typical way to get here is by flying in. Depending on the time of year, you can fish for all five species of salmon (King, Sockeye, Pink, Silver and Chum), along with Rainbow Trout and Arctic Grayling. Fish from the bank or add a boat rental so you can drift out in the water. Lake Creek is a picturesque whitewater creek with an abundance of fish, creating the perfect remote Alaska fishing scenario. Bring your own gear, fishing license and lunch.
About Trail Ridge Air Incorporated
Trail Ridge Air is a locally-owned, family-run air taxi service that specializes in getting you out to experience Alaska's incredible scenery from on high, either on a flight-seeing trip or packaged in with bear viewing, fishing, a float-trip or something entirely custom that fits into your dream vacation.
Since 1999 Jim and Loree Jensen have been running Trail Ridge Air out of Lake Hood, the busiest seaplane base in the world. Along with their team of pilots (some of whom are also family), they maintain a beautiful fleet of aircraft:
Two classic 1950s-era DeHavilland Beavers, a quintessential bush plane that seats 6-7. Ruggedly functional, the Beaver still offers a comfortable ride. Fewer than 1,700 Beavers were ever made, so it's quite a treat to ride in this aircraft that evokes a sense of nostalgia in those who understand its place in Alaska history.
A Cessna 206. This 5-seater is known for its load-carrying capacity, so is a common sight in Alaska. It's a bit smaller, and also faster, than the DeHavilland.
A Piper PA-12 Super Cub. Trail Ridge Air is the only water taxi service operating a Piper PA-12 out of Lake Hood. The 1940s-era Super Cub seats two passengers in the back. Its small size and rugged construction allow for short landings on rough terrain, making it perfect for those custom flights headed into the back country.
Piloting those Trail Ridge Air seaplanes are staff committed to safety, customer service and showing off Alaska – and that garners a lot of repeat business. Pilots are experienced, safety-conscious, knowledgeable about the area, and take pride in what they do. "We aren't the oldest pilots out there, but we do make up for that by being personable," laughs Trail Ridge pilot Casey. "You won't find any cranky pilots here." Casey started out in the business working on the floatplane docks and soon developed a passion for small aircraft and bush flying. "It brings me joy knowing my passengers are having as much fun as I am up there."
And Jim and Loree still meet every flight with a smile, waiting to hear passenger comments about jaw-dropping glaciers they just saw or a pod of beluga whales they spotted.
Customization is another big part of the Trail Ridge Air philosophy. If you're planning an Alaska vacation, give them a call so they can help you put together the puzzle pieces of your itinerary to get what you want out of your trip. Even if you only have an hour, you can get up in the air for incredible views and an insider's chat about wild and wonderful Alaska.