Riding an all-terrain vehicle through the backcountry comes with some great perks. Not only can you cover ground faster than you can by hiking (which, in Alaska, often requires a lot of tedious bushwhacking), but let's face it—this activity is a lot of fun!
Fortunately, it's easy to do. In fact, there's great Alaskan backcountry ATV riding just a few miles south of Anchorage. Engage in the sights, sounds, and smells of the northernmost temperate rainforest while experiencing the thrill of the throttle through the winding wooded trails of the Chugach Mountain Range. In the alpine meadows of this wilderness area, there are frequent sightings of both brown and black bears, mountain goats, and Dall sheep.
Learn (and Have Fun) as You Go
Founded over 20 years ago, Alaska ATV Adventures offer a variety of day trips around the state, but its main offerings are on trails near Girdwood—less than a half hour from the south side of Anchorage. You'll be exploring the largest temperate rainforest on the planet, which begins in Northern California, traverses 2,500 coastal miles and ends a short distance from the company's facility, Chugach Base Camp.
Most people who take this tour have little or no experience with ATVs, but it doesn't matter. The guides work hard to make these trips accessible for everyone, while still giving you plenty of time to pause and enjoy your up-close look at nature. Groups stay small—typically just 2 to 6 people—though the company can do custom tours for as many as 25.
Steer (or Ride) to the Views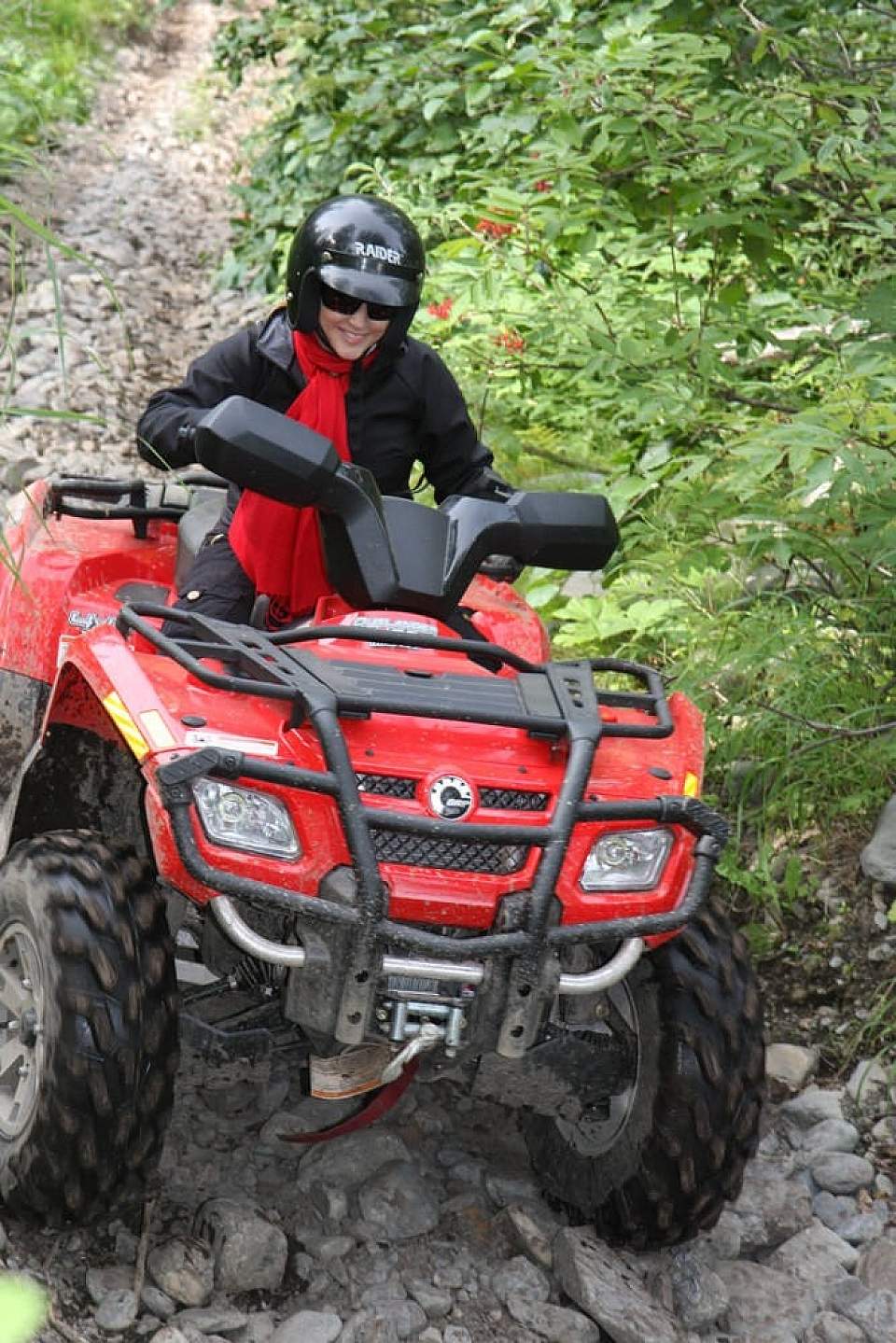 The company's main offerings are the 3-hour tours, which depart each day at 10 a.m. and 3 p.m. This guided tour starts with your Alaska Adventure Guide meeting you at the trailhead for an ATV/Quad orientation and training (which is part of the adventure!). You'll receive the required gear, including a helmet, safety glasses, and riding gloves. Have children or someone that doesn't want to drive their machine? Consider booking a 2-Up ATV, which allows a passenger to ride in the seat behind the driver.
Then take off! No two trips are exactly the same. You'll ride across the Penguin River and up almost 1,000 feet to the high alpine meadows of Hidden Valley, and go to an overlook for amazing views of Turnagain Arm. (Hint: Keep an eye out for bears on the ridges and eagles in the treetops.) The adventure includes a quarter-mile hike down to a spectacular waterfall, offering excellent salmon viewing, sneak peeks of Turnagain Arm, and piedmont glaciers in the distance. The unrivaled scenery, excellent wildlife viewing opportunities, and moderate terrain make this adventure suitable for all experience levels.
Rainforest Royalty: Bears
Because you'll be traveling deep in the northernmost reaches of the rainforest, your guide will stop at a number of unique locations, either to point out wildlife or for other photo ops, such as bear tracks. In fact, salmon-loving bears are spotted on more than half of Alaska ATV's tours, making this a very economical option for folks who want to see bears foraging in the wild or to just get some amazing photo ops.
Alaska ATV Adventures also offers custom trips for ­fly-fishing and spin cast fishing, as well as custom trips that can combine ATVs with gold mining, BBQs, or overnight lodging. Most of the custom ATV options require experience, but there are several options that don't require ATV's. Just give them a call with your idea!