Faster than a kayak and more intimate than a day cruise, the Jet Ski is a great way to get up close and personal with Alaska's gorgeous scenery. Go with Whittier-based Glacier Jet Ski Adventures and you'll be taking your machine out on the water to explore the stunning glaciers and wildlife of Blackstone Bay. All equipment is provided and no experience is necessary on this unique 4.5-hour journey.
Expedition to Blackstone Bay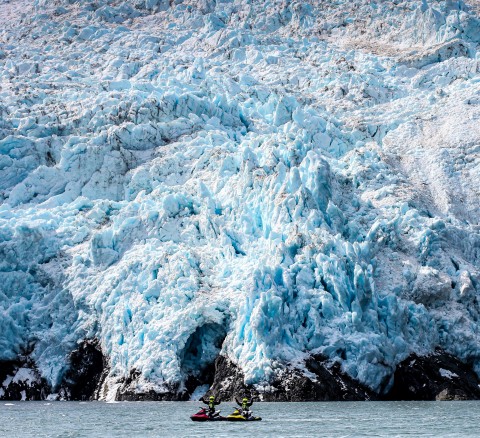 Glacier Jetski Adventures were the first jet ski tour operators in Prince William Sound and pioneered jet ski tours into Blackstone Bay. They have a well-established safety record and are incredibly passionate about their tours. Your adventure begins at the Glacier Jet Ski facility in Whittier, where you'll be outfitted in a dry suit, a pair of gloves, neoprene booties, a life jacket, and a helmet with in-helmet communication. If you've never driven a jet ski before, it's no problem; they love to share the thrill of using a jet ski as a way to see the Sound and are happy to help you gain confidence in your machine starting with a safety briefing and instructions on operation.
Then it's time to roll! You'll leave from Smitty's Cove, feeling the sun and wind on your face! Following the beautiful coastline of Passage Canal and Prince William Sound until you arrive in Blackstone Bay. After passing several glaciers, you'll stop at Northland and Blackstone Glacier and spend time closer than any other tour to the ice. Along the way, your guides will be speaking to you through the headset, filling you in on the fascinating history of the area, as well as pointing out wildlife. Expect to see a lot of birds (thanks to your proximity to the largest black-legged kittiwake rookery in Prince William Sound), along with seals, otters, and sea lions. If you're lucky you'll even see whales. And because you'll be close to the shore, you may even spot some mountain goats and bears. After a snack, it's time to fire up the jet ski and zoom home.
About Glacier Jet Ski Adventures
Owner, born and raised Alaskan Charlie Howard, an adventure guide in Alaska for almost 20 years, wanted to find a unique way of showing off Alaska's beauty. When he traded an old snowmachine for an old jet ski, he had an idea of how to do it. With the encouragement of his then-girlfriend (and now-wife), Bec, they opened Glacier Jetski Adventures, becoming the first glacier jet ski tour in the world! He's passionate about Blackstone Bay and, because he's always focused on this area, he knows all the secret spots.