Want some photography lessons from a seasoned pro? Come to Alaska! Everyone from beginners to experts can join a scheduled tour or book a custom, multi-day photography trip with Michael DeYoung at DeYoung Active Photo Tours for an unforgettable experience.
Why Take a Custom Photography Tour in Alaska?
How many times have you witnessed amazing views but feel like you could never quite capture the magic in photos? This is your chance to learn how! And there's no better place to do it than Alaska, which serves up jaw-dropping vistas at every turn. From the steepness of its mountains to the lushness of its landscapes and the richness of its rivers, Alaska abounds with opportunities to create amazing photos.
Michael DeYoung knows Alaska both as a pro photographer and from many remote wilderness adventures. For over 30 years he has photographed for a wide variety of tourism, commercial and editorial clients with hundreds of publication credits. And now he's sharing both his knowledge of the state's most beautiful places and his secrets for capturing incredible images. It's not just about the camera quality or the best angle: It's essential to understanding Alaska's unique nuance, since they can transform your images from "pretty" to "WOW." And whether you're a beginning photographer or a pro, Michael can help you get there.
As a longtime Alaskan, Michael knows the best spots to go. And he can carefully craft custom trips to take you to the most magical areas. His specialty is landscape, wildlife and adventure-travel based trips around Southcentral Alaska—places like Chugach and Denali State parks, and the region's accessible glaciers. You don't have to go far astray: Even from roadsides in Alaska, the wilderness landscapes can be pristine and spectacular. And when you do take air or water taxis to reach more remote locations, the landscapes become even more magical.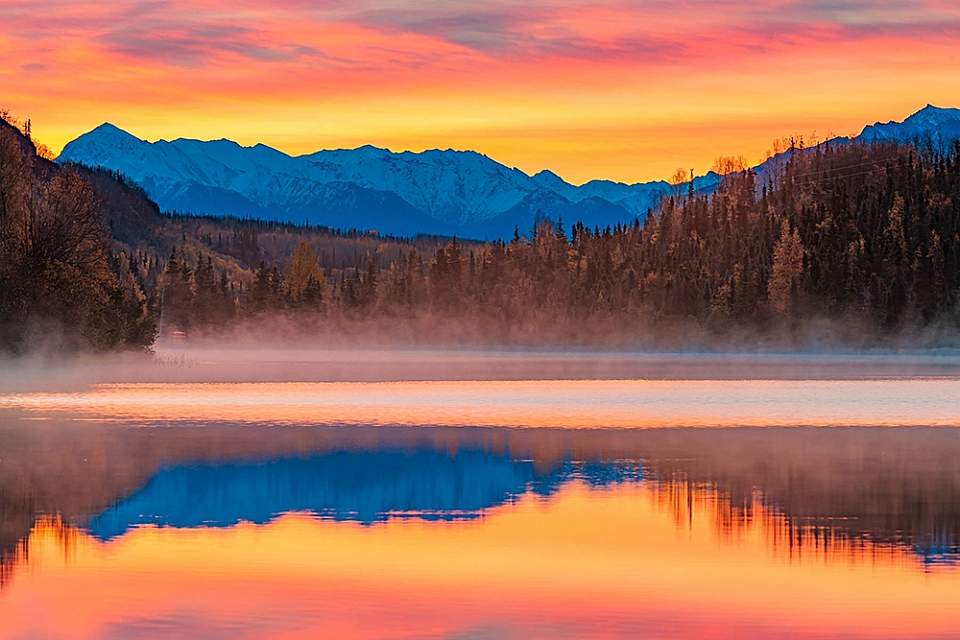 Crafting Your Tour
You'll work closely with Michael to craft a trip that marries your interests and abilities with his insider knowledge. Most people spend 4 or 5 days with him; because of Alaska's unpredictable weather, multiple days are often necessary to get a winning combination of stunning light and good weather. As a former meteorologist Michael can show you how and when to get stunning images even on cloudy and rainy days.
Anyone of any ability can join his trips. But when travelers are interested in hiking, there can be even more of a payoff, since you'll reach even more remote places. For those willing to go the extra mile Michael can take you to a wide variety of stunning landscapes in the Chugach and Talkeetna Mountains, the Kenai Peninsula, Denali State Park as well as glacier hiking and paddling where the scenery is absolutely stunning.
The options are endless—it's up to you! (And of course what the weather allows.) Michael combines all of his skills including all things photography, patient teaching, production and logistics, weather and light and wilderness travel offering a truly unique custom photo tour. Flexibility is his specialty. Being a custom tour, you and Michael can tweak the trip in real time; for example, he may make recommendations based on location and weather, like shooting in the early morning to get the best possible light. Your guiding doesn't just end on location. Being well versed in post processing Michael will make time to review what you've created and offer constructive criticism and advice for getting the most of what you capture afield to make your images even better.
Michael can also provide private photography services to a group or family to document their Alaska vacation.
Whatever you arrange, you'll come away with lasting memories, a better appreciation for the wild areas of Alaska, and the skills to be a better photographer.
A recent guest said "The knowledge they gained by living in Alaska for 18 years is very evident when one travels with them. Their logistical execution, a crucial part of any trip, was flawless, which allowed them to focus even more intensely on providing us with premier photographic opportunities and a full realization of the full beauty of the Alaskan tundra and Aurora evenings."
About Michael DeYoung
Michael is a Florida native who was drawn to the wilds of the American West, moving to Colorado, then Montana, and then the ultimate wild and remote spot: Alaska. He first came here in 1988 as an Air Force meteorologist and forecaster. He's also a true adventure junky, enjoying everything from hiking to paddling to skiing. Michael has explored Alaska on many self-supported wilderness river and backpack trips from the Brooks Range to the Southeast Panhandle. But his passion to show people the great outdoors was the driving force behind getting into photography.
He had started toying around with a camera in the mid-1980s, and it became a passion. He knew that staying in the military would mean moving, and he and his wife loved Alaska. So in 1992 he decided to pursue photography as a career. He transferred to the National Guard (which he retired from in 2001) and began to hone his skills, and then finally do what he really loves: show people the magic of Alaska and help them capture it on camera.