Photo Credit: Vicky Padgett
The Best Birding Locations in Alaska
Alaska is one of the world's great birding destinations. Perched at the top of the Pacific Rim, the state forms a peninsula that reaches from North America toward Asia, at times drawing birds from both hemispheres. Its northern and western zones overlap arctic habitat used by tens of millions of migratory birds during summer nesting. Its coastal wetlands concentrate immense flocks of ducks, geese and shorebirds. At the same time, the state has healthy populations of interesting year-round residents such as bald eagles and ravens, as well as charismatic seabirds like puffins and murres. Regardless of season or locale, Alaska has the potential to delight anybody attuned to avian life.
Jump to: MAP | Potter Marsh | Resurrection Bay | Tern Lake | Kenai Peninsula | Rookery Falls | Denali National Park | Nome | Unalaska | Guaranteed Viewing at Treatment Centers | Birding Festivals | Birding Seasons | Birding Tips
Get Started
Find an Alaska wetland, seashore or water body during spring and summer, and chances are you'll immediately find interesting and even exotic birds to admire. You can find birds to watch just about everywhere in the state in every season.
Alaska's Top Ten Bird Hotspots
This online guide was compiled by state biologists. The list describes the specific places that draw avid birding enthusiasts to Alaska from across the world. They span from the remote Aleutian Islands to Southeast Alaska, from the north slope of the Alaska Range to the vast Copper River Delta.
Alaska.org Recommended Spots
Potter Marsh
20 minutes south of downtown Anchorage
Part of the Anchorage Coastal Wildlife Refuge, Potter Marsh and its extensive boardwalks are famous for providing intimate views of waterfowl and nesting birds, including trumpeter swans, Arctic terns and 130 other species. Located in a dramatic setting where the Seward Highway enters Turnagain Arm at the south end of the Anchorage urban area, this 564-acre wetland may be the most accessible wildlife viewing destination in the state. Anchorage has many other excellent birding venues, too, including Westchester Lagoon and the Campbell Creek Estuary, both easy drives from the Ted Stevens Anchorage International Airport. Checking into the city's bird action can anchor a quick adventure for the last or first day of your Alaska trip.
Resurrection Bay, Seward
2.5 hours by car or 4 hours by train south of Anchorage
Extending south from Seward, the rugged cliff faces and nutrient-rich waters of this big fiord create a bona-fide seabird paradise, with most of Alaska's iconic marine birds putting on a daily show. Take one of the many marine tours from the Seward harbor, and you will see puffins, kittiwakes, murres, bald eagles and a myriad of crying gulls. The plankton bloom of May-June may be the most exciting time to visit, but birds remain in large numbers throughout the summer. Much of the area lies within Kenai Fjords National Park and is also known for remarkable viewing of marine mammals.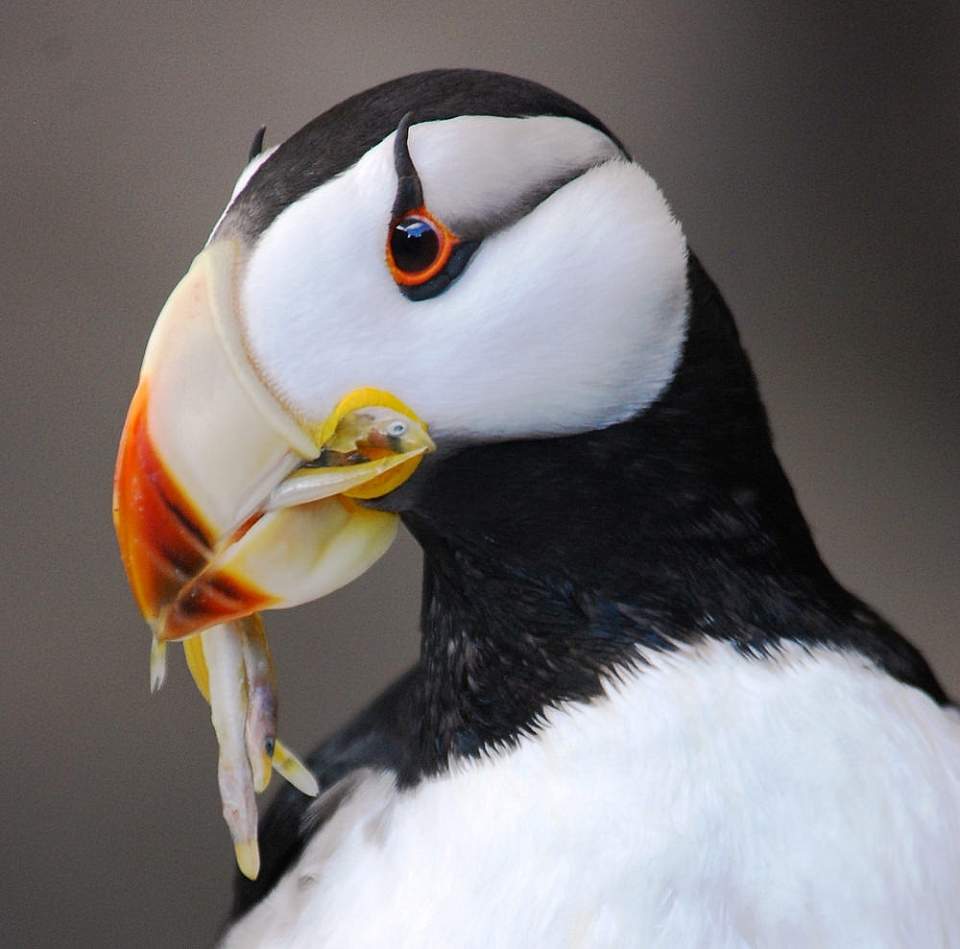 Tern Lake
About 2 hours south of Anchorage or half hour east of Seward
This large, productive lake at the junction of the Seward and Sterling Highways about 90 miles south of Anchorage hosts nesting pairs of Arctic terns as well as trumpeter swans, mew gulls and other waterfowl. You'll find sweeping views of the lake and surrounding mountains from a pullout on the highway and a picnic area (with bathrooms.) Watch for spawning salmon, bears, beavers, moose and Dall sheep too! Tern Lake is known as one of the best overall wildlife viewing spots in the region.
Kenai Peninsula Beaches
Kenai to Homer
From the sandy mouth of Kenai River to Deep Creek's dramatic front to the Homer Spit, the east coast of Cook Inlet—northwest and southwest—opens one dramatic window after another on Alaska's bird world. For someone taking a road trip down the Sterling Highway, every state park and beach access offers a potential birding highlight. Depending upon the season, you'll find estuary overlooks with migrating flocks or breaking surf where shorebirds dart up and back. Once salmon start running, bald eagles and gulls converge on river mouths. For a treat, take a boat tour to Gull Island three miles off the Homer Spit, with 20,000 nesting seabirds and marauding bald eagles.
Rookery Falls, Prince William Sound
A 90-minute trip from Anchorage in Whittier
If you seek the intense sensory overload and teeming chaos of a bird colony in all its guano-scented glory, take a day cruise or kayak paddle to Rookery Falls just across Passage Canal from the port of Whittier, located beyond the head of Turnagain Arm via the Anton Anderson Memorial Tunnel. This cliff face may be the most accessible seabird rookery in the state, with more than 8,000 black-legged kittiwakes crowding the crannies amid a dramatic waterfall. Pigeon guillemots, sea gulls and bald eagles also make appearances. A natural wonder only minutes from Whittier Harbor.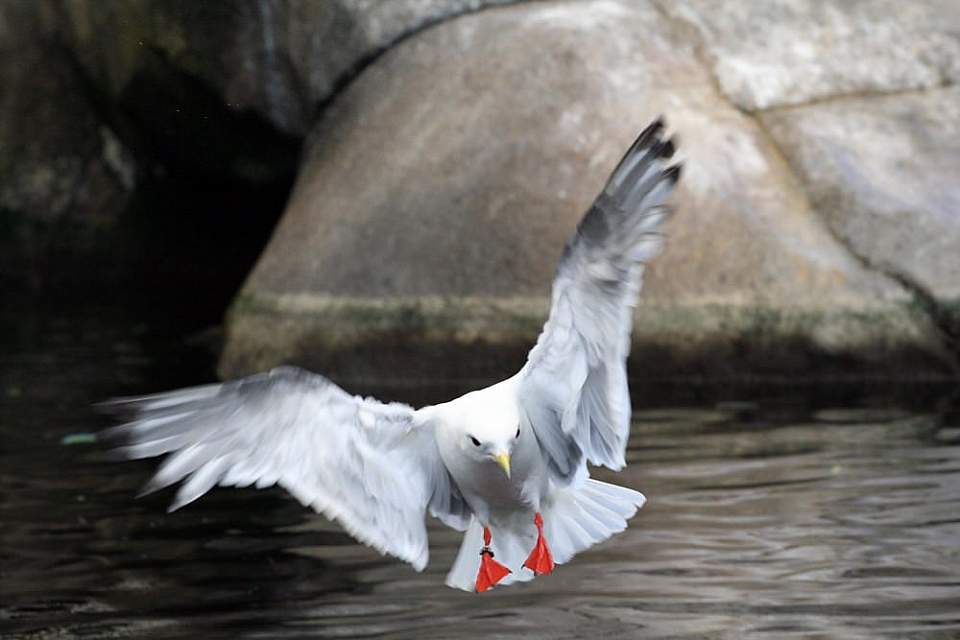 Denali National Park
4 hours from Anchorage or 2.5 hours from Fairbanks
The 90-mile road across the northern slopes of Alaska's most-visited national park traverses remarkable summer habitat for migratory species and winter-hardened residents. More than 160 species have been recorded in the park, with most of them nesting and raising young during the brief but intense snow-free season. Visitors can easily scan the panoramic views of tundra and mountain slopes to find nesting and feeding birds, with flocks staging for migratory moves. Take a bus tour on the park road or the national park shuttle, and look for birds at Tattler Creek (mi 37.5), hike the Sable Mountain Trail (mi 37.5), or in the fall months of August and September, look above at the Stoney Hill Overlook (mi 61.9) for migrating sandhill cranes.
Nome
A 90-minute flight from Anchorage
Located on the Bering Sea relatively close to Asia—and surrounded by the tundra of the Seward Peninsula—the community of Nome offers unique birding opportunities for travelers. Between May and October, visitors can rent vehicles and drive into the backcountry on more than 350 miles of gravel roads, gaining economical access to habitats that would have ordinarily been very expensive or impossible to reach. Prime time may be spring, May 15 to June 15, when more than 200 species migrate through or stop for the season. Fall has thousands of birds—swans, cranes and geese—staging for their annual return to the south.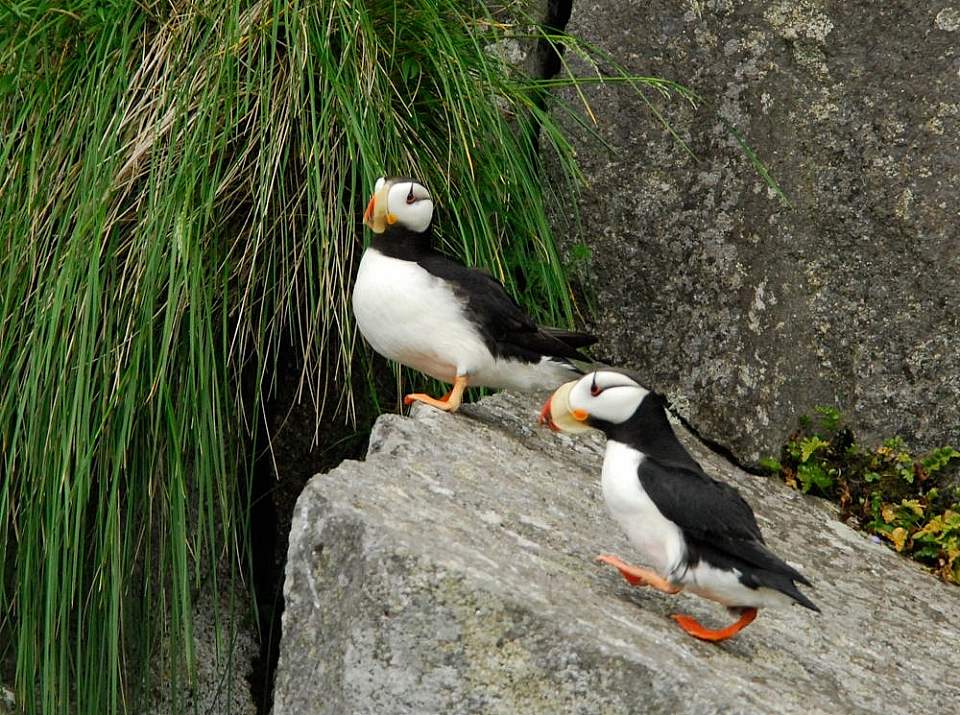 Unalaska Island
A 3.5-hour flight from Anchorage
Reaching into the Eastern Hemisphere, the far-flung outposts of the Aleutian Chain have always been a mecca for world-class birding. But many islands have no regular access, making them extremely expensive or impossible to visit. Not true for Unalaska, home to historic Dutch Harbor and America's busiest fishing port. Most of the time, the island and its community of 4,500 year-round residents enjoy daily airline service from Anchorage, and sometimes be reached by a ferry via the Alaska Marine Highway System. Depending upon the season, you might find migrants from across the Pacific, seabirds and shorebirds of the Bering Sea, and hardy residents.
Guaranteed Viewing
Alaska Zoo
In South Anchorage on O'Malley Road
If you don't mind viewing birds under human care, dozens of birds—many rescued from the wild after being orphaned or injured—can be seen on display at the Alaska Zoo on O'Malley Road in South Anchorage.
Bird Learning and Treatment Center
In South Anchorage near Potter Marsh
This avian rehabilitation clinic often puts on programs with the chance to see one of their recovered patients up close. The BTLC is located near Potter Marsh on the Old Seward Highway.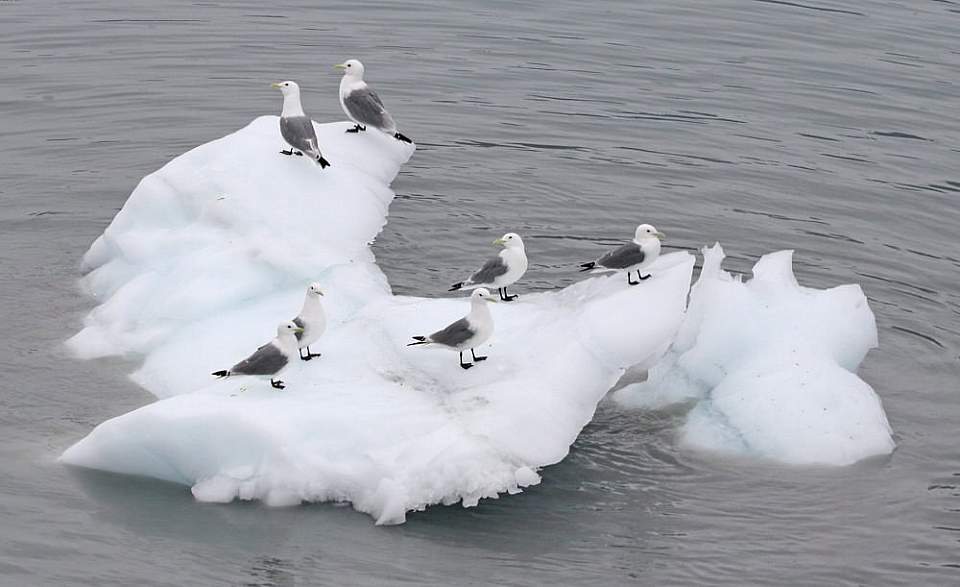 Alaska Sealife Center
2.5 hours by car or 4 hours by train south of Anchorage
This popular public aquarium and research center in Seward features a multistory habitat for diving seabirds, with both above-water and below-the-surface viewing. Watching puffins "fly" underwater to snatch submerged snacks can be astounding.
Attend a Bird-Watching Festival
Alaskans love bird watching festivals. They combine fun events, education and science with great opportunities to watch wild and exotic birds doing their thing. It's a terrific way to meet locals too! Here's a 2019 listing for these annual events, generally held about the same time every year.
The big three:
Alaska's Birding Seasons
Spring Arrival
(May-June.) Epic migratory flocks converge on wetlands and coasts. Upland habitat—forests, mountain slopes, meadows—fill with nesting birds singing for mates and claiming territory. This very active and noisy period is when you will have a chance to view most of the state's annual visitors and residents.
Summer Peak
(June-August.) Birds are nesting and raising offspring. Migrants have dispersed, so finding nest sites of exotic species (like sandhill cranes) can require patience. The forest and wetland grows more silent as birds raise their young. Lakes and streams will host menageries of growing offspring.
Fall Migration
(August-October.) As foliage turns and frost approaches, migratory birds begin to stage and/or simply leave for parts south. Skeins of geese crisscross the sky. Local residents become active, while their offspring actively feed. Serious birders relish this season for the chance to see unexpected and exotic travelers.
Winter Residents
(October to April.) Between freeze-up in the fall until break-up in the spring, Alaska's bird population becomes more limited. Many birds shift to coastal areas, while many inland locales seem dominated by ravens, with flocks of chickadees and redpolls flitting among the trees. In some ways, the austere winter landscape makes it easier to watch these tough locals make a living in a harsh world.
General Advice:
If you can, use binoculars or spotting scopes. Good glass always enhances birding and may be necessary to see details and study behavior. Still, with extensive wild habitat adjacent to trails, decks and roads, it's relative easy to view active birds even without visual tools.
Connect to birding social groups and websites for real-time reports. It's a great way to find out about rare bird sightings.
You'll find a trove of field-tested birding tidbits and advice in a series of wildlife viewing guides published in paper and online by Alaska Dept. of Fish & Game. They're organized by geographic area.
Come during the shoulder seasons! Alaska's vast wetlands and 40,000 miles of coastline draw huge flocks during spring migration and fall dispersals. These long-distance travelers include a remarkable collection of geese, ducks, swans, shorebirds and waterfowl, including species like Arctic terns, the world's grand champion travelers, known for winging 10,000 miles from their wintering grounds.
For More Information: