Photo Credit: Mike Haggerty
Wildlife regularly converges on this shallow and very productive lake surrounded by big, open slopes in the heart of the Kenai Mountains. Famous for attracting waterfowl and migrating birds—Arctic terns, trumpeter swans, mew gulls—Tern Lake also draws moose to the boundaries between meadows and forest, especially early and late in the day.
Where Will You Find The Most Moose?
Walk along the lake to find sweeping, unobstructed views of the opposite shoreline. Scan for moose grazing or browsing in the open slopes. Few other roadside pullouts offer such potential for seeing so many critters in a single session, and it's always worth a stop. With binoculars or scopes, you might also see black bears, Dall sheep and mountain goats on the looming slopes as well as beavers, river otters and muskrats swimming in the lake.
For More Information:
Getting There
View on Map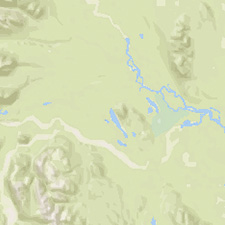 Tern Lake Day Use Area
Sterling Highway
Soldotna, AK 99669
At the junction of the Seward and Sterling Highways about 90 miles south of Anchorage (and 37 miles west of Seward,) Tern Lake once hosted a Forest Service campground. A very popular pullout overlooks the lake from the Seward Highway and features a panoramic view. A day-use picnic area is located in the old campground on the west side of the lake, with parking, pit toilets and lakeshore trails, plus a wooden deck for viewing spawning sockeye salmon in Dave's Creek.
Driving Directions